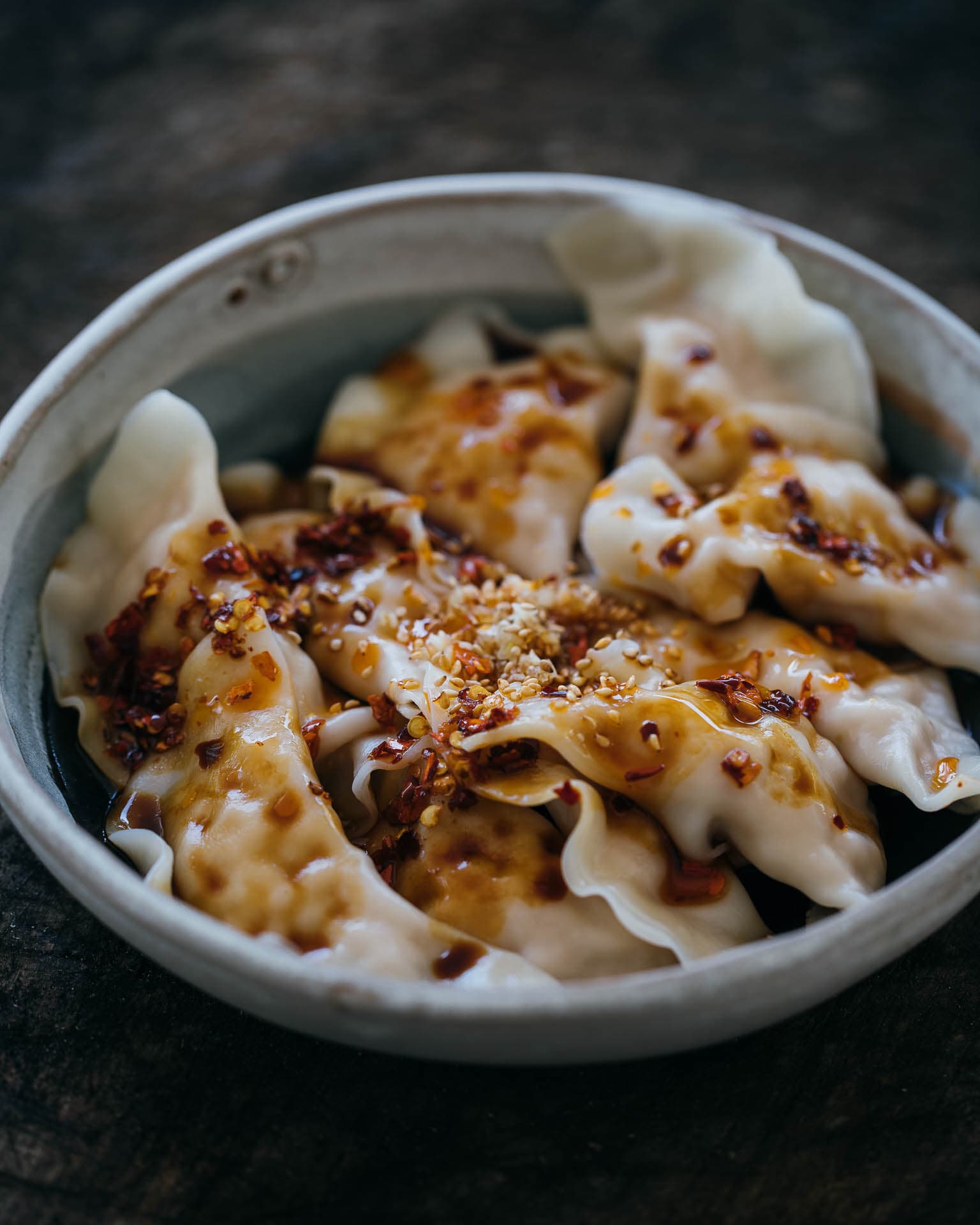 Zhong dumplings are named for the family who first made these in Chengdu around 100 years ago at their stall in Lychee Lane.
Today, they're officially recognised as one of Sichuan's most famous snacks.
They're a VERY simple meat-only boiled dumpling served with a sweet, aromatic soy sauce and red chilli oil. They are a PERFECT beginner dumpling!
Ingredients
approx. 50 round, white dumpling skins (gow gee), or homemade skins
Sweet aromatic soy sauce
¼ cup dark soy sauce
2 tbsp light soy sauce
appprox. 5 tbsp yellow rock sugar
2 bay leaves
1 tsp Sichuan peppercorn
1 star anise
1 stick cassia
4 slices ginger
¾ cup water
Dumpling filling
¾ cup cold water
1 tsp white peppercorns
1 piece ginger
500g pork mince
1 egg
1 tbsp Shaoxing wine
½ tsp salt
To serve
Minced garlic
Sesame seeds
Red chilli oil
Method
Combine the ingredients for the sweet aromatic soy sauce in a saucepan and bring to a simmer. Simmer for about 15 minutes until aromatic and reduced, then allow to cool. Strain to remove the solids. This soy sauce can be kept in a jar or bottle at room temperature indefinitely.
For the dumpling filling, first combine the ginger and peppercorns with ¾ cup of cold water and allow to infuse for around 10 minutes. You'll be surprised how much of the ginger and bitter pepper flavour infuse in such a short time.
In a bowl or medium saucepan (my preference) combine the pork mince, egg, Shaoxing wine and salt. Stir in one direction until well combined, then add the infused ginger-pepper water a little at a time, continuing to stir until the mixture is a wet and floppy paste. Refrigerate for 30 minutes before folding the dumplings.
For folding the dumplings, wet the edge of a dumpling skin and place around 1 tsp of the filling in the centre of the skin. Fold into a half moon and seal the edge well. You can freeze these dumplings raw at this stage if you aren't cooking them fresh.
To cook, place the dumplings in boiling water, and then each time the water returns to the boil add about ½ a cup of cold water to reduce the temperature. When the dumplings float to the surface, cook for a further 1 minute and then remove.
To serve, drain the dumplings, pour over a generous amount of the aromatic soy sauce and chilli oil, and serve with minced garlic and a few sesame seeds.
Tips
Always stir the filling only in 1 direction. This will help to capture the ginger-pepper liquid added to the filling (as well as the liquid released by the meat during cooking).
To freeze the dumplings, lay them in a single layer on a lined sheet in the freezer until they are firm to the touch, then you can transfer them to a Ziploc bag.
Be generous with the sauces. They are essential.