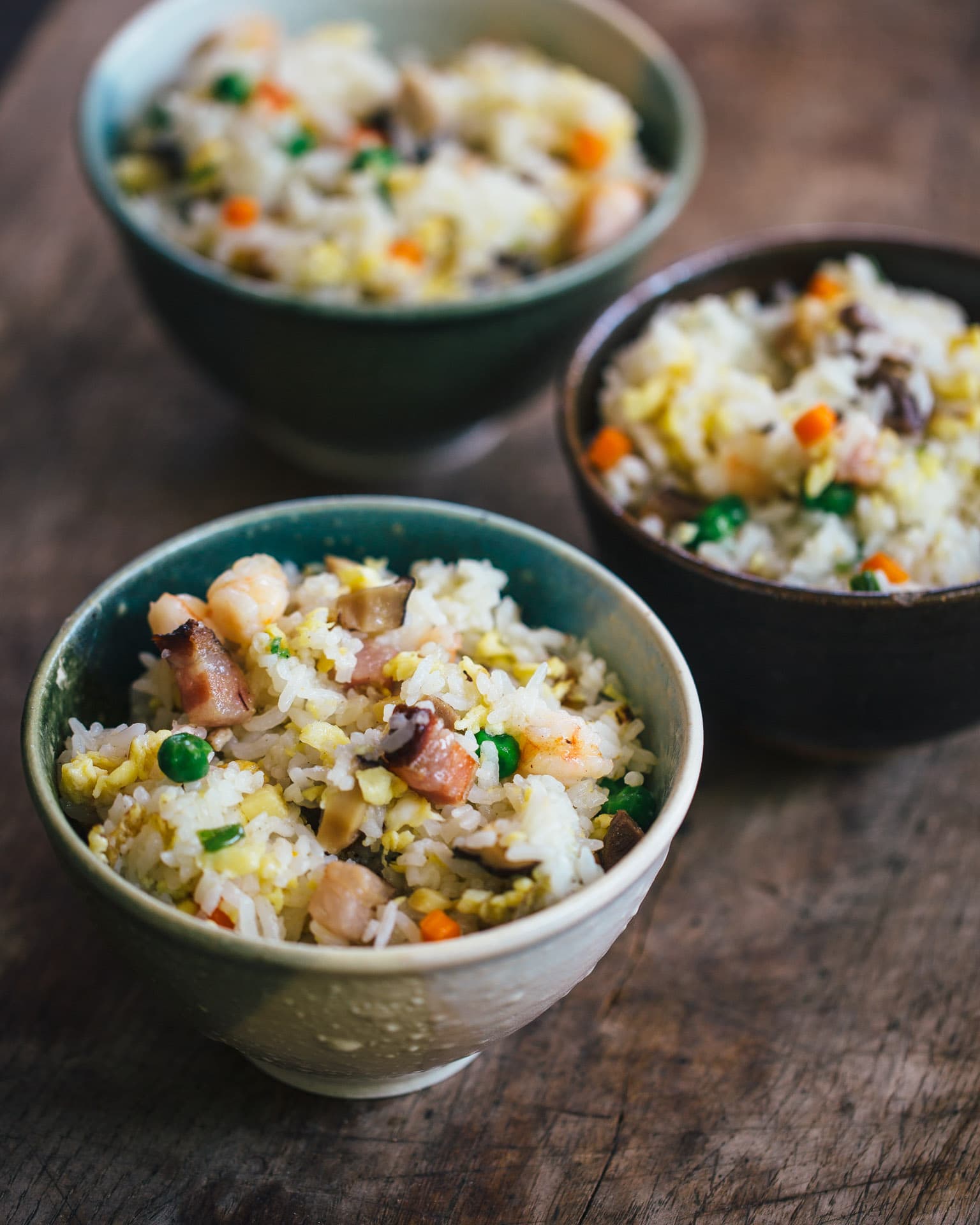 Yangzhou fried rice from Jiangsu Province is the most famous variety of fried rice in China. Known for the fine knifework in cutting the ingredients, it has been the model for "special fried rice" or "house fried rice" dishes found on Chinese restaurant menus in the West.
The ingredients added can vary greatly but the key is the careful preparation of ingredients. You can use rice cooked in chicken stock if you want an even more flavourful result.
The patron of an excellent restaurant in China once told me that the secret to a really good fried rice is finding a really good chicken, and really the origins of fried rice celebrate the connection between chicken and rice. The rice is cooked in chicken stock (less common these days, as chicken powder is often used), some of the chicken meat and offal is used as an ingredient, and then egg is mixed with the rice.
Almost all fried rice recipes around the world still use a combination of chicken, egg and rice.
Ingredients
3 dried shiitake mushrooms, soaked in 2 cups hot water for 20 minutes
1/3 cup canola oil
4 spring onions, cut into ½ cm slices
2 cloves garlic, minced
50g cured Chinese-style ham (or substitute Italian cured ham)
1 small carrot, cut into ½ cm pieces
2 tbsp bamboo shoots, cut into ½ cm pieces
¼ cup green peas
¼ cup cooked chicken thigh, cut into ½ cm pieces
2 tbsp cooked chicken gizzard, cut into ½ cm pieces
¼ cup small raw prawns, peeled
about 1 tsp salt, to season
3 eggs, lightly beaten
5 cups day-old cooked Jasmine rice, preferably cooked in chicken stock
Method
Remove the stems of the soaked mushrooms and cut the caps into ½ cm pieces. Heat a wok over high heat and add about half the oil. Fry the spring onion and garlic for about 30 seconds and then add the shiitake mushroom, carrot, and bamboo shoot and fry for a further minute. Add the chicken thigh, chicken gizzard, peas and prawns, season with a little salt, and toss until the vegetables are softened and prawns just barely cooked. Remove from the wok and set aside.
Return the wok to the heat and add the remaining oil. Add the egg and stir vigorously to break it apart. When the egg is nearly set add the rice and toss well to coat with the pieces of egg. Separate the clumps of rice by pressing them against the side of the wok with the back of your wok spatula. Season generously with salt. You can add a little more oil if necessary. Return the fried ingredients back to the wok and toss to mix well.
Tips
You can use any ingredients you like for fried rice although the basis is usually chicken, egg and rice. Bear in mind, though that you want a mix of sweeter vegetables (like carrot and peas) and savoury meats (like cured ham), as well as a mix of textures for a truly great fried rice dish.
Jasmine rice is the most popular but you can also use other kinds of rice is you prefer. I often make this with Japanese short grain rice.
Fried rice uses more oil that you might think. A good amount of oil ins necessary to separate the grains.