Wok-fried prawns with ginger and spring onion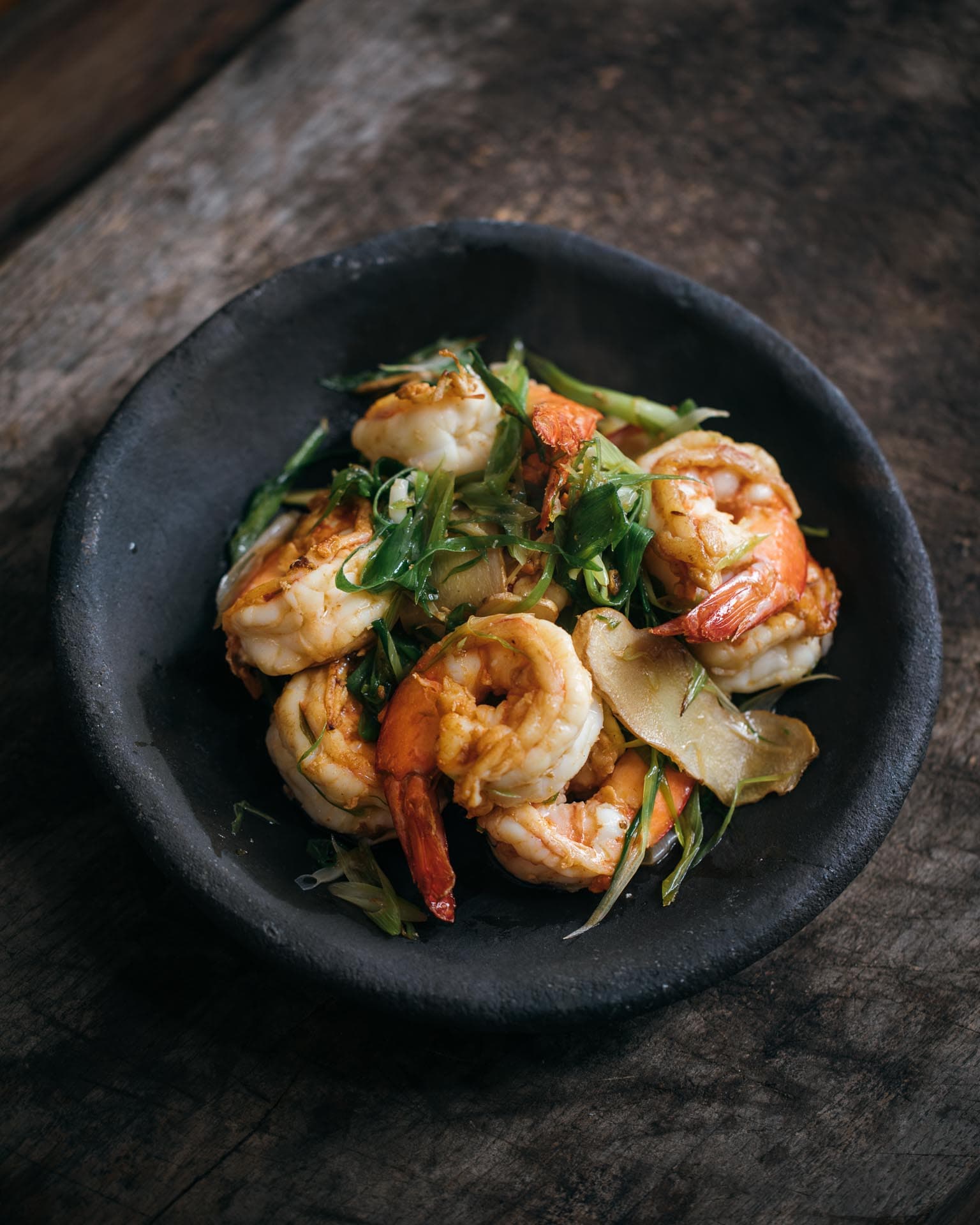 This simple stir-fried dish takes the classic Cantonese flavour of seafood steamed with ginger and spring onion, flipping it into a fast wok-fried dish that focuses on the natural flavours of the ingredients.
Ingredients
8 large prawns
2 tbsp peanut oil (or 1 cup for making prawn oil, optional)
6 spring onions, finely shredded
4 slices ginger
1 tbsp Shaoxing wine
salt, to season
1 tsp cornflour mixed into ¼ cup cold water
Method
Peel and devein the prawns. Transfer the shells to a saucepan and add the 1 cup of oil. Place over high heat and bring the oil to 120C, or until the prawn shells start to sizzle. Cook the shells for 5 minutes then remove from the heat. Strain the shells and reserve the oil.
Heat a wok over high heat and add 2 tbsp of oil (or prawn oil). Add the prawns, season with salt and toss until barely cooked through. Remove from the wok.
Heat a little more oil if necessary and add the ginger and spring onions. Toss to combine and lightly char the spring onions, then add the prawns back to the wok. Season with salt and add the Shaoxing wine to the side of the wok directly onto the metal. Toss to combine again, then drizzle in a little of the cornflour mixture just to thicken any juices in the wok. Serve with steamed rice.
Tips
If you don't want to make the prawn oil, you can just use peeled prawns and ordinary vegetable oil (but making the oil adds a lot more flavour to the dish).
Butterflying the prawns will give them a meatier texture and mouthfeel, as well as making them look more substantial in the dish.
Don't skip the cornstarch step, as it is necessary to "stick" the flavour of the dish onto the prawns.