Waterfall Duck (Nam Tok Ped)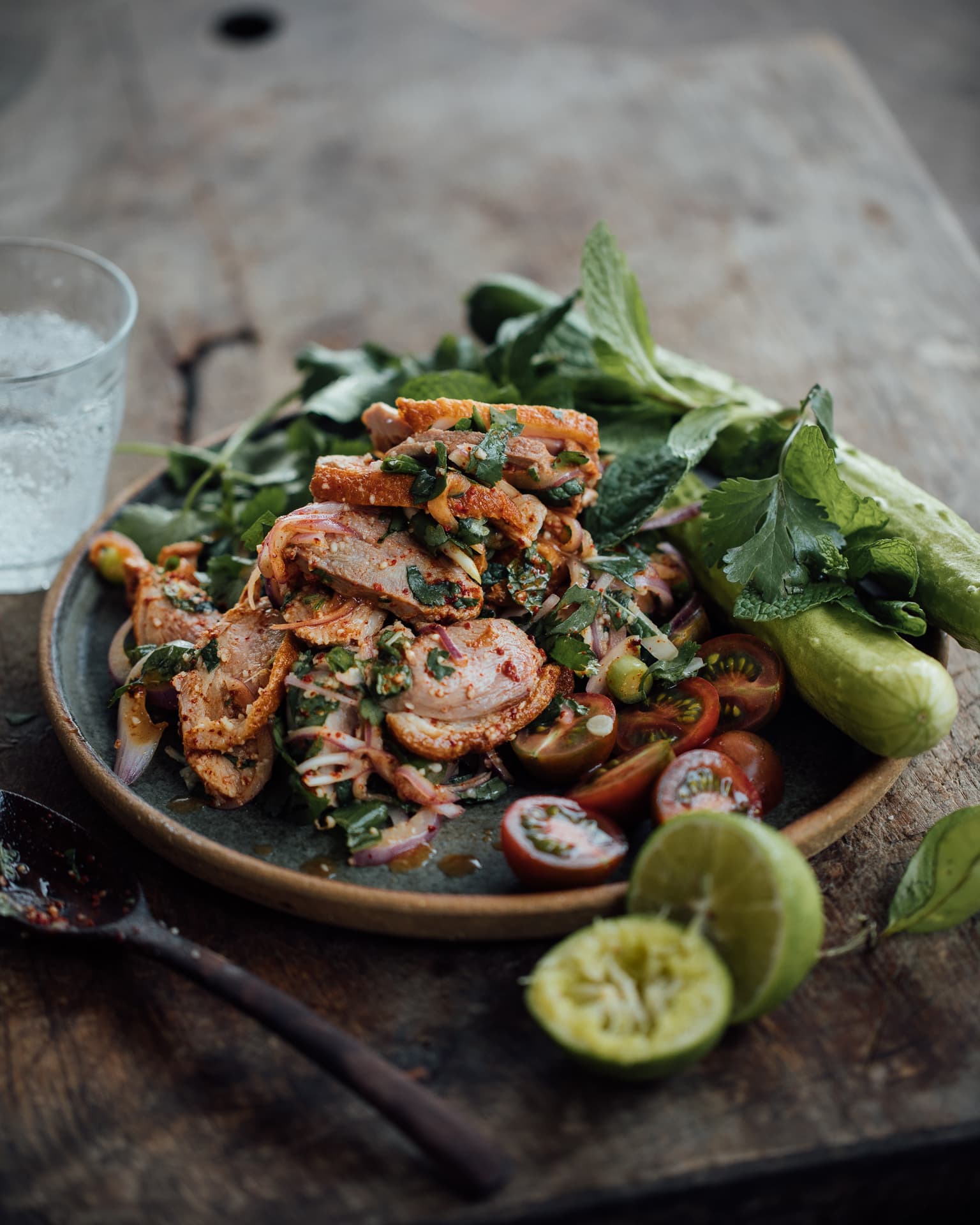 Nam tok literally means 'waterfall' in Thai, but in the context of this dish it refers to the juices released by the grilled duck.
Nam tok is a lot like a larb, in the sense that it is a spicy, meaty salad. The big difference is that the duck is grilled rather than simmered or raw (as some larbs are made).
You could make this with grilled beef, pork or chicken, but it's particularly good with duck as it gives you a lovely texture from crispy skin, and a little of the rendered duck fat mixes with the juices and dressing ingredients to create a delicious coating.
Ingredients
2 duck breasts, around 225g each
1 tbsp uncooked brown rice, glutinous rice, or other raw rice
½ red onion, thinly sliced
2 spring onions, finely sliced
1½ tbsp fish sauce
1½ tbsp lime juice (about 1 lime)
1 tsp dried chilli powder
1/4 tsp caster sugar
½ cup roughly chopped mint and coriander leaves, plus extra sprigs to serve
cucumber, to serve
cherry tomatoes, to serve
Method
Place the duck breasts skin-down in a dry frying pan and place the pan over medium heat. Cook for 6 minutes, then flip and cook for a further 4-5 minutes. Remove the duck to a warm plate to rest for about 5 minutes.
Add the rice to a separate dry saucepan and heat over medium heat, swirling constantly for about 5 minutes until the rice starts to pop and gives off a toasty aroma. Grind the rice with a mortar and pestle to a coarse powder.
Combine the onions, fish sauce, lime juice, chilli powder and sugar in a non-reactive bowl and mix well.
Slice the duck into ½ cm slices and combine with the onion mix, then add the rice powder and chopped herbs and toss well. Serve immediately with extra herbs and raw vegetables.
Tips
The roasted rice adds a brilliant texture to the dish. It's usually made with raw glutinous rice but any rice will be fine. It can be tempting to skip that step but the dish won't be the same without it.
Many recipes don't add sugar, but I prefer a touch of sweetness to balance the savoury fish sauce and sour lime.
Keep the duck medium rare and it will remain tender. The acid in the lime will cook it a little more after the salad is mixed so if it's too well done then it will be overcooked, and won't release the juices that are necessary for the dressing.
I use a mild Korean chilli powder as it's big on chilli flavour, but mild in heat. Adjust the type of chilli powder and quantity to your taste.