Vegetarian Potsticker Dumplings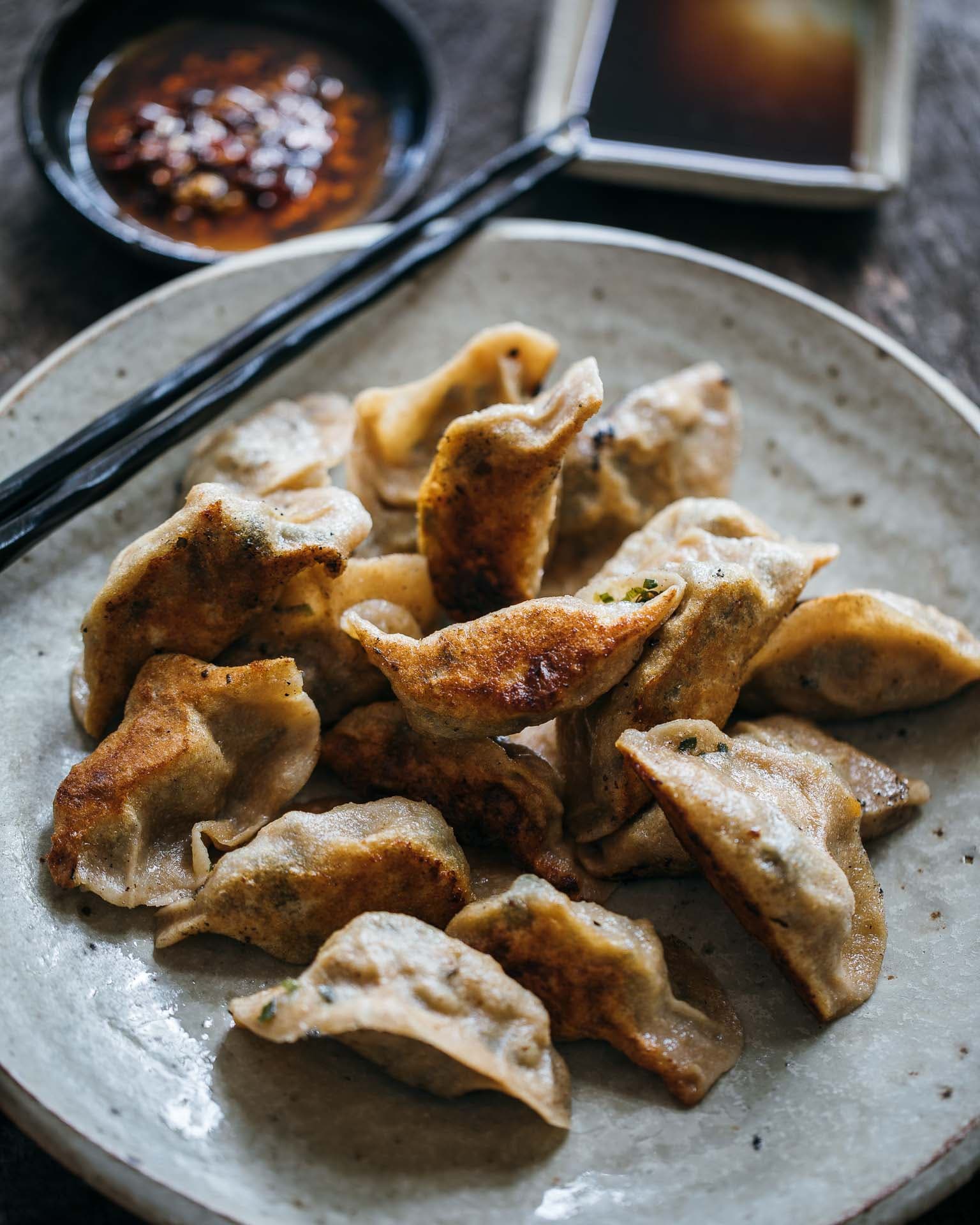 These vegetarian (actually vegan) dumplings use the shiitake steeping liquid and wholemeal flour to make the skins.
For the filling, use flavourful and textural vegetables rather than "fillers" like tofu or cabbage.
Ingredients
6 dried shiitake mushrooms
2 tbsp peanut oil
1 carrot, peeled and finely diced
1 large bunch garlic chives
2 tbsp dried black fungus, soaked, trimmed and finely sliced
6 spring onions, finely sliced
1 tsp sesame oil
½ tsp salt
¼ tsp sugar
1 tbsp soy sauce
1 tbsp Shaoxing wine
Wholemeal dumpling skins
2 cups wholemeal flour
¾ cup boiling water, or hot shiitake steeping liquid
Method
Soak the shiitake in 2 cups of hot water for 20 minutes then trim the stems and dice the caps.
To make the dumpling skins, heat the shiitake liquid until boiling and combine about ¾ of a cup with the wholemeal flour in a stand mixer fitted with a dough hook. Mix at medium speed for about 10 minutes until the dough is smooth. Lightly dust with flour and rest for at least 1 hour wrapped in plastic or an oiled cloth.
Heat a wok over high heat and add the peanut oil. Add the carrot, diced shiitake caps, spring onions, garlic chives sesame oil, and season with thesalt, sugar, soy sauce and Shaoxing wine. Fry for about 3 minutes until the vegetables have softened and the mixture is dry. Remove from the wok and cool completely.
Roll and fold the dumplings (see video).
Heat a frying pan over medium heat and lightly coat with oil. Add the dumplings (base down) to the pan and fry without moving until lightly browned on the base. Add hot water to a level about 1 cm up the side of the dumplings and cover. Steam for 8 minutes, then remove the lid and allow any remaining liquid to evaporate. Fry for a further minute until the bases are crisp, then serve with dumpling sauce and chilli oil.
Tips
Using the shiitake steeping liquid for the dumpling skins will give them a brown colour and delicious savoury flavour.
You can vary the vegetable fillings as you like. I tend to favour textural and flavourful vegetables rather than things like cabbage or tofu for vegetarian dumplings.
If you prefer, you can add egg or cornstarch to the filling to give it a firmer texture.
If you aren't vegetarian, some soaked dried shrimp are an excellent addition to the filling.