Turmeric chicken drumstick pulao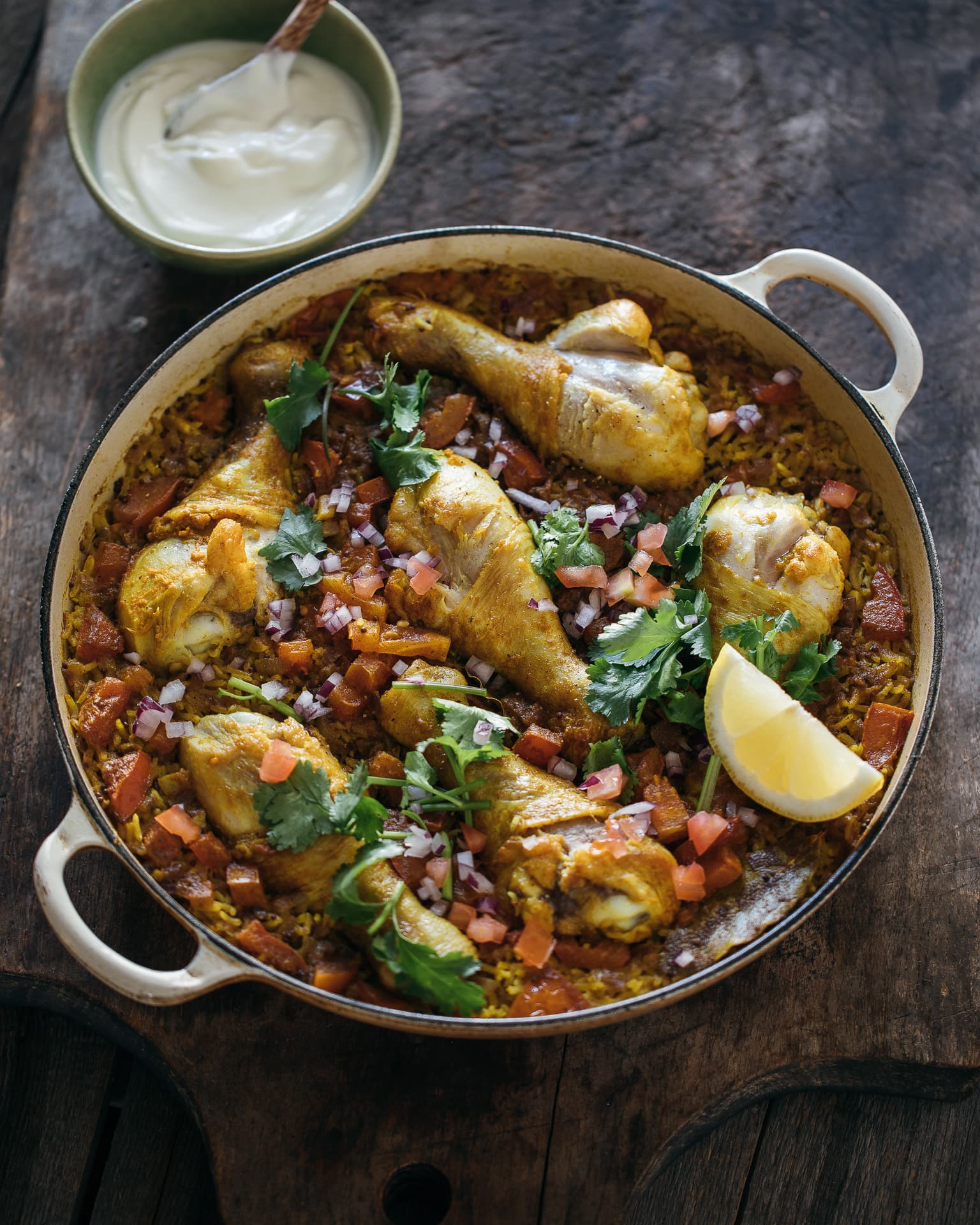 The difference between a pulao and biryani is that biryani is usually layers of cooked rice, while for pulao the rice and other ingredients are cooked together.
Ingredients
6 Lilydale free range chicken drumsticks
1 tsp turmeric
1 tsp salt
¼ cup ghee or vegetable oil
1 red onion, diced
2 garlic cloves, roughly chopped
2 tsp ginger, finely chopped
2 bay leaves
2 tsp brown mustard seeds
1½ tbsp Keen's curry powder
3 cups basmati rice
2 tomatoes, finely diced
½ cup chopped coriander
lemon wedges, to serve
thick yoghurt, to serve
Method
Place the chicken into a large bowl and add the turmeric and ½ tsp of the salt. Rub to cover the chicken and set aside for 30 minutes.
Heat your oven to 175C (fan). Heat a large, low casserole dish over medium heat and add the ghee (or oil). Fry the chicken until browned all over and remove from the pan. Add ¾ of the onion and fry for about 5 minutes until browned. Add the garlic and ginger and fry for a further minute until fragrant. Add the mustard seeds, curry powder and bay leaves and fry for just a few seconds until fragrant. Add ¾ of the tomatoes and all the rice and mix in the spices. Spread the rice over the base of the pan and add the chicken back on top. Add 2 cups of water (or stock) and the remaining salt (or to taste). Bring to a simmer and cover. Transfer to the oven for 20 minutes, then remove and stand for a further 10 minutes.
Uncover, then scatter with the remaining onion and tomato, and the chopped coriander. Serve with lemon wedges and yoghurt.