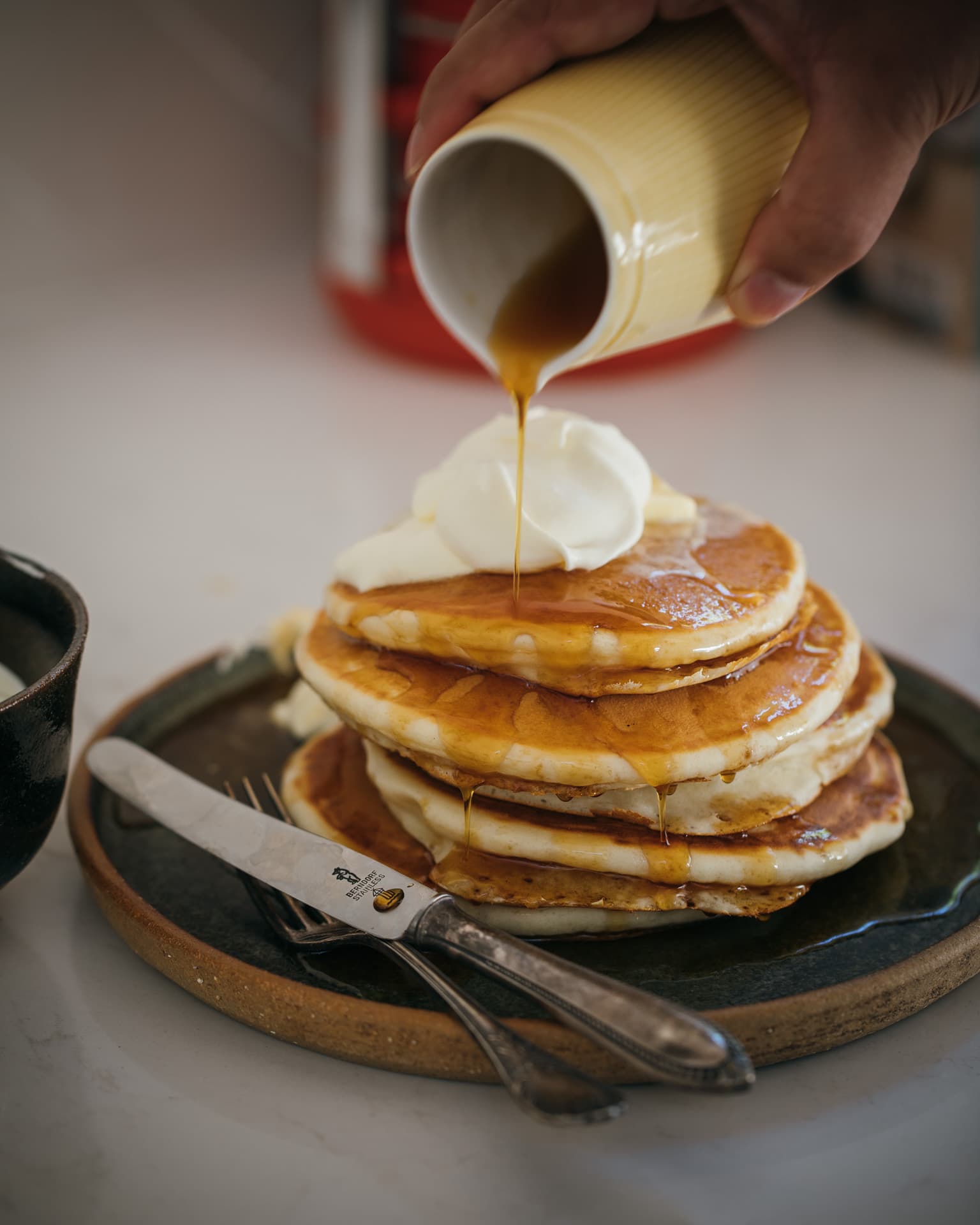 If you want to make good pancakes my #1, sold-gold, absolute best piece of advice I can give you is to make the batter the night before. It allows the gluten in the batter to relax (giving you fluffier pancakes) and also saves a huge amount of time (and cleaning up) in the morning. 
It really is a fairly simple process. You just need a good recipe, and this is definitely it.
I put this recipe up on my Instagram a while ago and it was hugely popular...
https://www.instagram.com/p/BjMNYlEADFe/?taken-by=adamliaw
https://www.instagram.com/p/BjOMbZLA2Gj/?taken-by=adamliaw
... so finally here is the recipe. (I decided to make a YouTube video of this as well, and you can check that out below.)
If you want to follow me on Instagram, you can do that here: https://www.instagram.com/adamliaw/
This may seem like a lot of pancakes (this recipes makes about 12), but pancakes for us are generally a special occasion. The batter will keep easily for about 4 days in the fridge. If it's just us, this recipe feeds our family of 4 for two days of breakfast pancakes (1-2 per person), but if we have guests (which is when we usually have pancakes) this is the perfect amount.
Ingredients
Makes about 12 thick pancakes
4 cups (600g/22oz) self-raising flour and 2 tsp baking powder
(or 4 cups plain flour and 3 tbsp baking powder)
3 eggs
3 1/2 cups (875ml/30oz) milk
½ cup (125g/4.5oz) sugar 
1 tsp vanilla extract (optional)
To serve
butter, whipped cream, and real maple syrup, or any other preferred toppings
Method
Sift the flour and baking powder together into a large bowl and stir through the sugar to combine. Make a well in the centre. Mix the egg (see tip), milk and vanilla together and pour into the well. Whisk to slowly incorporate the dry ingredients together with the wet until just combined, then add the egg whites and stir to a smooth mixture. Cover with plastic wrap and rest in the fridge for at least 2 hours (preferably overnight).
Heat a non-stick pan over low-medium heat. *DON'T ADD ANY BUTTER OR OIL TO THE PAN* Add a half cup of batter and allow to cook for 4-5 minutes. When the pancake is golden brown and the uncooked surface is covered with bubbles, flip the pancake and cook for a further 2-3 minutes, wiggling the top of the pancake with your fingers (see video) to see if the batter inside is cooked. Repeat for the remaining batter.
Tips
Lately there has been a popular trend to separate the egg yolks and whites, adding the yolks together with the milk and then mixing the whites in after the mixture has been passed through the sieve. With most pancake recipes this helps as it reduces the protein from the egg whites binding with the gluten from the flour. In this recipe you can do that if you like, but as there is very little gluten developed in this mixing process (and the batter rests overnight, further relaxing the gluten) the improvement in texture is negligible.
You don't need to add butter to a non-stick pan when cooking pancakes. Butter and oil will just form beads in a non-stick pan and make the heat from the pan uneven.
Don't cook the pancakes too fast. Low-medium heat is best, as they are so thick that they will take a little time to cook. On my induction stove I set the stove to 6 (out of 12), dropping it to 5 after I've cooked a few pancakes.
If this all sounds too difficult, a simple ratio of 1 cup self-raising flour, 1 egg and 1 cup of milk makes a great pancake, too. But you should definitely still make the batter the night before. That's a game-changer.