Tamarind and coconut grilled chicken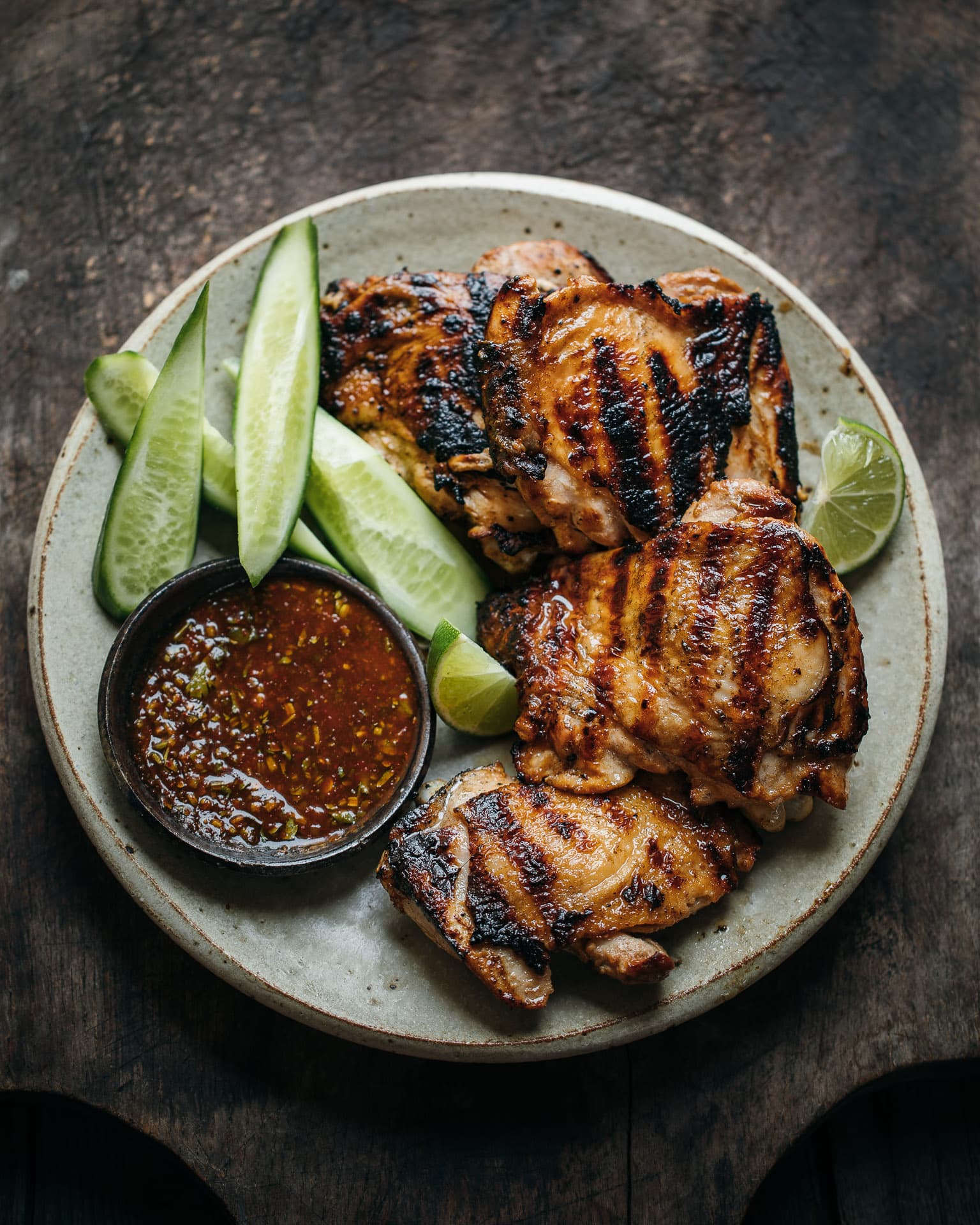 Thigh cutlets are a great cut of chicken for a summer barbecue. I leave them on the bone but trim a little of the meat away from the bone so that they sit more flat on the barbecue and also cook more evenly. Rest the chicken well after grilling so that it stays moist.
Ingredients
6 Lilydale free range chicken thighs or thigh cutlets
1 tbsp tamarind puree
200 ml coconut cream
2 tbsp palm sugar
1 tbsp fish sauce
1 tbsp dark soy sauce
½ tsp salt
vegetable oil, to grill
lime wedges, to serve (optional)
cucumber, to serve
Dipping sauce
1 tsp tamarind paste
1 tsp chilli powder
2 cloves garlic, grated
1 tsp palm sugar
1 coriander plant, finely minced
2 tbsp fish sauce
2 tbsp finely shredded coriander leaves
Method
If using thigh cutlets, trim around the bone slightly so that the meat sits flat. Combine with the tamarind, coconut cream, palm sugar, fish sauce, dark soy sauce and salt and refrigerate to marinate for at least 2 hours but preferably overnight. Remove from the fridge 1 hour before grilling.
Combine the ingredients for the dipping sauce and mix with 1-2 tbsp of cold water to form a thick saucy consistency.
Heat a barbecue grill over medium heat and brush with vegetable oil. Grill the chicken thighs for about 8 minutes (boneless) or 10 minutes (cutlets with bone), turning occasionally, and rest for a few minutes before serving with the dipping sauce, lime wedges and slices of cucumber.