Taiwanese Popcorn Chicken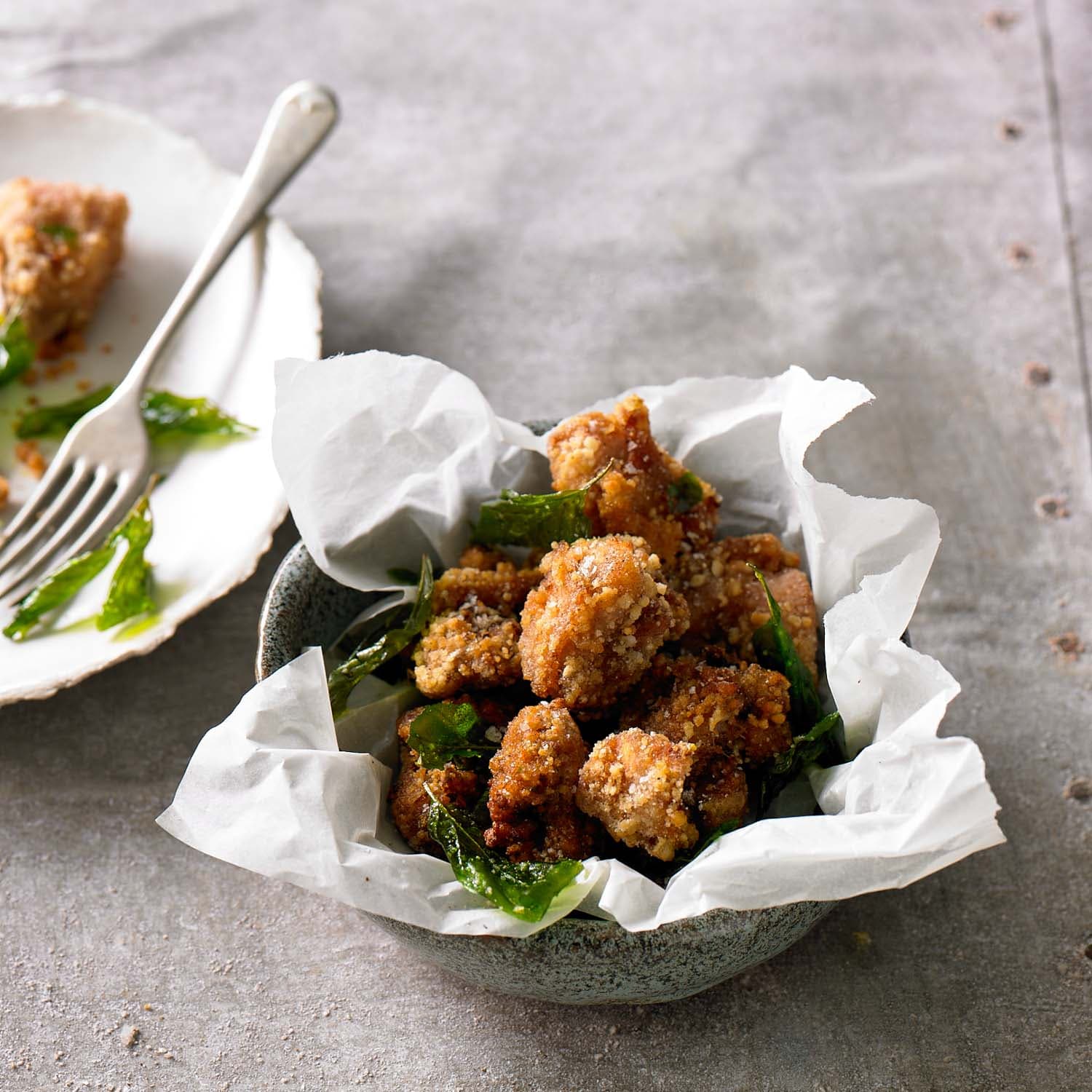 Taiwanese food is a great mix of local dishes with influences from China, Japan and Southeast Asia. Popcorn chicken is a popular street food and once you try it you'll see why.
The crunchy texture of the sweet potato flour coating is incredible.
This recipe and many more like it can be found in my fourth book, Adam Liaw's Asian Cookery School.
Ingredients
600g boneless chicken thigh fillets, preferably skin-on
3 cloves garlic, minced
1 tsp grated ginger
1 tbsp soy sauce
1 tbsp Shaoxing wine
2 tsp sugar
½ tsp five spice powder
1 cup sweet potato flour
2L oil, for deep frying
1 cup loosely packed Thai basil leaves
Spiced Salt
1 tbsp salt
¼ tsp five spice powder
¼ tsp white pepper
a pinch of chilli powder
Method
Slice the chicken into 3cm pieces and combine with the garlic, ginger, soy sauce, Shaoxing wine, sugar and five spice powder and set aside to marinate for at least 10 minutes. Toss in the sweet potato flour, shaking off any excess.
Heat the oil in a wok or saucepan. When the oil reaches 150°C scatter the basil leaves into the wok and stir for about 20 seconds until the basil crisps and turns translucent. Remove from the wok and drain. Increase the heat of the oil to 170°C and fry the chicken in batches for about 3 minutes until golden brown, regularly skimming any floating flour bits from the oil.
For the spiced salt, mix the salt and other seasonings together and toast in a dry frypan over low-medium heat for 2 minutes or until fragrant.
To serve, toss the chicken with the fried basil leaves and a good pinch of the spiced salt. Serve immediately.