Soy sauce chicken wings with cured eggs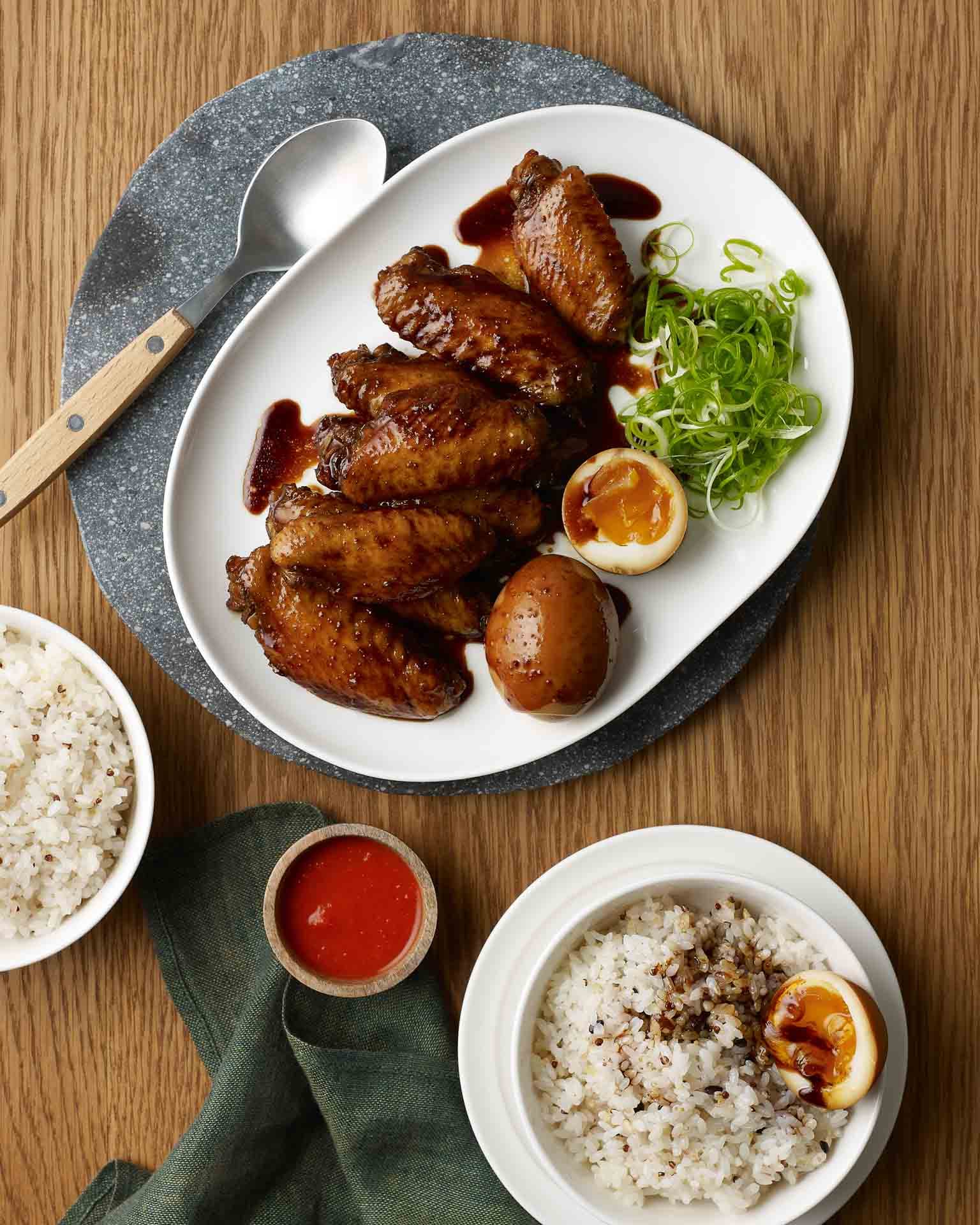 Ingredients
1½ cups soy sauce
1½ cups dark soy sauce
1 brown onion, halved and with the skin on
1 thumb-sized knob of ginger, thickly sliced
2 star anise
2 cinnamon sticks
2 pieces black cardamom
1 tbsp fennel seeds
1 cup caster sugar
8 eggs
2 kg chicken mid-wings
2 thick spring onions
chilli sauce, to serve (optional)
Method
Add all the ingredients except the eggs and chicken to a very large pot together with 1 litre of water. Bring the pot to the boil, stirring to dissolve the sugar. Remove 2 cups of the liquid to a separate bowl and cool to room temperature.
Bring a large pot of water to a boil, prick a hole in the base of each egg with a needle and boil the eggs for 6 minutes and 30 seconds. Immediately remove to a bowl of iced water and cool completely. Place the eggs into a press-seal bag and pour over the reserved poaching liquid. Seal the bag and refrigerate for up to two days to cure the eggs. If you don't want to cure the eggs, just soak the eggs in the liquid while you cook the chicken.
Bring the poaching liquid in the pot to a rolling boil and add the chicken wings. Simmer on very low heat for 30 minutes. Turn off the heat and allow the chicken to cool in the liquid for a further 15 minutes. (If you aren't planning on eating the chicken straight away, allow it too sit in the poaching liquid for longer as it will take on more flavour.)
Ladle 2-3 cups of the poaching liquid into a separate saucepan and boil uncovered and reduce the volume by half. This will take about 15 minutes.
Cut the spring onion into 5cm lengths, then cut lengthways into a fine julienne (both white and green parts). Place the spring onion into iced water to curl.
Serve the chicken wings with the halved eggs and drizzle with the reduced poaching liquid. Serve with the spring onions and your preferred chilli sauce.