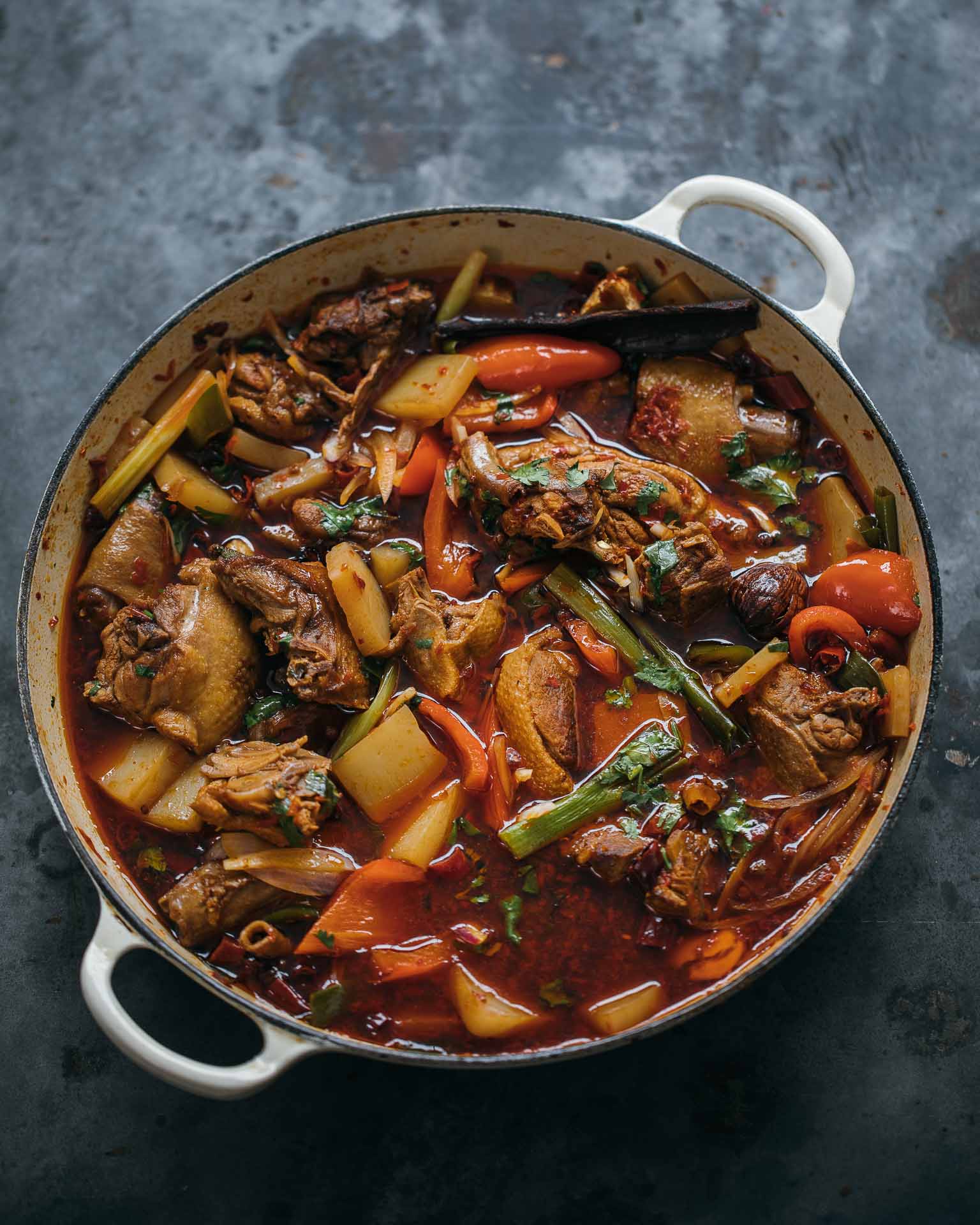 This fragrant duck dish combines the sweet and numbing heat of Sichuanese spices with fresh aromatics, all braised together in a light beer sauce. It might sound weird but if you're a fan of Sichuanese cuisine, this is one dish you can't miss.
Ingredients
1 block konnyaku (móyù)
½ duck, cut into pieces
¼ cup canola oil
6 garlic cloves, bashed
4 slices ginger, bruised
4 spring onions, cut into 5cm lengths
¼ cup dried chillies, cut into 2 cm lengths
2 star anise
1 black cardamom
1 piece cassia
2 bay leaves
1 tbsp Sichuan peppercorns
¼ cup doubanjiang
2 tbsp soy sauce
500 ml light-style beer
1 tbsp sugar, to taste
½ tsp salt, to taste
2 large green chillies, cut on a diagonal
1 red capsicum, cut into large pieces
1 small red onion, thinly sliced, to serve
coriander leaves, to serve.
Method
Place the konnyaku into cold water and bring to a simmer. Simmer for 5 minutes, then drain. Cut into 5cm pieces. Blanche the duck in boiling water for around 5 minutes, then drain.
Heat a large frying pan or wok over high heat, add the oil and fry the duck for a few minutes until lightly browned. Add the garlic and ginger and fry for a minute, then add the dried chillies, star anise, black cardamom, cassia, bay leaves and Sichuan peppercorns. Add the doubanjiang, soy sauce. beer and konnyaku and simmer for 15 minutes. Season with sugar and salt to taste.
Add the green chillies, capsicum and spring onion and simmer for a further 5 minutes until the capsicum is softened, then stir through the sliced red onion. Serve garnished with coriander.