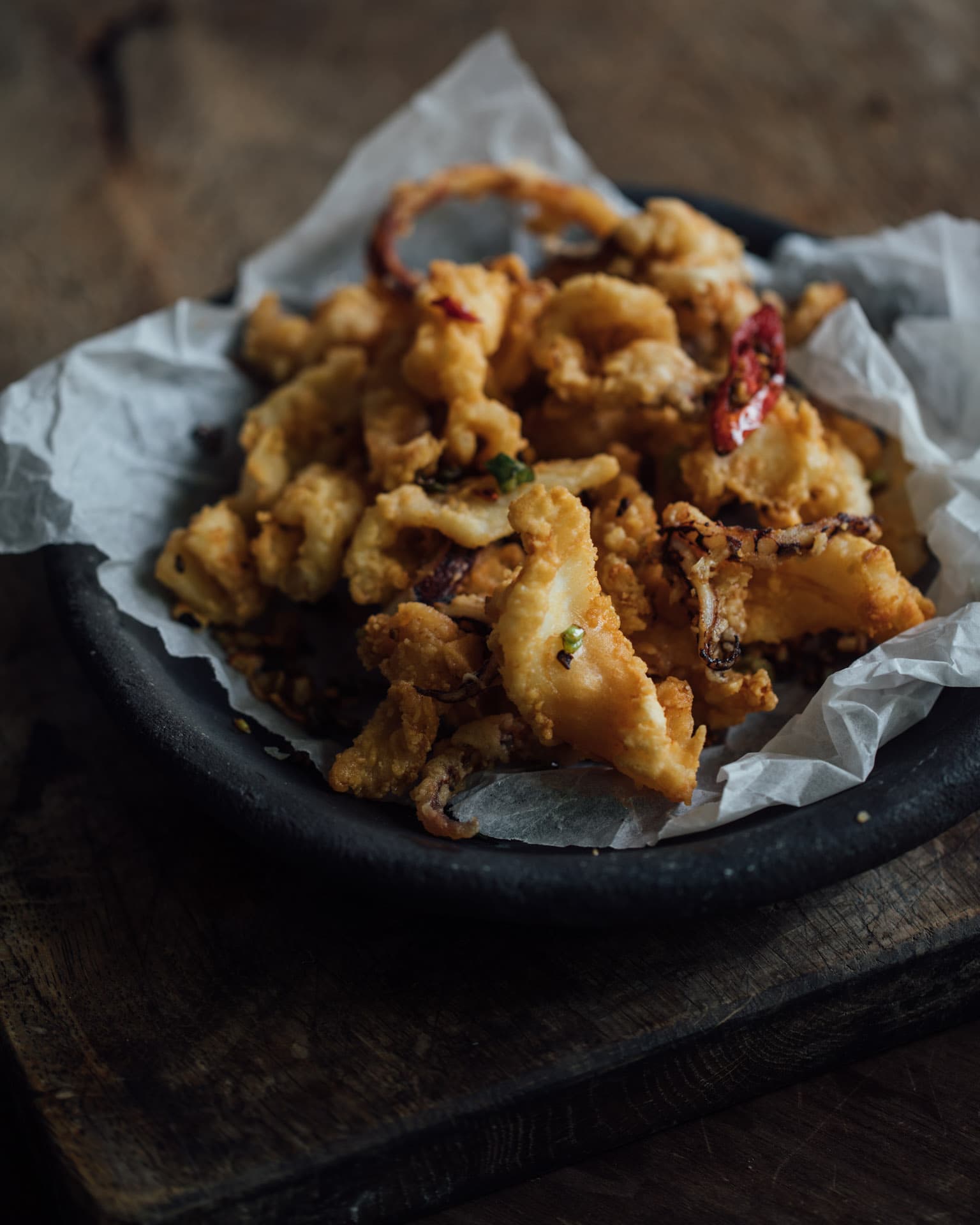 Salt and pepper squid might be the most popular dish in Australia. With origins in Cantonese cooking, it's a dish that has moved from Chinese restaurants to everything from local pubs, Italian cafes, Thai or Vietnamese restaurants and the corner fish and chip shop.
It's simple to make at home, too. It's a double cooking process, which has the squid being deep-fried first and then stir-fried with aromatics and tossed with salt and pepper.
Ingredients
500g squid tubes, cleaned
¼ cup plain flour
¼ cup potato starch or cornflour
about 2L vegetable oil, for deep frying, plus extra for stir-frying
4 cloves garlic, peeled and roughly chopped
1 large red chilli, sliced
2 spring onions, sliced
½ tsp salt
freshly ground black pepper
lemon wedges, to serve
Method
Score the squid in a cross-hatch pattern, taking care not to cut all the way through. Cut the squid into bite-sized pieces and toss in the plain flour and potato flour.
In a wok, heat the oil to 180C. Shake off any excess flour and deep fry the squid in batches for about 3 minutes until golden brown. Drain well and remove the oil from the wok.
Brush out the wok and return it to medium heat. Add about 1 tbsp of clean oil to the wok and add the garlic, chilli and spring onion. Fry for about 2 minutes until fragrant and lightly browned. Return the squid to the wok, season well with salt and plenty of ground black pepper and toss to combine. Remove from the wok and serve with lemon wedges.
Tips
Try to use fresh squid rather than frozen. Frozen squid can retain too much water, meaning that when you fry it it will be a little more soggy.
If you want really crispy squid make sure the squid is golden brown before removing it from the oil.
You can use other flours if you prefer. Rice flour works well, as does sweet potato starch or corn starch.
You can add dried spices to the salt and pepper mix if you want to be a little more adventurous. Spices like fennel and Sichuan peppercorn work well.