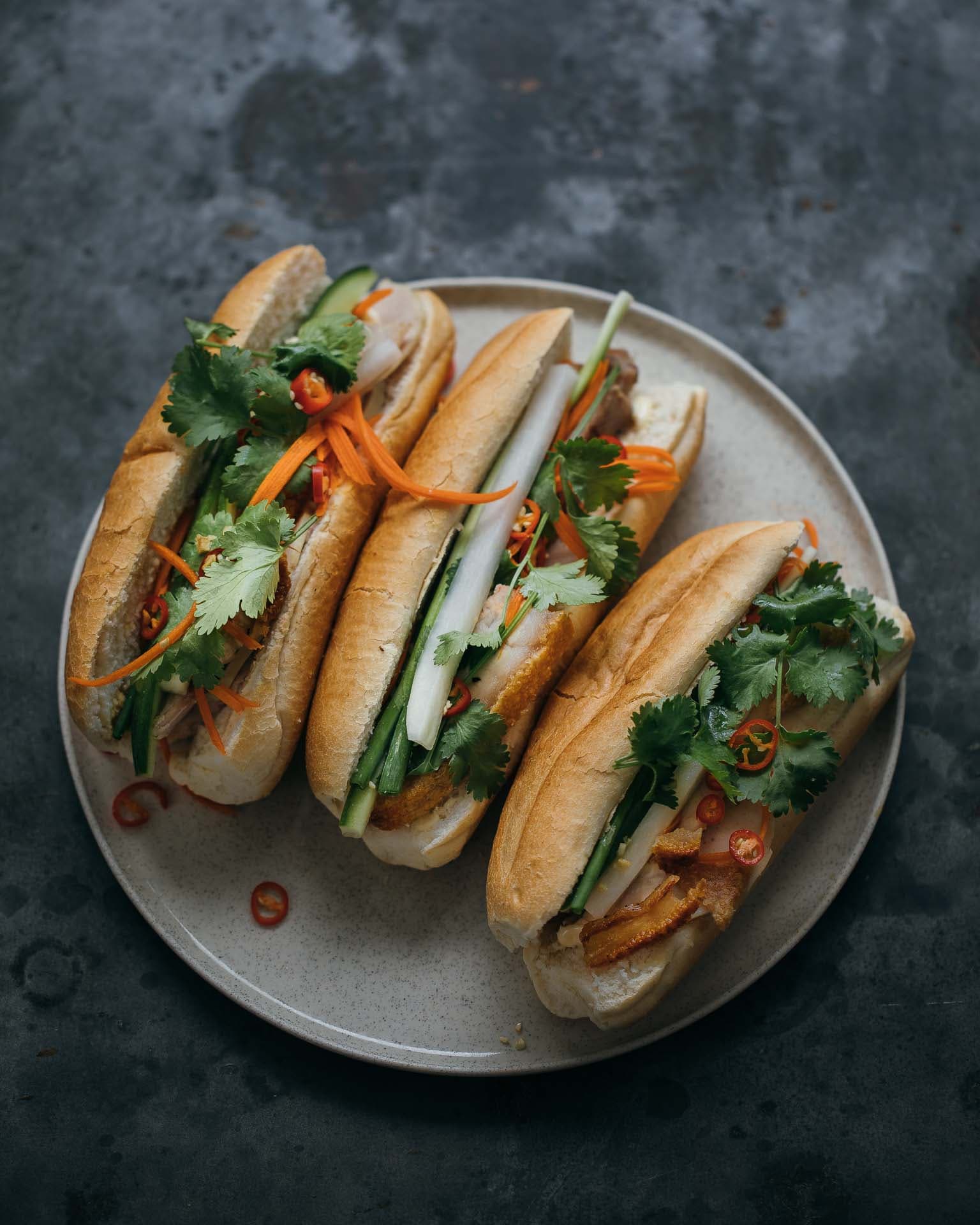 Its popularity in Vietnam is unparalleled, but the banh mi might be Australia's favourite sandwich, too.
This roast pork version is absolutely delicious and if you've never made a banh mi yourself, it might be time to roll up your sleeves and get started.
Ingredients
Vietnamese roast pork (thit heo quay) – makes extra
2 kg pork belly
½ tsp white pepper
1 tsp five spice powder
3 cloves garlic, finely chopped
2 tsp salt, for salting the skin
Daikon pickle
½ daikon, peeled and cut into 1cm square batons as long as your rolls
1 tbsp salt
¼ cup white vinegar
2 tbsp caster sugar
Banh mi seasoning
1 tbsp soy sauce
1 tbsp fish sauce
½ tsp caster sugar
1 clove garlic, finely chopped
To serve
6 crusty bread rolls
Vietnamese patê
½ cup Japanese mayonnaise
12 slices of Vietnamese pork loaf (cha lua)
2 cucumbers, sliced into batons as long as your rolls
2 carrots, grated with a julienne peeler
spring onion, green part only cut into lengths as long as your rolls
bird's eye chillies, finely sliced
coriander, to serve
Method
Cut deep slits into the meat of the pork and prick many small holes into the skin of the pork. Pour boiling water over the skin and then pat dry. You can skip this step if you like, but it does help the crackling. Rub the meat side with the pepper, five spice and garlic, and sprinkle the skin side generously with salt. Place on a rack in the fridge uncovered overnight.
For the daikon pickle, mix with the salt with the daikon rub until the daikon is softened enough so that it can be bent without breaking. Rinse, and combine with the vinegar and sugar, along with ¼ cup of water in a press-seal bag. Refrigerate for at least 1 hour.
For the banh mi seasoning, combine the ingredients and stir to dissolve the sugar.
Heat your oven to 180C. Roast the pork for 45 minutes, then turn the oven to grill/broil function and grill the pork for a further 15-20 minutes until the skin is crisp. Remove from the oven and rest for at least 15 minutes before slicing.
For the banh mi, warm the rolls. Cut the pork into thick slices. Spread the rolls with the pate and mayonnaise, fill with the poark loaf, cucumber, carrot, spring onion and daikon pickle. Add chillies and coriander to taste and drizzle with the banh mi seasoning.