Red Wine Teriyaki Steak Donburi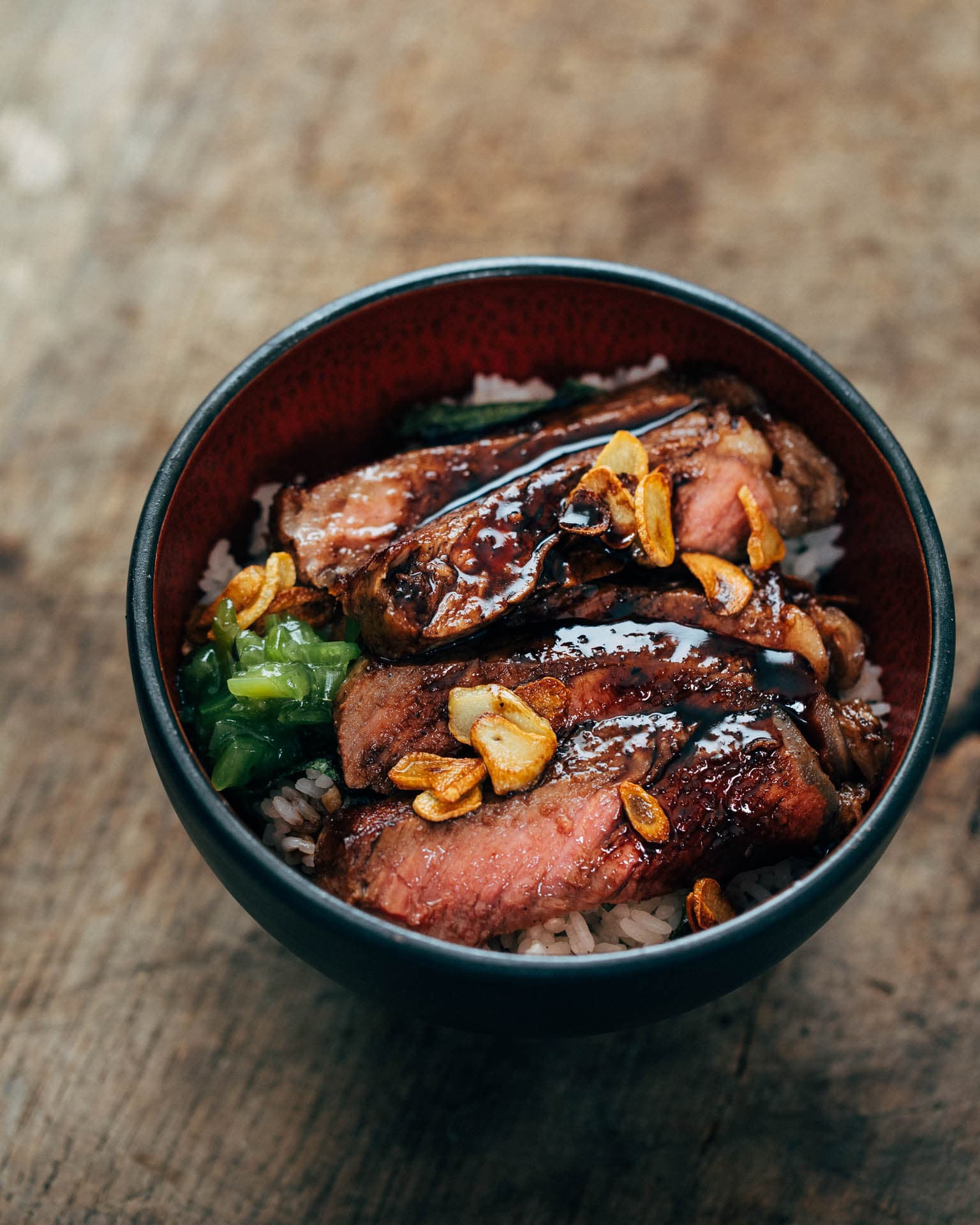 This variation on my easy homemade teriyaki sauce uses red wine instead of sake, so it's a great option if you can't get hold of many Japanese ingredients.
A donburi is a rice bowl and it's just as it sounds - rice with a simple topping that makes a easy one-bowl meal.
This version is slightly fancy with garlic chips and chopped wasabi stem, but you could use a little horseradish or ordinary wasabi instead.
Ingredients
3 cloves garlic, sliced
1 tbsp vegetable oil or olive oil
400g good quality sirloin or scotch fillet steak
salt and pepper, to season
3-5 cups cooked Japanese rice
1 piece nori, cut into fine shreds
1/2 tsp wasabi or horseradish, or 1 tsp prepared wasabi stem, to serve
Red wine teriyaki (Makes 600ml)
250ml light soy sauce
200ml Australian shiraz
200ml mirin
80g sugar
Method
To make the red wine teriyaki, combine the ingredients in a saucepan and stir over low heat until the sugar is dissolved. Transfer to an empty wine bottle and store in the pantry until ready to use.
Heat a frying pan over low-medium heat and add the oil and garlic. Fry the garlic, stirring frequently, until golden brown. Remove the garlic from the pan, leaving the oil in the pan. Increase the flame to high. Season the steak with salt and black pepper, and fry the steak until cooked to your liking. Remove and set aside to rest.
Add about 1/2 cup of the red wine teriyaki sauce to the pan and bring to a simmer. Reduce the sauce until it is the consistency of maple syrup, then return the rested steak to the pan and turn briefly to coat.
Place the rice into a serving bowl and scatter with the nori. Slice the steak and place it on top of the nori, pouring over a little more of the reduced sauce. Scatter with garlic chips and add little wasabi or horseradish on top of the beef.
Tips
I used a shiraz for this but any dry red wine will work perfectly well.
The key with all teriyaki is controlling the reduction. If it is too reduced, it will be too thick and salty. If it is too thin, the sauce will be insipid. Luckily, it's easy to get it right. If it's too thin, keep simmering. And if it's too thick, add a little extra teriyaki sauce to thin it out.
Of course, you don't need to search for wasabi stem for this. A little ordinary wasabi (like for sushi), horseradish or even English mustard would be totally fine. You just need something a little pungent to lighten the dish.