Red Chilli Oil for Dumplings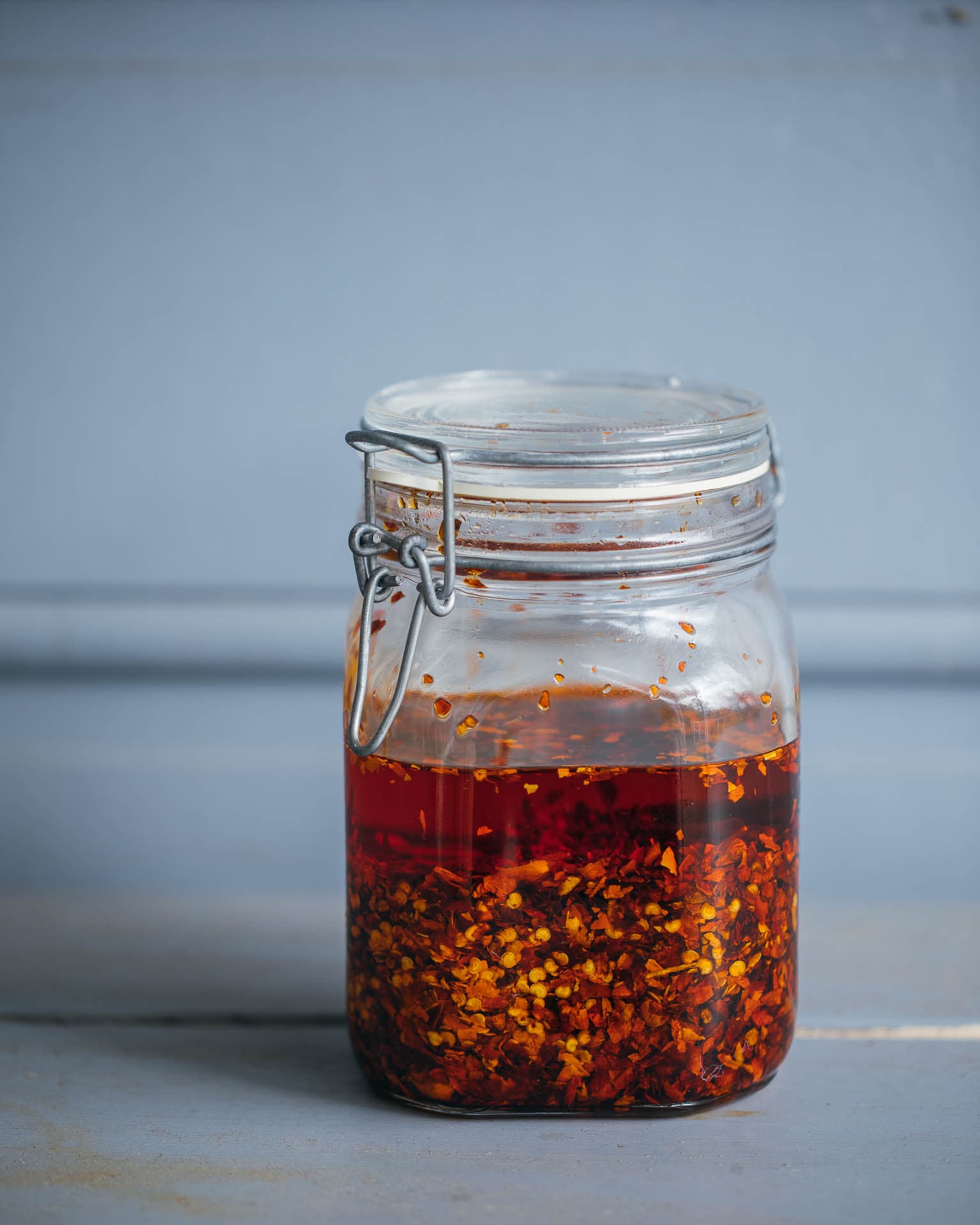 This red oil is great for serving with dumplings, but it is also an essential ingredient in Sichuanese food.
Combined with soy sauce and sugar it becomes "Red Oil Flavour", one of the key flavours of Sichuanese cuisine.
It may look spicy, but the level of heat will depend entirely on the chillies you use.
Chinese dried chilli flakes (available from Asian grocers) are often much milder than those found in the West. I'd strongly suggest finding them if you're making this oil, as you'll get a stronger chilli flavour and colour, without as much of the heat.
Ingredients
1L peanut or canola oil
4 star anise
4 black cardamom, bashed
2 large pieces cassia
5 bay leaf
6 spring onions, cut into 5cm lengths
1 red onion, peeled and sliced
5cm ginger, thickly sliced
2 cups Chinese dried chillies flakes
Method
Heat the oil to 200C and add the star anise, black cardamom, cassia and bay leaves. Then add the spring onion, onion, and ginger and continue to fry until the wet aromatics appear dry and lightly browned. Remove all the ingredients from the oil with a strainer scoop and remove the oil from the heat.
Allow the oil to cool for about 10 minutes to around 120C, and then add the dried chilli flakes. Allow the oil to cool completely for about 1 hour, and then transfer the chilli oil to a jar. The chilli oil will keep at room temperature for years.
Tips
You can make variations on this by including Sichuan peppercorns, sesame seeds or other ingredients you might like. However, I prefer to keep mine simple, as the more simple it is the more versatile it will be.
Definitely try and source Chinese chilli flakes rather than using Western dried chilli. Western dried chillies are made from different varieties of chilli and tend to be over-dried, contain too many seeds, and have less colour and flavour than Chinese chillies.
This kind of chilli oil can be made with a mix of chilli varieties, providing heat, flavour and colour separately.