Ramen School 005: Shoyu Ramen in 10 Minutes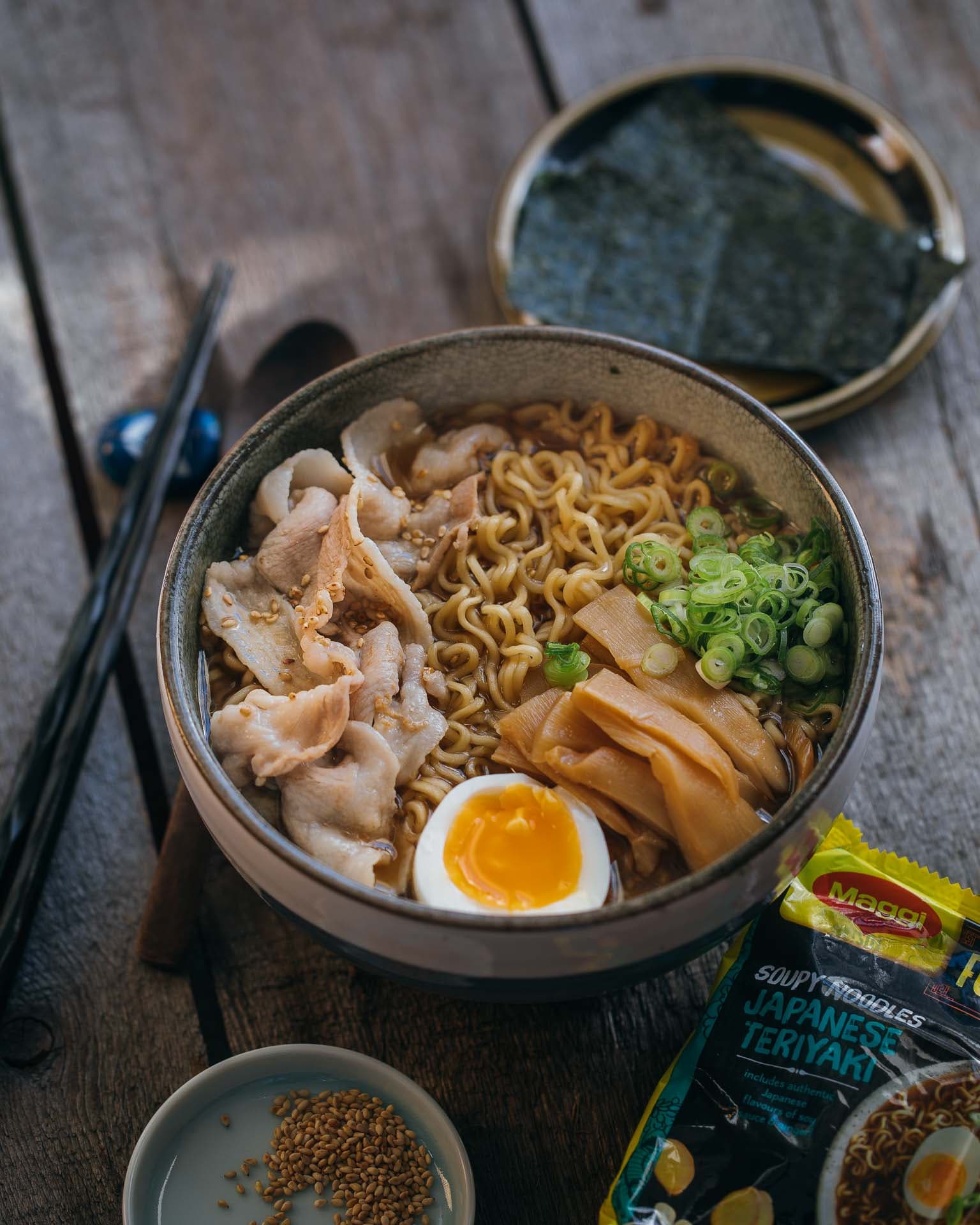 If you aren't sure you want to spend hours (days!) making shoyu ramen from scratch, here's a recipe using instant noodles that is ready in just 10 minutes. It includes all of the 5 basic elements of ramen (Broth, Noodles, Tare, Oil and Toppings) and is an excellent way to upscale your instant noodles into a proper ramen fix.
This post is brought to you by Maggi's Fusian Teriyaki Soupy Noodle.
Ingredients
1 free-range egg
2 tsp vegetable oil
2 cloves garlic, finely chopped
½ tsp sesame oil
30 g thinly sliced pork belly
2 packets MAGGI Fusian Japanese Teriyaki Soupy Noodles
2 spring onions, thinly sliced
¼ sheet nori
approx. 1 tbsp menma (Japanese pickled bamboo shoots)
a pinch of toasted sesame seeds (optional)
Method
Bring a saucepan of water to the boil. Using a metal skewer poke a small hole in the base of the egg. Boil the egg for 6 minutes, then transfer to a bowl of iced water to cool completely. Peel the egg and cut in half.
While the egg is boiling, heat a separate small saucepan over medium heat and add the vegetable oil. Add the garlic and fry until fragrant and lightly browned, then add the sesame oil and 600ml of hot water. Bring to a boil, then add the pork belly and cook for about 30 seconds until the pork is cooked through. Remove the pork from the pot with chopsticks and set aside.
Add the soup and sauce sachets from the noodles to the pot, then add the noodle cakes and cook for 3 minutes. Remove everything to a bowl and top with the pork belly, egg halves, spring onions, menma and sprinkle with spring onions and sesame seeds. Serve immediately.
Tips
Cooking from a packet doesn' t mean you aren't still cooking. Taste the broth and season it to your liking. It may need a little more soy sauce, or a pinch of salt.
If you aren't using a packet specifically made for soup noodles, you might want to start with stock instead of water for extra taste.
I tend to use a little less water than the packet recommends, as I prefer the soup thicker and stronger tasting.