Ramen School 003: Ajitama (Ramen Eggs)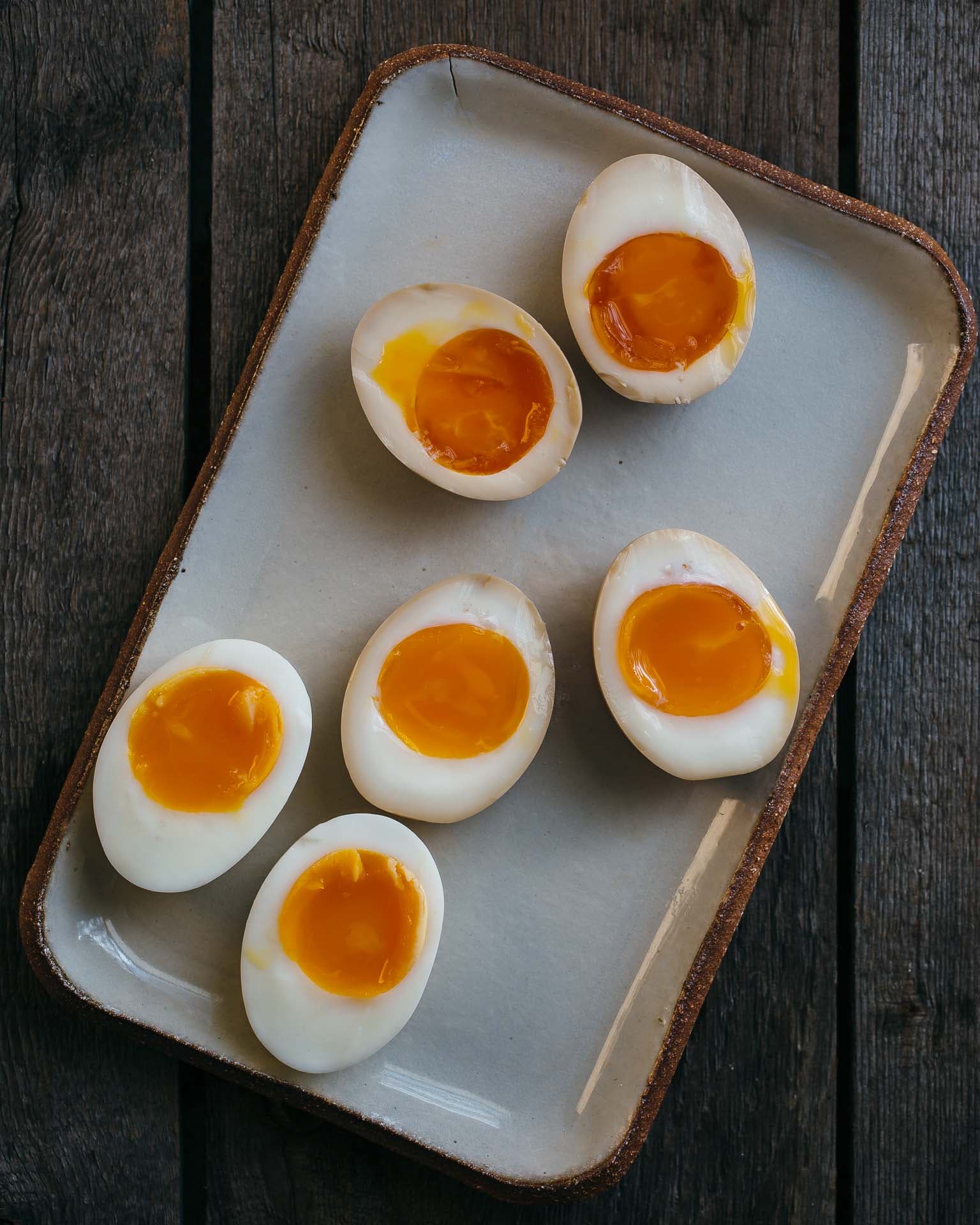 The key to ramen eggs (known in Japanese as ajitsuke tamago 味付け卵) is that they aren't just flavoured by their marinade. The salty and sweet marinade actually acts as a cure to firm the whites and yolks, and give the yolks a savoury and jammy taste and consistency, which is a much better texture for ramen. Two days curing is about right for curing ramen eggs, but you can go more or less depending on the levels of salt and sugar in the liquid.
Ingredients
6-8 eggs
1 cup chashu braising liquid (or 1 cup homemade teriyaki sauce)
Alternative:
½ cup soy sauce
¼ cup mirin
¼ cup sake
any aromatics, dried shiitake mushrooms or dried seafood you might like
Method
Prick a hole in the base of the egg. Bring a pot of water to the boil, add the eggs, reduce the heat and simmer for 6 minutes. Remove to a bowl of iced water and allow to cool completely.
Combine the eggs with the chashu braising liquid and 2 cups of water. Refrigerate for 48 hours. Serve with ramen. Alternatively, bring the mirin and sake to the boil and flambe. Add soy sauce and 2 cups of water, plus any dried aromatics, shiitake mushrooms or seafood you might like. Add eggs and refrigerate for 2 days.
Tips
When cutting the eggs in half, the yolks are likely to stick to the knife. Use a wet knife to minimise this, or do as ramen shops do and cut the eggs with a piece of string or fishing line.
Some common flavourings that can be added to the steeping liquid are: dried shiitake mushrooms, dried sardines or anchovies, bonito flakes, kombu, and even onion and garlic.
Ramen eggs will keep for around 4 days refrigerated in their liquid or out of it. The eggs will likely be fully cured after 2 days.