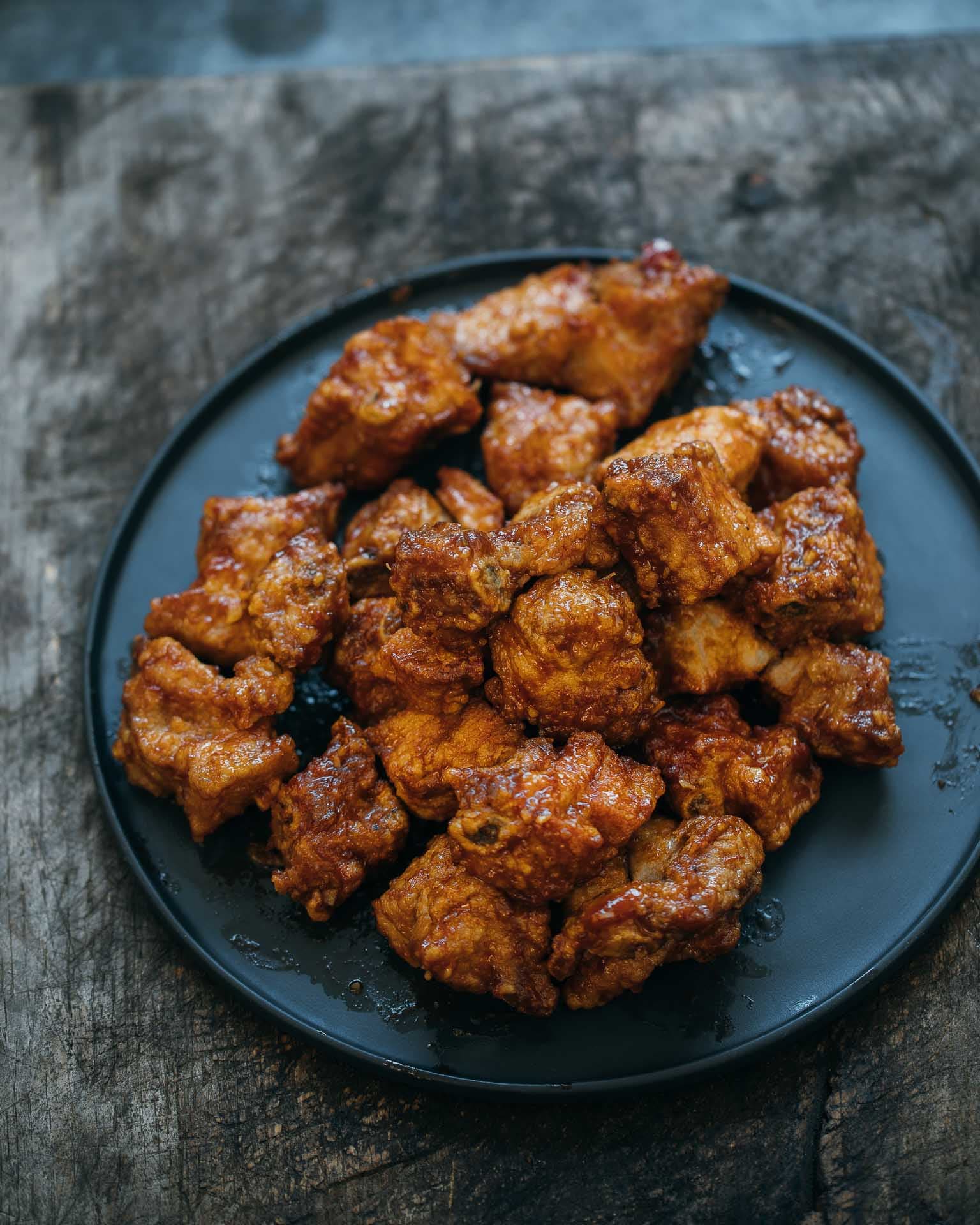 Known in Chinese as 京都排骨 or "Capital Ribs" this dish is often translated as "Peking Pork Ribs" as Beijing - the northern capital - is the current capital, but actually the name of the dish refers to Nanjing - the southern capital in Jiangsu Province.
Even more confusing is the fact that the dish itself is actually a Cantonese dish, named because of its resemblence to the sweet style of cooking in Jiangsu and specifically the colour that is reminiscent of the famous dish of Wuxi pork ribs from the province.
Despite the difficult history of the name, the dish itself is very easy to make and the main ingredient is ketchup!
Ingredients
1 kg short-cut pork ribs, divided into individual ribs
2 tbsp cornstarch
2 tbsp Shaoxing wine
1 egg white
½ tsp salt
¼ tsp white pepper
1-2 litres canola oil, for deepfrying, plus 1 tbsp for wok frying
3 cloves garlic
Sauce
¼ cup tomato sauce (ketchup)
1 tbsp white vinegar or rice vinegar
1 tbsp soy sauce
2 tsp sugar
¼ cup stock or water
Method
Combine the pork ribs with the cornstarch, Shaoxing wine, egg white, salt and pepper and marinate for at least 1 hour.
Heat the oil for deep-frying in a large saucepan or wok to 170C. Deep-fry the ribs in batches for 5-8 minutes depending on the thickness of your ribs. If just using the bone portion of the ribs 5 minutes should be enough, but if the ribs contain more of the belly fry them for 8 minutes.
Combine the sauce ingredients in a small bowl and stir to dissolve the sugar. Heat a wok over medium heat. Add the oil and garlic and fry until the garlic is fragrant and lightly browned. Add the sauce and bring to a simmer. Add the ribs and toss to coat in the sauce until the sauce is thickened, then serve.