Nasi Goreng – Indonesian Fried Rice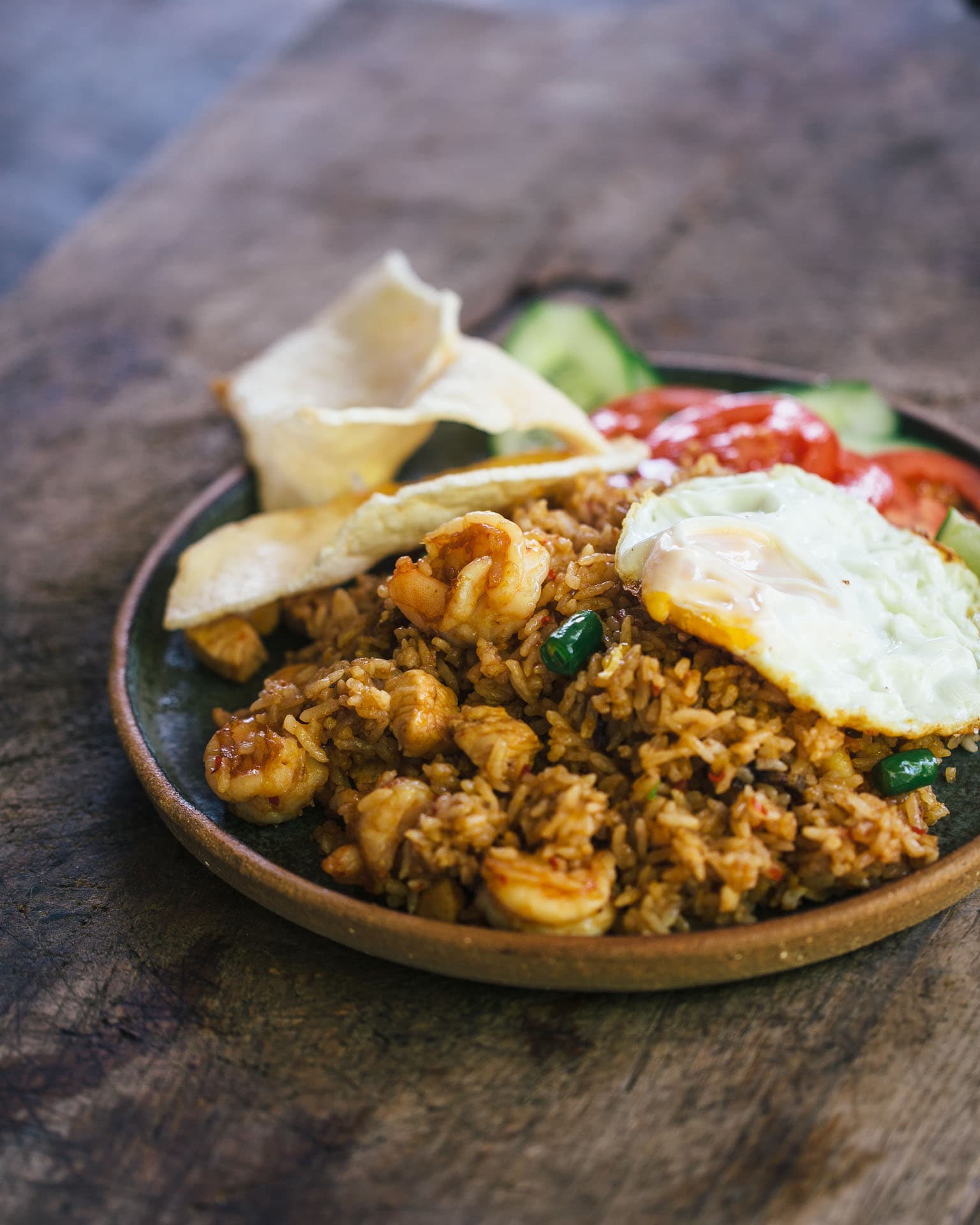 Nasi goreng literally just means 'fried rice' in Bahasa and the key to this dish is the aromatic rempah made from eschallots, garlic, chilli and shrimp paste.
It can be as simple as rice fried with the rempah and topped with a fried egg, or you can add other ingredients to it like I have here, with chicken, prawns and green beans.
This is the third instalment of Fried Rice Fridays on my YouTube channel. Check out the video below.
Ingredients
3 cloves garlic, peeled
2 eschallots, peeled and roughly chopped
1 tsp belacan
½ cup canola oil
4 eggs
1 large red chilli, seeds removed (or other chillies as you prefer)
1 chicken breast, cut into 2cm cubes
10 medium prawns, peeled and butterflied
12 green beans, cut into 1cm pieces
4 cups cooked Jasmine rice, chilled overnight in the fridge
1 tbsp kecap manis
To serve:
prawn crackers (keropok udang)
sliced cucumber
sliced tomato
Method
Combine the garlic, eschallots, belacan and chilli in a small food processor and process to a coarse paste (rempah).
Heat the oil in a wok and fry the eggs one at a time until puffy, and browned and crisp around the edges. Set the eggs aside. You can use this oil to fry your prawn crackers if you like. Remove the oil from the wok, leaving about 2-3 tablespoons for further frying. Return the wok to medium heat.
Add the rempah to the oil and fry, stirring frequently for about 5 minutes, or until the oil separates from the solids and they are darkened and fragrant. Increase the heat under the wok and add the chicken breast, prawns and beans and toss for a minute or two until the chicken and prawns are barely cooked through. Add the rice and toss well. Drizzle over the kecap manis and mix until the rice is uniformly coated and lightly toasted. Remove the fried rice to a plate and serve with the prawn crackers, sliced cucumber and tomato, and top with a fried egg.