Malaysian Lamb Shank Curry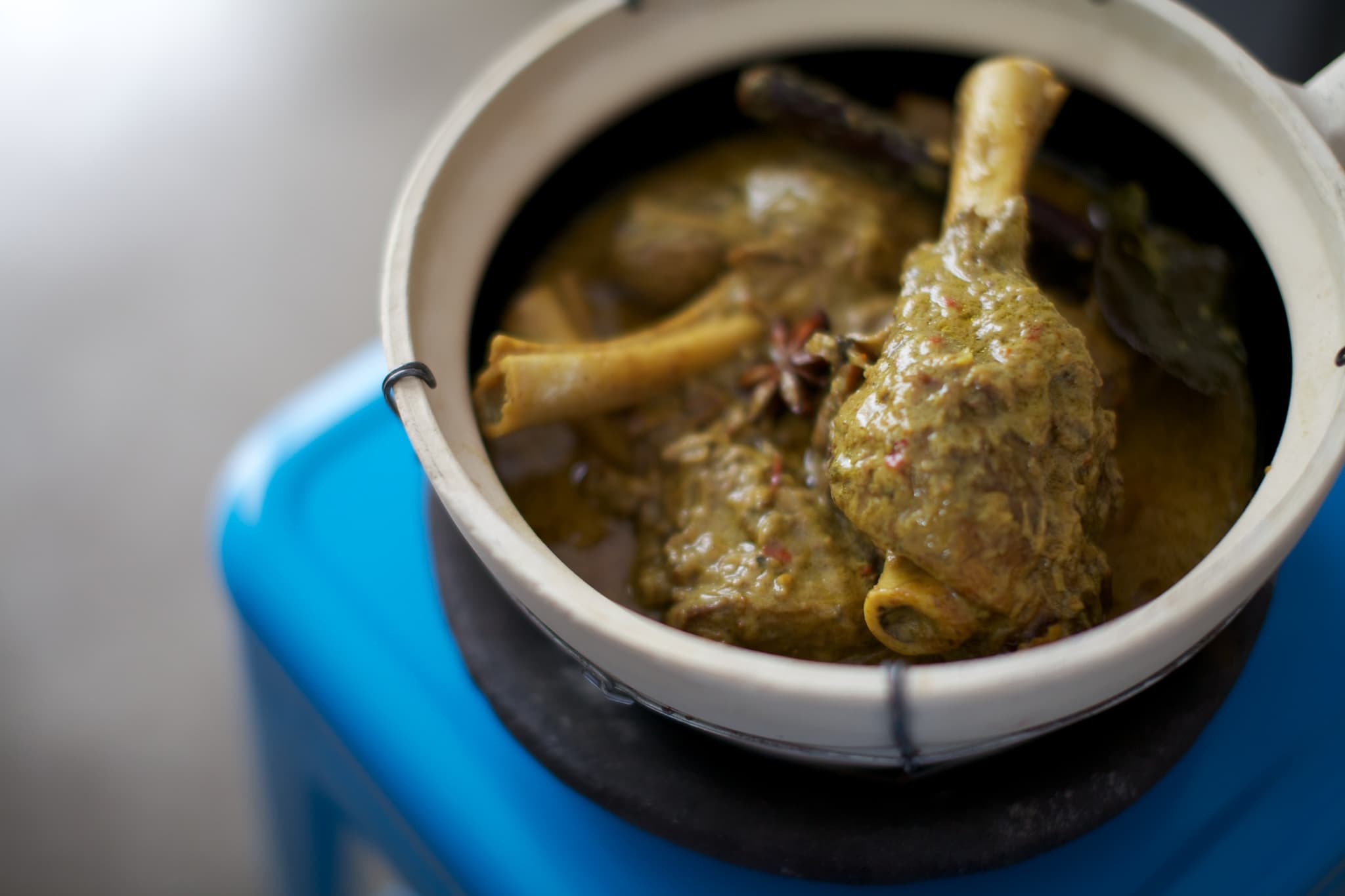 Hearty lamb shank dishes are a winter staple in Australia, but this dish is a great one for times like now just as the weather starts to warm. We often think of lamb shanks as a hearty winter dish, but lamb curries in South East Asia work fantastically well in warmer weather.  This dish crosses the boundary of the seasons and takes advantage of the great spring lamb that we have in Australia, and matches it with the nostalgic Malaysian flavours I grew up with.
Ingredients
3 brown onions (or 6-8 red schallots)
15 small dried red chillies, seeds removed and soaked in hot water until soft
2 stalks lemongrass, white part only, sliced
4 garlic cloves
2 tsp grated ginger
2 tsp ground coriander
1 tsp ground cumin
1 tsp ground fennel seed
1 tsp ground turmeric
1 tsp ground white pepper
1 tsp belacan
5 candlenuts
½ cup neutrally flavoured oil
1.75kg lamb shanks (about 6 shanks), (Alternatively, you could use 1.5kg lamb chops, or 1kg boneless lamb leg, cubed)
400ml coconut cream
400ml water or White Chicken Stock
6 cloves
2 sticks of cinnamon
1 star anise
1 tsp caster sugar
1 tsp salt
3 kaffir lime leaves
a handful of curry leaves, picked
Method
Make the curry paste by processing all the paste ingredients together to a fine paste. If you have time, I recommend doubling or tripling the recipe freezing the paste in portions for later use.
Heat the oil in a large casserole dish and fry the paste for 5-10 minutes until it is coloured and fragrant, stirring frequently so that it doesn't stick to the bottom. Add the lamb shanks to the paste and oil and lightly brown on all sides. Add all the remaining ingredients to the pot, bring to the boil and simmer covered for about 1.5 hours, stirring occasionally. Remove the lid and simmer for a further 1 to 1.5 hours until the meat is very tender, pulls away easily from the bone and the liquid has reduced to a thick gravy.
Cover the curry and allow it to cool on the stove. Refrigerate overnight if possible. Reheat and adjust seasoning before serving. Serve with white rice and sliced cucumbers.