Korean Fire Chicken – Buldak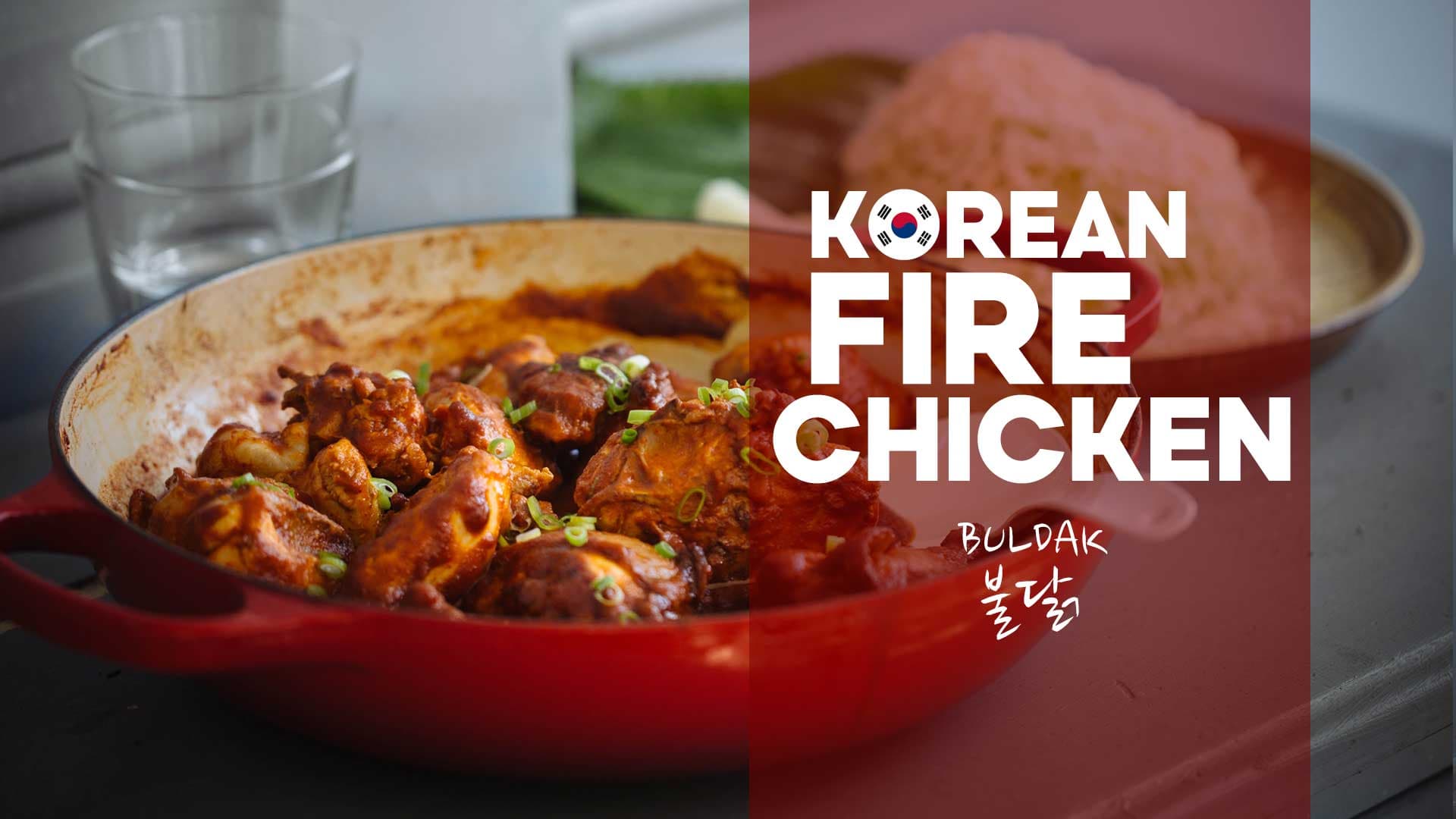 Be warned, this recipe is HOT - and in the best possible way. Buldak or "Fire Chicken" is a favourite Korean street food chicken dish known for its intense heat and rich, complex flavour.
It started from roaming street carts in Seoul that grilled the chicken covered in the spicy sauce over open flame fire pits, but these days you can find Fire Chicken in Korean restaurants all over the world.
I'm not usually one to try to push chilli to the limits of tolerance. I usually think that chilli should be a gentle background heat rather than all-out flamethrower, but for this one dish I put that rule to one side. The hotter this dish is, the more the chilli brings out the complexity in the sauce. It honestly does taste better the more it hurts!
Give it a try once and you'll be hooked. You'll probably end up in a red, sweaty heap crumpled in your chair afterwards, but I guarantee you'll have a smile on your face :)
Ingredients
1 whole free-range chicken (approx. 1.7kg)
1 tbsp soy sauce
1 tbsp sake
¼ tsp freshly ground black pepper
1 tbsp vegetable oil
2 spring onions, finely sliced
¼ head cabbage, finely shredded, to serve
2 tbsp Korean or Japanese mayonnaise, to serve
sesame leaves (Korean perilla), to serve (optional)
pickled daikon, to serve (optional)
Fire chicken sauce
1 tbsp sugar
2 tbsp Korean chilli powder (mild or hot, as you prefer)
1 tbsp sesame oil
1 tbsp gochujang (Korean chilli paste)
2 tbsp honey
2 tbsp soy sauce
2 tsp hot English mustard
1-3 red bird's eye chillies (as you prefer)
3 cloves garlic, peeled
½ large onion (peeled and cut into chunks)
½ large nashi (Asian pear) (peeled and cut into chunks)
Method
With a cleaver, cut the chicken into 10-12 pieces, on the bone. If you prefer, you can use around 1.25kg boneless chicken thighs, cut into large chunks. Combine the chicken with the soy sauce, sake and black pepper and set aside.
For the Fire chicken sauce, combine all the ingredients in a blender and process to a smooth paste. If you add the ingredients in the order in this recipe, you won't need to wash your measuring spoon between measurements.
Heat the oil in a large shallow casserole dish or frying pan over high heat and brown the chicken pieces on all sides. Reduce the heat to medium, add the fire chicken sauce and stir to combine. Cook for around 8 minutes, stirring frequently until the chicken pieces are cooked through. Scatter with the spring onion and serve with the shredded cabbage, mayonnaise, sesame leaves and pickled radish, if using.
Tips
Make sure you use proper Korean chilli powder instead of ordinary Western chilli powders, which often have more heat, less colour and less chilli flavour. Don't be worried if your sauce looks a little more pale than mine after you've finished blending, the colour will come after it sits for a few minutes.
Korean chilli powders come in different heat strengths. If you prefer a more mild chicken dish use a more mild powder rather than using less volume of a hotter chilli powder.
If you're not confident cutting up a chicken on the bone, it's totally fine to make this dish with boneless chicken thigh pieces instead.
Another variation of this dish (particularly when using boneless chicken) is to include sliced Korean rice cakes (tteokgukyong-tteok) and bake it covered in cheese!
Don't skip the accompaniments. The cabbage and pickles really do help to balance the heat.