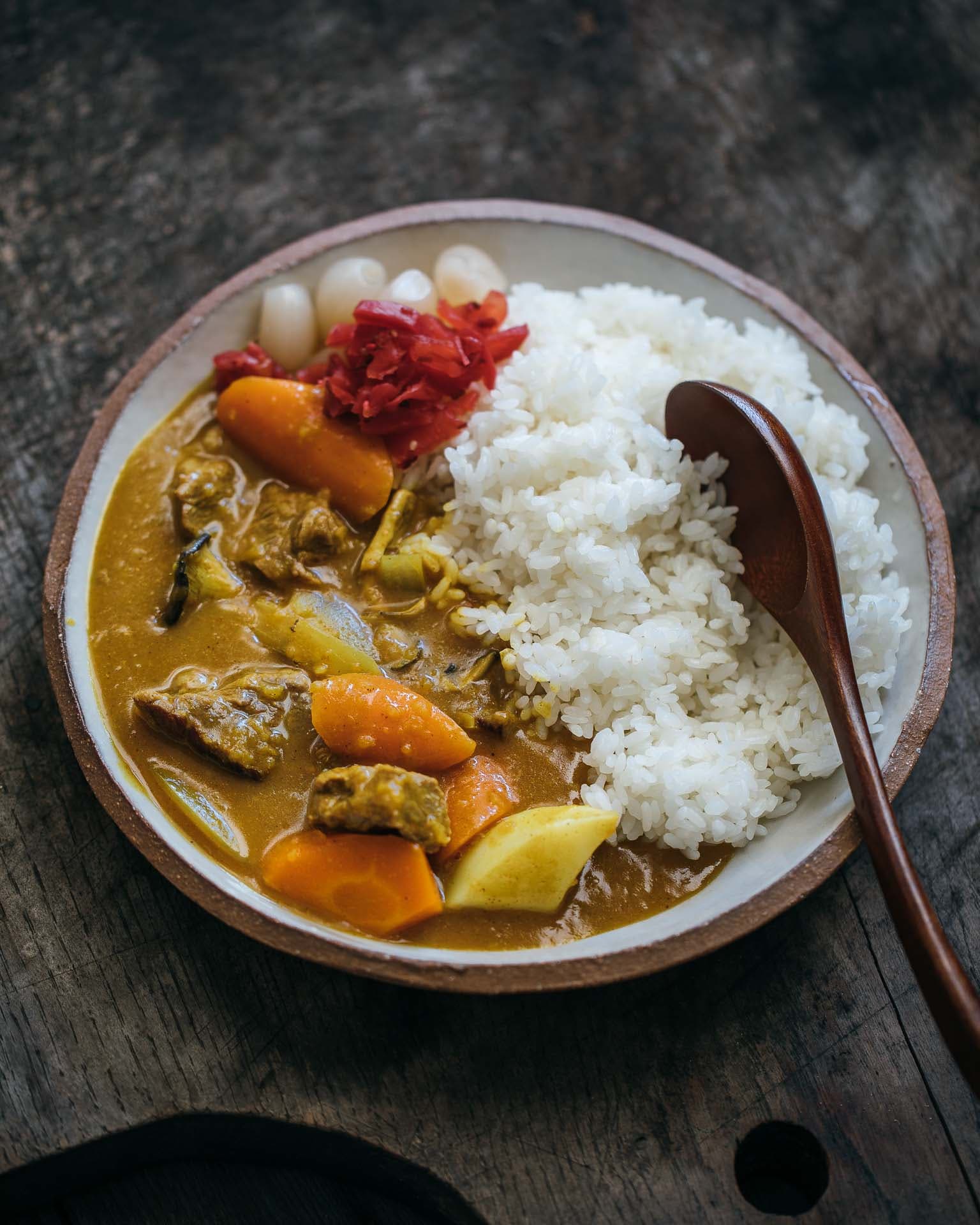 Japanese curry is very different to most curries you might be familiar with. It takes a bit of French sauce technique and Japanese stewing technique and combines it for a unique style of curry where the European-style roux forms the base of a richly flavoured thick curry sauce that is used to coat the main ingredients.
Curry was introduced to Japan by the British navy which usually had canned curries for ocean voyages, and today it is often made from packaged curry roux blocks. If you want to try making it from scratch, here's how you do it.
Ingredients
1 kg beef chuck, cut into 3cm cubes
salt and pepper, to season
1 tbsp oil
75g unsalted butter
75g plain flour
3 tbsp curry powder (or 2 tbsp curry powder and 1 tbsp garam masala)
¼ tsp chilli powder (or to taste)
150g shimeji mushrooms, broken into clumps
1 large brown onion, thickly sliced
3 large carrots, peeled and cut into irregular chunks
2 sebago potatoes, peeled and cut into irregular chunks
2 tbsp tomato ketchup
1 tbsp Worcestershire sauce
1 tbsp soy sauce
1 tsp salt
1 apple, grated
Japanese pickles (rakkyo and fukujinzuke), to serve
cooked Japanese rice, to serve
Method
Season the beef with salt and pepper. Heat the oil in a large saucepan and fry the beef in batches until well browned. Return all of the beef to the saucepan and add around 2L of water to completely cover the meat. Bring to a simmer and simmer for 1 to 1.5 hours, skimming to remove any scum that forms on the surface.
When the beef is tender (but not falling apart), add in the potato and carrot and simmer for a further 15 minutes until the vegetables are tender. Remove from the heat and strain off the solids, reserving the stock.
Heat another large saucepan and add in the butter and flour. Stir with a wooden spoon to combine into a roux and cook until just starting to turn colour. Add in the curry powder, garam masala and chilli powder and stir for 1 minute. Add in the stock a ladle at a time until a smooth sauce develops. You can add more stock or water if it is too thick. Add the shimeji mushrooms, sliced onion, grated apple, and other remaining ingredients and simmer for 10 minutes until the onion is softened, stirring regularly to stop the sauce from sticking to the saucepan. Remove from the heat. Stir through the beef, potatoes and carrot, adjust seasoning for saltiness and allow to stand covered for at least 15 minutes before serving. Adjust seasoning (you will probably need to add some additional salt) and then serve with rice and pickles.
Tips
This version uses beef, but you could easily substitute any other meat or vegetable you like. If you use chicken the cooking time will be much shorter as you won't need to wait for the chicken to become tender as for the beef chuck.
Using a mixture of curry powder and garam masala will give a more fragrant curry with less heat.
If you can't find the rakkyo or fukujinzuke, try adding a few pickled cocktail onions instead.
Try making the sauce only and using that as a topping for a crumbed and fried pork cutlet for another Japanese favourite, katsu kare.