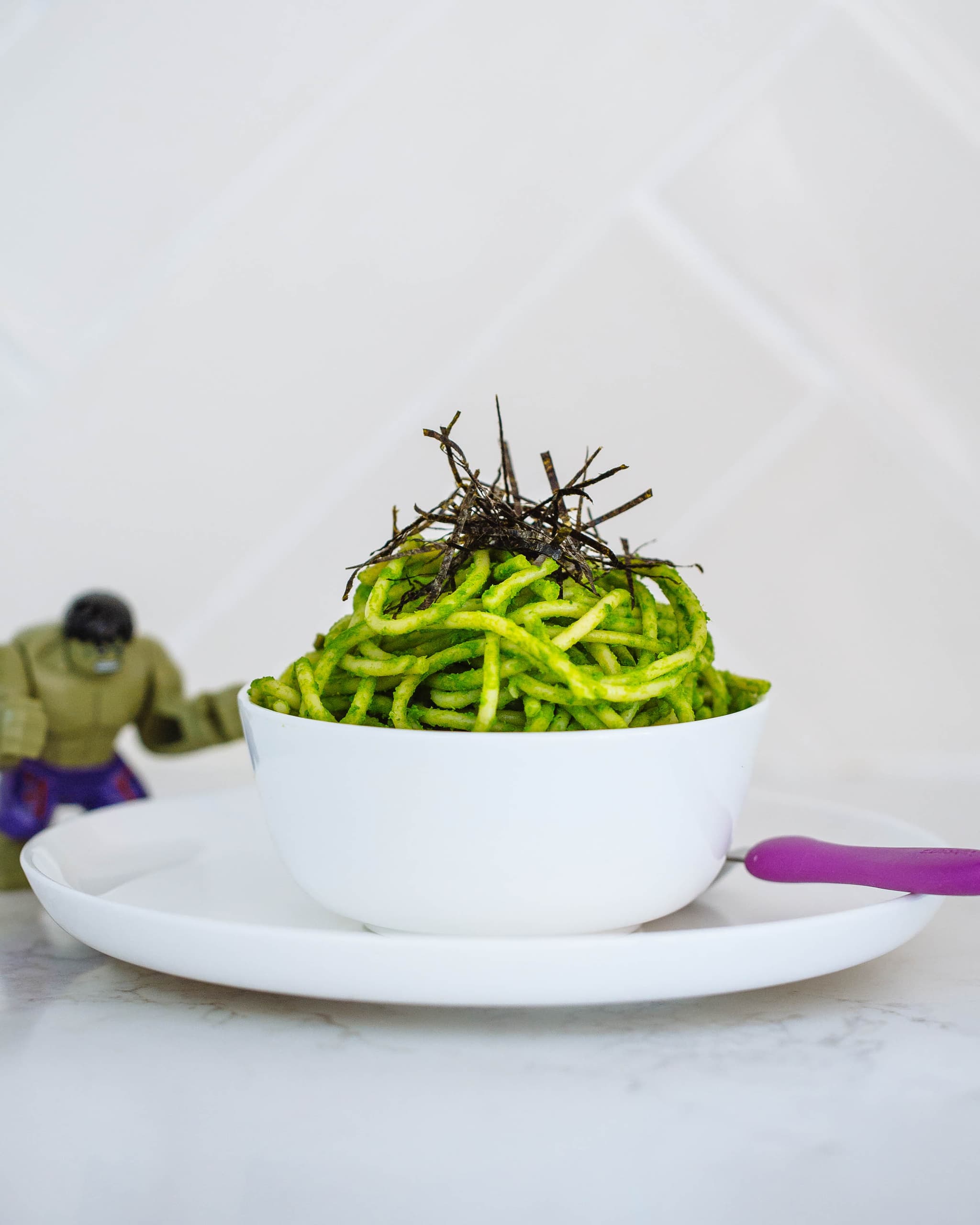 Our kids usually just eat the same things that we adults eat, which is a great way to feed them as they learn to appreciate new foods and it makes life a lot easier when you only have to cook once.
That said, I don't think it's great for kids to eat the same as adults all the time as it can very quickly lead to the adults just cooking and eating slightly boring food all the time. I still make the curries and other strong, spicy  or challenging dishes I grew up with that my kids just aren't ready for, but that I don't want to lose as part of their (and my) culinary heritage.
Part of learning about food as a kid is watching what your parents eat, even if you might not want to eat it yourself.
On those occasions I need to make something separate for the kids, and right now this vegetarian Hulk Spaghetti is a real favourite of our superhero obsessed son, Christopher. It's not just for kids either.
Ingredients
Serves 4-8 kids, depending on their ages (or in our case, 2 kids 4 times)
500g dried spaghetti
1/2 head broccoli, in florets and including stalk cut into large chunks
5-6 leaves of kale, or 2 cups baby spinach
1/4 cup cream (optional)
2 tbsp butter or 2 tbsp olive oil
1/4 cup freshly grated parmesan
1 sheet nori, cut into 5cm strips and very finely shredded
Method
Bring a large pot of water to the boil and salt it for cooking the pasta. Add the broccoli and kale to the water and boil for about a minute. Remove with tongs and transfer to a blender. Add the pasta to the water and cook according to the packet directions.
After about half of the cooking time of the pasta has elapsed, add about 1/4 cup of the pasta water to the blender and blend the vegetables to a puree. Add the cream and butter (or olive oil) and allow the butter to melt a little before blending to a smooth sauce. Taste the sauce and adjust for seasoning.
When the pasta is al dente, drain it well and return it back to the pot on low heat (or a separate frying pan, if that is easier). Add the sauce and parmesan and stir briskly to combine. Divide the spaghetti between bowls and top with the shredded nori for the Hulk's hair.
Tips
Tasting the sauce in step 2 is the most important part. If the sauce doesn't taste good on its own, it won't taste good with the pasta. Taste and adjust it to the seasoning and texture you prefer.
Always finishing cooking pasta together with the sauce rather than just ladling or pouring it on top. This allows the al dente pasta to absorb the flavours of the sauce and with make your pasta much, much tastier every time.
As a variation to this you could add a bit of chopped ham, or some peas (or both) but don't overdo the ingredients. Pasta should be about the pasta, not the stuff you put in it.
If you can't be bothered slicing the nori for the Hulk's hair (it can be a bit difficult if your knife isn't very sharp), you can just wave it over a gas flame for a few seconds until the nori becomes brittle and then crumble it over the top.