How to make Yum cha-style Siu Mai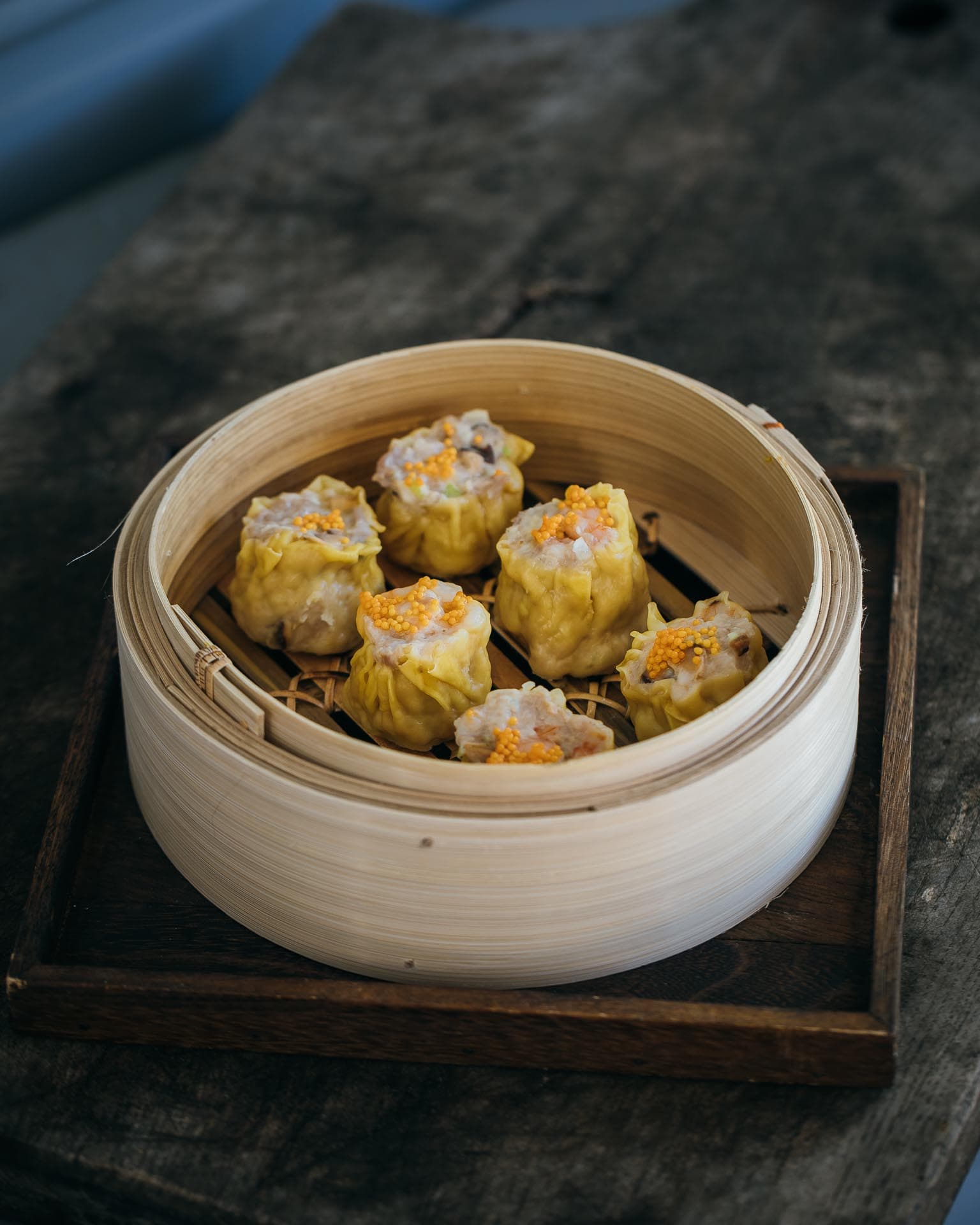 Meaning "cook-sell" these dumplings are said to get their name from being so delicious they are sold as soon as you cook them.
The key to a good siu mai is having the pork filling in large enough pieces to give them a meaty, instead of a mince-y texture, and enough fat to keep them moist.
Often made with a mixture of chopped lean pork and pork fat, using pork belly gives you the perfect combination. Roughly chop it, don't mince it.
Ingredients
800g skinless pork belly
1 tsp salt
1 tbsp light soy sauce
1 tbsp Shaoxing wine
3 tsp caster sugar
¼ cup chicken stock
400g raw peeled prawn meat, roughly chopped
2 spring onions (white and light green part), finely chopped (about ½ a cup)
6 dried shiitake mushrooms, soaked in hot water and finely diced
2 tbsp minced ginger
50 square wonton wrappers (yellow egg pastry)
flying fish roe, crab roe or finely diced carrot
Method
Slice the pork belly in 1cm wide slices, then cut across the slices into 1cm pieces. Roughly chop the pork with a cleaver. There should still be large pieces of pork visible, rather than a mince. Add the pork to the bowl of a stand mixer with the beater attachment. Add the salt, soy sauce, Shaoxing wine, and sugar. Beat the pork at low speed at first, gradually increasing it so that the mixture doesn't spill, for about 10-15 minutes. Gradually add the stock to the pork mixture.
Add the prawn and mix through the pork at low speed. Then add the spring onion, mushrooms, and ginger, if using. Combine at low speed. Rest in the fridge for 30 minutes. Taste the filling and adjust the seasoning if necessary. If you don't want to taste the raw filling, just steam a little of it and taste that.
With a circular pastry cutter that just fits inside the square wrapper, cut a circle and discard the outside. Take a wonton wrapper and with a butter knife or small spatula, place a small amount of filling in the centre of a wrapper. Gather the pastry around the filling and continue adding more filling with the knife or spatula, pushing the filling down tightly to ensure there are no air bubbles. Once the wrapper is gathered into a filled cylinder shape, tap the base against your board to flatten it, and place onto a baking tray lined with baking paper. Top each dumpling with a little roe or a small piece of carrot. Rest the dumplings in the fridge for at least 30 minutes before cooking. Repeat until all the filling is used up. Sit a steamer over boiling water and steam the siu mai for 8-12 minutes.
Tips
Use pork belly to get the right mixture of fat and meat in the dumpling to give it it's signature texture. Kneading the filling in a stand mixer will help it stick together and stay moist by helping to create a net of proteins released from mixing the meat.
This is traditionally a very simple dumpling, so you can leave out the aromatics like ginger and spring onion if you like. You can even leave out the mushrooms and just keep the filling as meat and prawn.
Freeze the siu mai while raw, and to cook you can steam them directly from frozen. It will take 12-15 minutes if steaming from frozen.