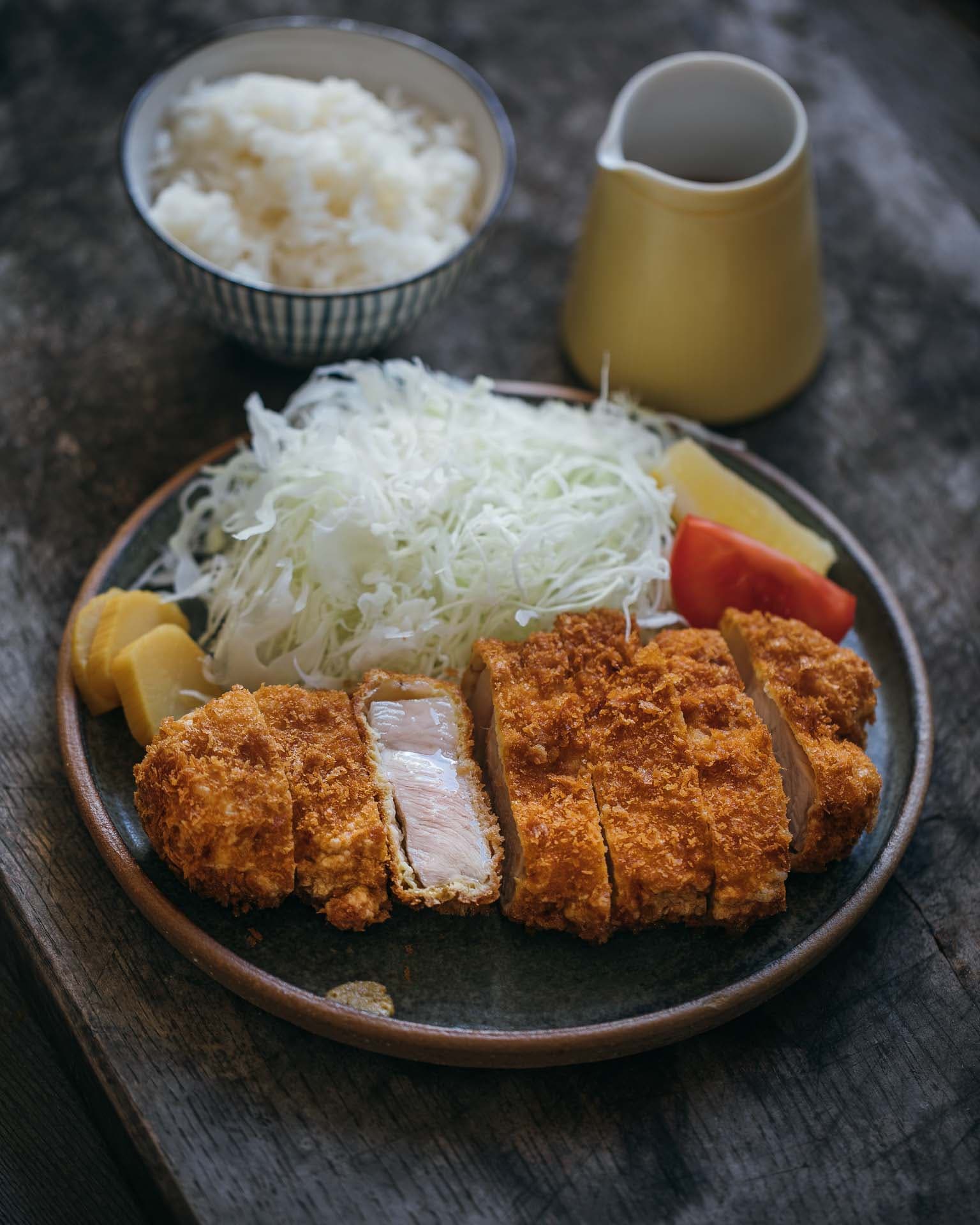 Tonkatsu is a Japanese crumbed pork cutlet. A little like a German or Australian schnitzel, tonkatsu is one of the most popular forms of yōshoku (Western food incorporated into Japanese cuisine). You can find it in many forms - as curry, sandwiches, rice bowls etc. - but its most pure form is as a straight tonkatsu. Just the cutlet, served with shredded cabbage, a thick Worcestershire-like tonkatsu sauce, rice and miso soup on the side.
There's a bit of an art to making a great tonkatsu, and here's how you do it.
Ingredients
4 pork loin chops, bone removed, around 1-inch thick
1 cup plain flour
5 eggs, beaten
3 cups
panko breadcrumbs
approx. 1-2 L canola oil, for deep frying
To serve
cooked rice
¼ tsp hot English mustard
finely shredded cabbage
sliced cucumber
sliced tomato
lemon wedges
Japanese pickles (such as takuan)
miso soup
Quick tonkatsu sauce
½ cup tomato sauce (ketchup)
2 tbsp Worcestershire sauce
1 tbsp soy sauce
½ tsp English mustard
Tips
You can buy pre-made tonkatsu sauces from Japanese groceries which are excellent. The quick version given here is really just if you can't find it near you. My real preference, however, is to make my own tonkatsu sauce (recipe to follow).
You don't want to overcook your tonkatsu. Listen for when the meat starts to release its juices (the oil will start to sound very active) and remove the cutlet straight away.
Stay tuned to my YouTube channel for more tonkatsu recipes.