How to Make Sweet and Sour Pork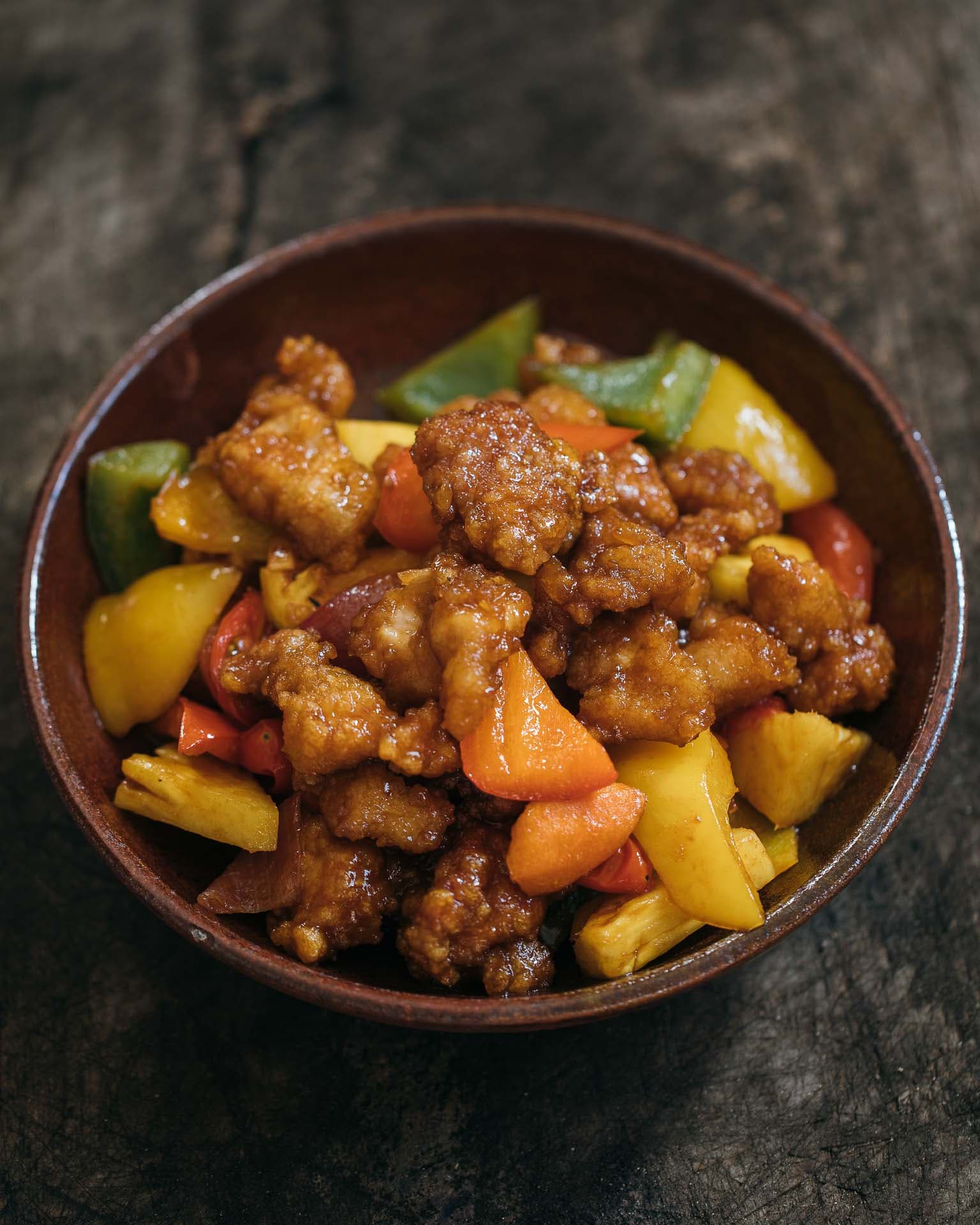 Sweet and sour pork gets a bad rap for being a non-authentic Westernised imitation of Chinese food, but it is actually a very common dish in modern Cantonese cuisine, even in China itself. There are many variations of sweet and sour pork dishes across China, but the Cantonese version is what is most commonly found in the West.
Ingredients
500g pork belly, neck or loin, cut into 3cm pieces
1 tbsp soy sauce
1 tbsp Shaoxing wine
1 egg
½ cup cornflour
canola oil for deep frying (approx. 1L), plus extra
1 small carrot, peeled and cut into irregular chunks
1 red capsicum, cut into irregular chunks (or a mix of different coloured capsicum)
1 onion, cut into large chunks
3 cloves garlic, crushed
8 cherry tomatoes, cut into wedges
150g fresh pineapple, cubed
Sweet and sour sauce
¼ cup chicken stock (optional)
¼ cup white vinegar
2 tbsp Shaoxing wine
2 tbsp white sugar
2 tbsp soy sauce
1 tbsp tomato sauce
1 tbsp grated ginger, juice only
½ tsp cornflour (optional)
Method
Combine the pork with the soy sauce, Shaoxing wine and egg, and allow to stand for 10 minutes. Toss the pork in the cornflour to coat.
For the sauce, combine all the ingredients in a bowl and mix well.
Heat your oil to 180C and deep fry the onion, carrot and capsicum in separate batches for just a minute or so each until just barely tender. Deep fry the pork in batches for 1-2 minutes until golden brown.
Heat your wok over high heat and add about 2 tbsp of oil. Add the garlic and toss for just a few seconds. Add the sauce and bring to a simmer. Allow the sauce to reduce by about a third until it is thickened and glossy. Add the vegetables, pork, pineapple and tomato to the wok and toss to coat in the sauce.
Tips
The more concentrated the sauce is, the crispier the pork will be. If you really want crispy pork, you can leave out the stock and make sure the sauce is very reduced so that there is less water to soak into the pork coating.
You can use other fruits such as dragonfruit, kiwi, peaches, or lychee instead of pineapple.
The sauce will thicken further after the pork is added and absorbs some of the liquid, so bear that in mind when reducing the sauce.