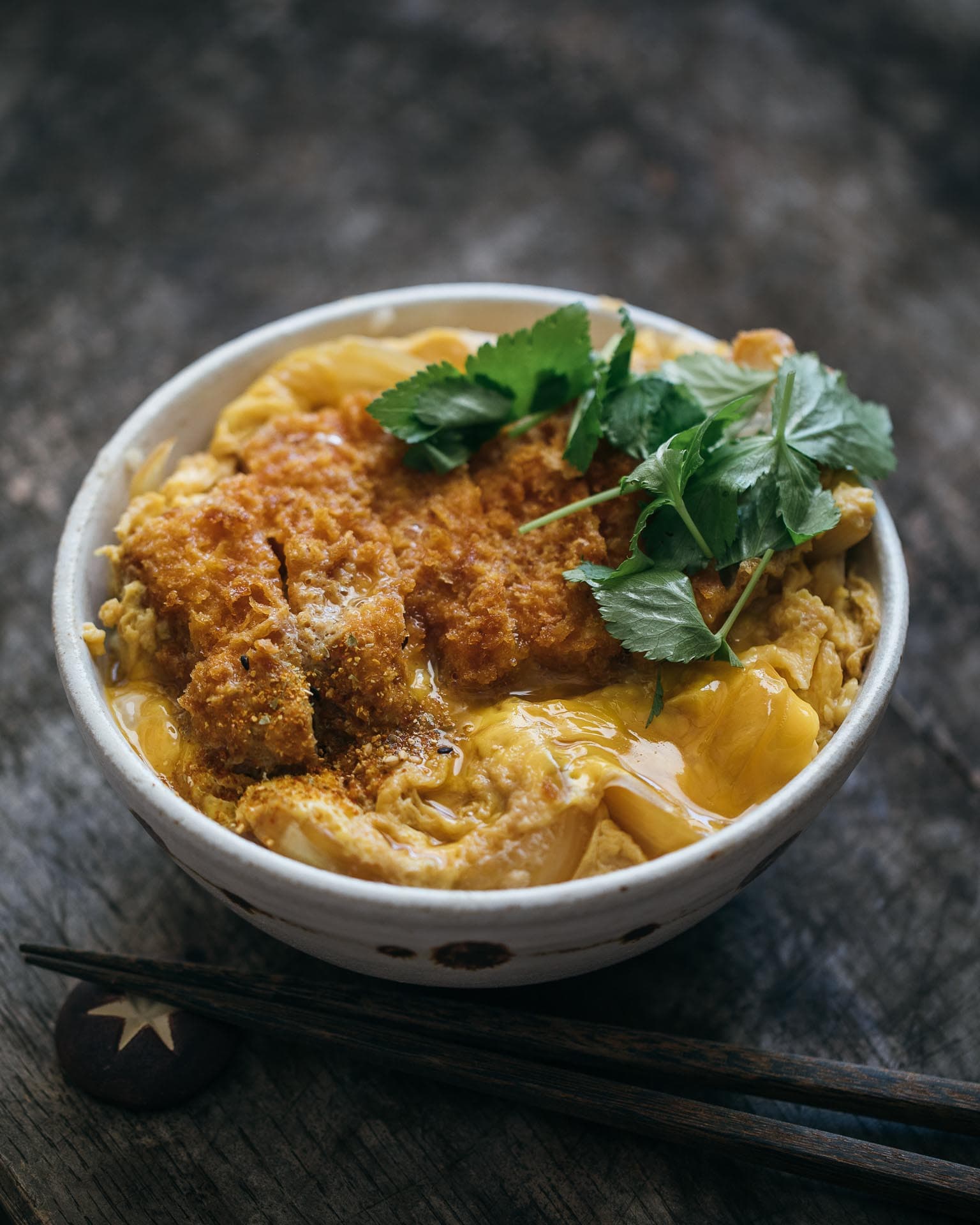 Katsudon is one of the most popular ways of eating katsu in Japan, but it hasn't quite caught on abroad as much. I think it's because of the idea of putting a crispy fried thing into a liquid that softens it isn't often done in Western cooking. The idea, however, is quite common in Japanese cuisine and it is done so that the breading will absorb the flavour of the liquid while softening to a sticky, silky texture.
Ingredients
2 cooked tonkatsu, sliced
2 tbsp soy sauce
1 tbsp sake
1 tbsp mirin
2 tsp sugar
1 onion, peeled and thickly sliced
4 eggs, beaten
3-4 cups cooked Japanese rice
mitsuba, snow pea shoots or watercress, to serve
shichimi tougarashi (Japanese seven spice), to serve
Cheat's dashi
1½ cups water
1½ tsp fish sauce
Method
Make the cheat's dashi by combining the ingredients together. Of course, you could use actual dashi or any other stock. Mix in the soy sauce, sake and mirin to create your seasoning liquid.
In a frying pan around the same diameter as your serving bowl, combine half the seasoning liquid, 1 tsp of sugar, and half the onion. Simmer until the onion softens, then place the sliced tonkatsu on top. Pour over half of the beaten egg and cover with a lid. Steam for just a minute or two until the egg begins to set.While the tonkatsu is steaming, place half of the rice into your serving bowl and flatten the top, leaving around 3cm at the top of the bowl for the katsu. When the egg is barely set, slide the entire contents of the pan on top of the rice. Garnish with mitsuba and sprinkle over a little shichimi tougarashi to serve.
Tips
Having a pan around the same size as the bowl is quite important, as the egg will set to the shape of the pan and you want it to cover the entire top of the bowl.
If I know I am going to make katsudon I will often fry my tonkatsu for a minute or two less, just so it doesn't overcook while it's steaming. This is not essential, however, as katsudon is often made from completely cooked tonkatsu.
The sugar can be added to the seasoning liquid but I find that it is easier to add to the pan as it will not fully dissolve in the cold liquid.
Make one serve of katsudon per pan. It is possible to make a larger serve and halve it, but it is frankly easier to make two bowl-sized servings.
If your katsu is too big for the pan, you can remove some of the slices before adding to the pan.