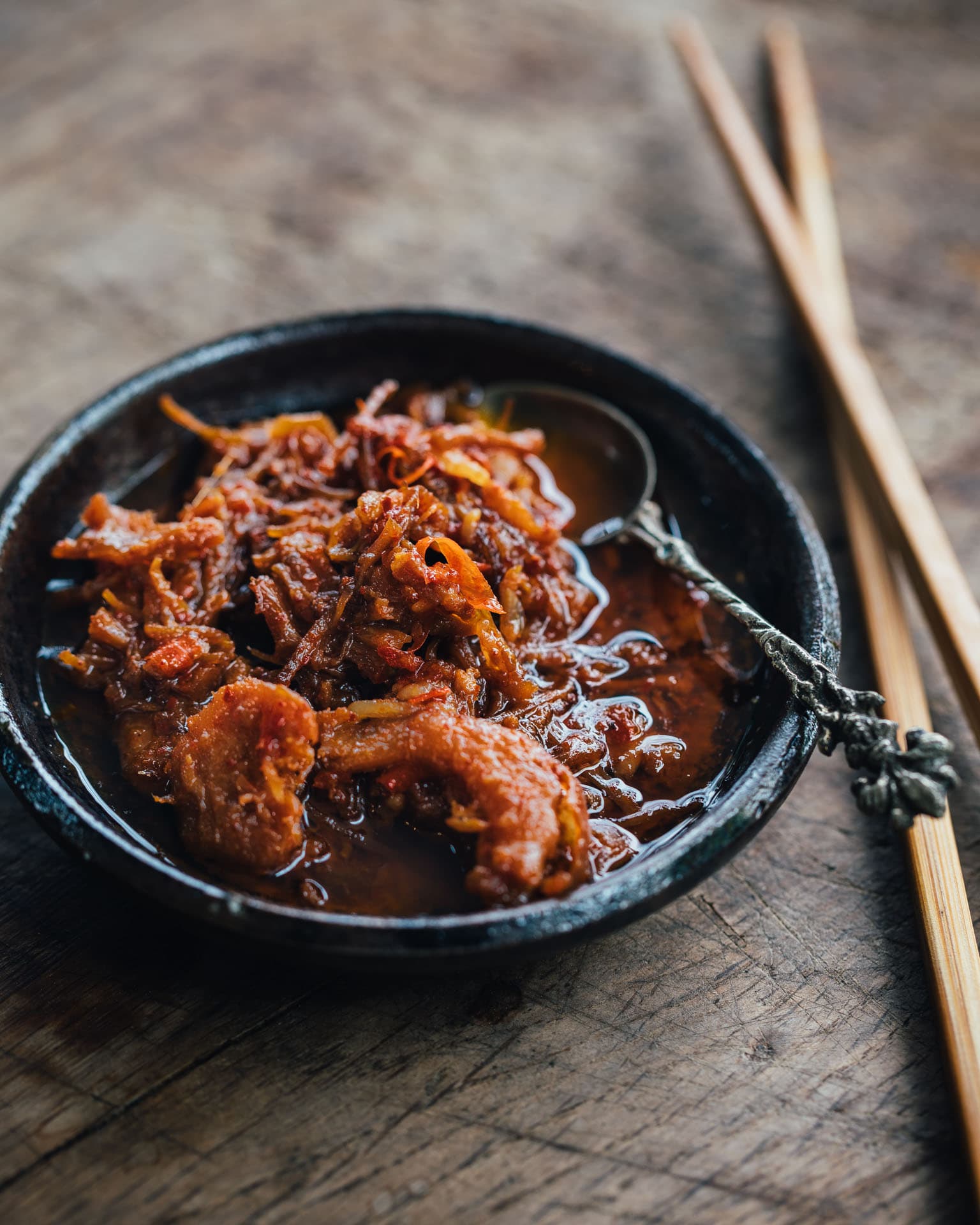 XO Sauce only appeared in Cantonese cuisine as a result of the boom times of the 1980s. It's a collection of the most prized ingredients from around China, and it was named after XO cognac – a status symbol of decadence and sophistication in Hong Kong at the time. The dried scallops are a little expensive, but that's kind of the point.
Ingredients
2 cups peanut oil
6 large garlic cloves, minced
4 large red or golden eschallots, peeled and minced
6 large red chilies, deseeded and minced
50g dried scallops
50g dried shrimp
50g Jinhua ham, Yunnan or prosciutto, finely shredded
1 tsp salt
1 tsp caster sugar
1 tbsp chili powder (preferably Korean)
1 tbsp dark soy sauce
Method
Soak the scallops and shrimp separately each in 1 cup of hot water for at least 1 hour. Drain well and shred the scallops by pounding them in a mortar to separate the fibres. Roughly grind the drained shrimp in a mortar and pestle as well. Reserve the strained liquid.
Heat your oven to 100C. Heat a little of the peanut oil in a medium, oven-proof saucepan over low heat and fry the garlic, eschallots and chillies for about 10 minutes until they are fragrant and softened. Add the shredded scallops, shrimp, ham or prosciutto, salt, sugar, chilli powder, soy sauce and a little of the reserved soaking liquid from the scallops. Bring to a simmer and simmer until the liquid is evaporated or absorbed (this may take 15-20 minutes). Add the remaining oil and reduce the heat to very low. Allow the oil to infuse on the stovetop, stirring regularly for about an hour or two. Make sure the heat is very low or the sauce will burn before it infuses. Alternatively, if you're using an oven-proof saucepan you can transfer to the oven uncovered for 1-2 hours (or even more) until the colour of the sauce intensifies and the sauce is thick, oily and jammy. Transfer to clean jars and refrigerate until ready to use. The sauce will keep for about 6 months.
Tips
I use this all the time so I make a double or triple quantity of this every time I make it. It's great with dumplings, stir-fried with prawns or with noodles or fried rice.
The goal with cooking the XO sauce is to drive off as much of the watery liquid as possible, leaving it oily and jammy.
You can substitute or add all kinds of ingredients into this. A chef of a three-Michelin starred restaurant in Hong Kong told me he always adds lemongrass to his. Try it with salmon floss or other dried seafood.