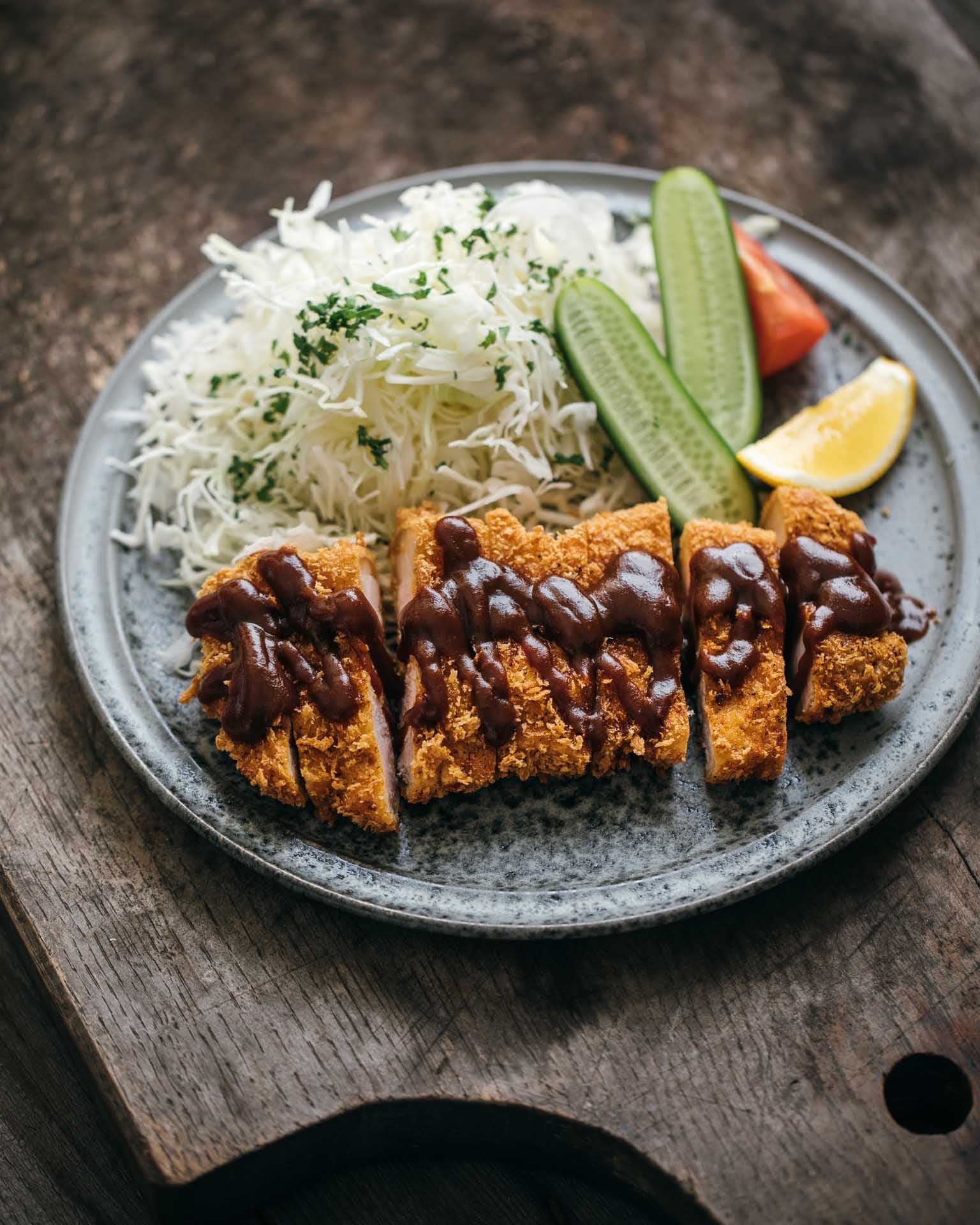 Tonkatsu sauce is a sweet sauce made from fruits and vegetables that is a little like a thicker version of English Worcestershire sauce. While you can buy tonkatsu sauce in Japanese grocers under the Bulldog or Otafuku brands, high end tonkatsu places will always make their own. Try it yourself. This homemade version will change the way you look at tonkatsu.
Ingredients
Makes about 1L
½ cup white sugar, plus 2 tbsp extra
1 large onion, peeled and roughly chopped
1 carrot, roughly chopped
1 apple, cored and roughly chopped
1 peach, pit removed and roughly chopped
4 dates, seeds removed and roughly chopped
2 bay leaves
¼ tsp ground nutmeg
¼ tsp ground cloves
200 ml tomato passata
100 ml red wine
¼ cup rice vinegar
2 tbsp Worcestershire sauce
½ cup soy sauce
2 tbsp dark soy sauce
Method
Combine the sugar with 2 tbsp water in a large non-reactive saucepan and place over high heat. Bring to a dark caramel, then add 150ml of water and stir to dissolve the caramel. Add the remaining 2 tbsp of sugar, the onion, carrot, apple, peach, dates, bay leaves, spices, tomato passata, red wine, rice vinegar, Worcestershire sauce, soy sauce and dark soy sauce and bring to a simmer. Simmer covered for 30 mins until the fruits and vegetables are softened, then allow to cool to room temperature. Remove the bay leaves and blend in a high-speed blender until smooth. (Pass through a sieve if your blender is not fast enough to get the sauce smooth.)
Return the strained sauce to the saucepan and simmer until thickened enough to coat the back of a spoon while warm. Transfer to an airtight container and keep in the fridge for up to a month. Store in sterilised jars if keeping for more than 1 month.
Tips
Although inspired by Worcestershire sauce, tonkatsu sauce is much thicker. Its consistency can vary from something as thin as dark soy sauce, through to thick, ketchupy varieties. I prefer my tonkatsu sauce quite thick, but if you prefer a thinner sauce just dilute it with more water or other liquid ingredients.
You can try other fruits as well. Stonefruits like plum and apricot are also quite common.
This sauce keeps well, but if you aren't eating tonkatsu all that often you can freeze half of it and thaw it later. As well as for tonkatsu you can also use this sauce for croquettes, hamburgers, okonomiyaki, takoyaki or even just as an ordinary barbecue sauce.