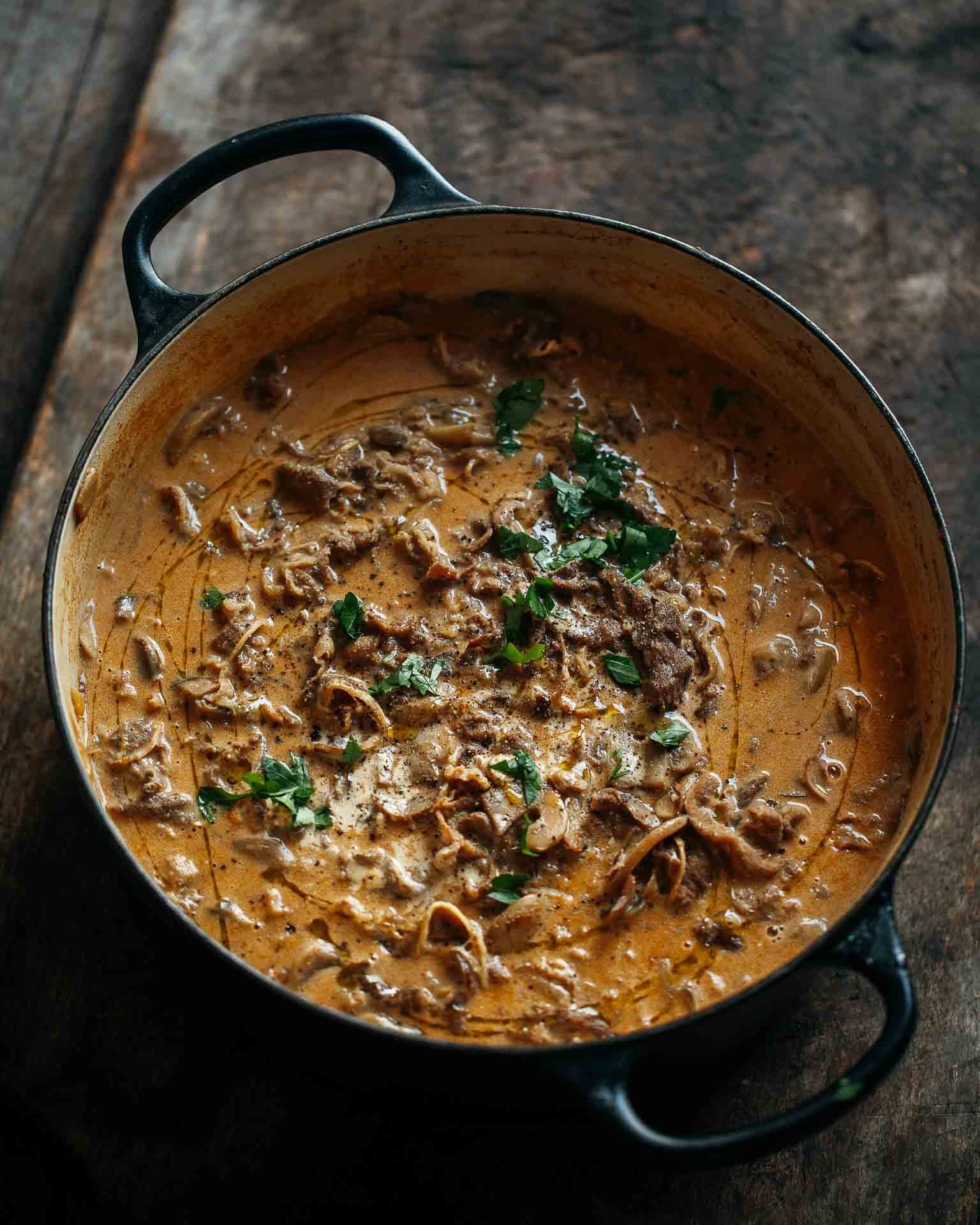 "Hayashi rice" is a Japanese dish of thinly sliced beef and mushrooms cooked in a demi-glace sauce and served with rice. This stroganoff version is a really simple one-pot dish enriched with sour cream. For even more mushroom-y flavour I add a shiitake mushroom powder I make very simply by blending dried shiitake mushrooms.
Ingredients
75 g butter
1 kg thinly sliced beef
1 kg sliced button mushrooms
3 large onions, thinly sliced
4 cloves garlic, finely sliced
1 tbsp sweet paprika
1 tbsp tomato paste
½ cup plain flour
½ cup white wine
1 tbsp Dijon mustard
1 litre beef stock
1 tbsp porcini powder, or shiitake powder, optional (see Tips)
300 ml sour cream
salt and pepper, to season
2 tbsp finely shredded parsley, to serve
Method
Heat a large casserole pan over medium heat, add half the butter and fry the beef until browned.
Remove from the pot. Add the mushrooms and fry for about 10 minutes until the mushrooms, onions and garlic are browned.
Add the remaining butter, paprika, tomato paste and flour and fry for about 3 minutes.
Add the wine and cook for 2-3 minutes until thickened and starting to catch on the base of the pot.
Add the mustard, then the beef stock a little at a time to form a thin sauce.
Return the meat to the pot along with the porcini or shiitake powder if using, and stir to combine.
Add a little extra water if needed and simmer for about 10 minutes until the mixture is combined and thick.
Stir through the sour cream and adjust seasoning. Scatter with parsley to serve. Serve with rice that has been topped with a knob of butter.