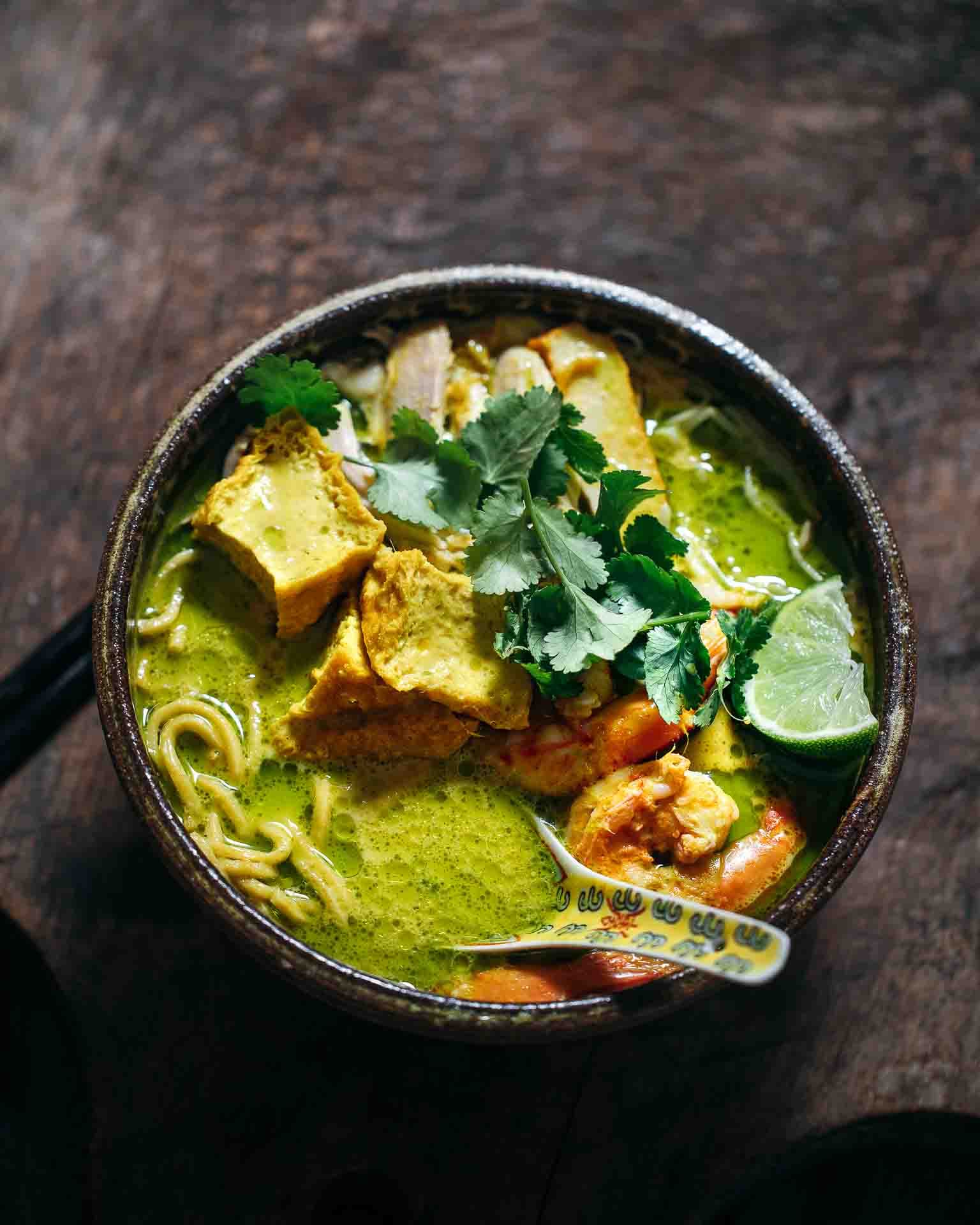 If you've never heard of a  green laksa, don't worry. I just made it up.
An ordinary laksa is a yellow-orange soup noodle that often has a bit of red oil separated out from frying the rempah that is made with fresh and dried red chilli.
For this more mild green version, I use green chillies and enhanced the soup ramen-style with a fragrant oil made from coriander and Vietnamese mint.
Ingredients
2 chicken carcasses
2 chicken marylands
1 kg raw, unpeeled large prawns
½ cup dried scallops (or dried shrimp)
4 tbsp vegetable oil
2 tsp salt
2 tsp sugar
1 tsp fish sauce
800 ml coconut cream
250g fried tofu puffs, halved*
1kg fresh Hokkien noodles
200g dried rice vermicelli noodles*
200g fried fishcake, sliced
300g beansprouts
8 eggs (optional)
1 cup loosely packed Vietnamese mint leaves
limes, to serve
Coriander and laksa leaf oil
½ cup loosely packed Vietnamese mint leaves
4 coriander plants, stems and roots only (leaves reserved)
1 small bunch spinach
1 cup canola oil
Green laksa rempah (makes double)
6 large green chillies, deseeded
1 tbsp belacan (shrimp paste)
1 large brown onion, peeled and roughly chopped
10 cloves garlic, peeled
5 cm ginger, peeled and thickly sliced
5 cm galangal, peeled and thickly sliced
5 cm fresh turmeric, peeled and thickly sliced
3 stalks lemongrass, white part, roughly chopped
6 candlenuts, or macadamia nuts (optional)
Method
Start with the stock. Cover the chicken carcasses with 2.5L of water and bring to a low simmer. Simmer for about 1 hour, skimming any scum that rises to the surface. Add the chicken marylands and reduce the heat to very low. Simmer for 45 minutes then remove the chicken marylands and set aside. Peel the prawns (leaving the tails on), add the shells to the stock and simmer for a further 20 minutes, skimming the scum from the top and particularly removing any red scum created by the prawns. Strain, discarding the shells and bones and reserving the stock. Devein and butterfly the prawns and refrigerate. Pound the dried scallops in a mortar and pestle or blend in a blender to fine shreds (or if using dried shrimp, to a coarse powder).
For the green laksa rempah (laksa paste), blend all the ingredients together to a smooth paste.
For the coriander and laksa leaf oil pour boiling water over Vietnamese mint leaves, coriander stems and roots, and spinach. Stand for 30 seconds then drain and squeeze dry. Combine with the oil in a small blender and blend to a smooth, bright green oil. Strain through a fine sieve lined with a cloth. Reserve both the oil and the green paste.
Heat a large pot over low-medium heat and add the oil. Add half the laksa rempah (the other half can be refrigerated or frozen for making another batch of laksa in the future, see note) and fry in the oil for about 15-20 minutes, stirring frequently until the oil separates from the paste. Add the stock and dried scallops and bring to a simmer. Simmer covered for 30 minutes. Stir in the salt, sugar, fish sauce and coconut milk and simmer for a further 10 minutes. You can add some of the reserved paste from the coriander and laksa leaf oil here if you like, and want to make your soup more green. Add the tofu puffs and simmer for a further 10 minutes. Simmer the prawns in the soup for 2-3 minutes or until just cooked, remove and aside. Taste the soup and adjust the seasoning as required.
While the soup is cooking, prepare the remaining ingredients. Bring a large pot of water to a boil and cook the noodles according to the packet directions. While different brands will vary, generally Hokkien noodles will just need to be blanched for just a few seconds. Boil the fish cake for about 2 minutes until puffed then drain. Blanche the beansprouts for 30 seconds. Boil the eggs for 8 minutes, then refresh in a basin of iced water and peel. Halve the eggs. Keep all of the ingredients separate so that you can build your laksa as you like it. Pour boiling water over the rice vermicelli and stand for 5 minutes, then drain.
To assemble the laksa warm a noodle bowl (you can warm it by pouring a bit of the laksa soup into the bowl and then returning the soup to the pot. Add some Hokkien noodle, rice noodle, beansprouts, egg, prawn, and chicken to the bowl. Cover with the soup, then garnish with shredded Vietnamese mint, the reserved coriander leaves, a few spoons of the coriander and laksa leaf oil, and a wedge of lime.
Tips
Make sure you fry the laksa paste really well. Keep the heat low and fry for 15-20 minutes until the oil starts to separate from the paste again.
Vietnamese mint is known in Singapore and Malaysia as "laksa leaf" and it is a key ingredient in laksa.
You can serve this with a bit of sambal belacan if you want more heat and/or a stronger flavour.