Fire Chicken with Blue Cheese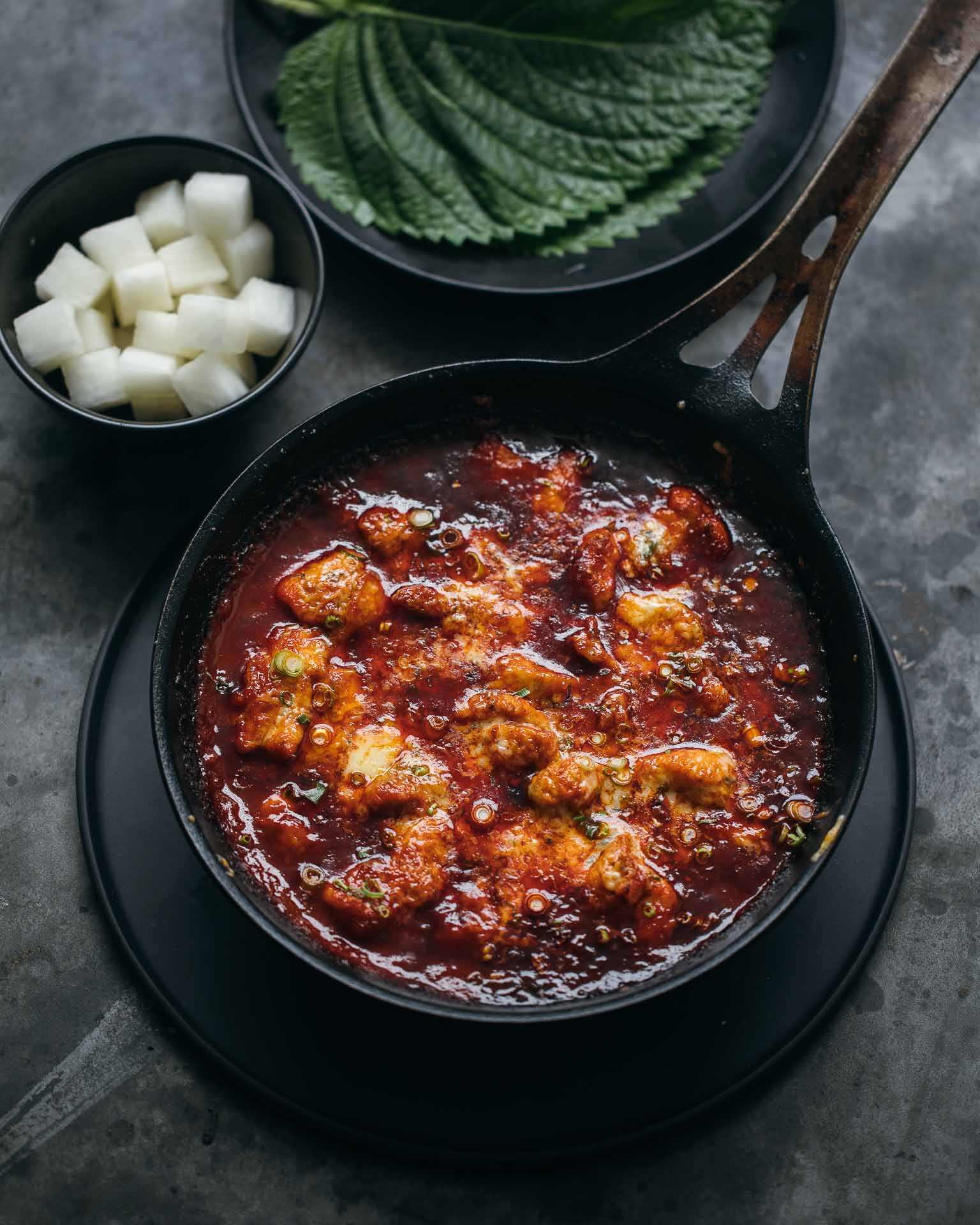 The Korean name for this dish is buldak, which literally translates to "fire chicken". Usually served topped with bubbling mozzarella, using blue cheese instead plays off the savouriness of blue cheese with the hot and sweet sauce similarly to how buffalo wings in the USA are served with a blue cheese dip.
Ingredients
1 kg chicken thigh fillets
1 tbsp vegetable oil
200 g blue cheese
2 tbsp Korean or Japanese mayonnaise, to serve
sesame leaves (Korean perilla), to serve (optional)
pickled daikon, to serve (optional)
1 spring onion, sliced, to serve (optional)
Fire chicken sauce
1 tbsp sugar
2 tbsp Korean chilli powder (mild or hot, as you prefer)
1 tbsp sesame oil
1 tbsp gochujang (Korean chilli paste)
2 tbsp honey or mul yut
2 tbsp soy sauce
3 cloves garlic, peeled
2 cm ginger
½ large nashi (Asian pear), peeled and finely grated or pureed
Method
Trim the fat from the chicken thighs and cut into 5 cm pieces. In a bowl, combine the ingredients for the fire chicken sauce and mix to combine.
Turn on your oven's overhead grill. Heat an ovenproof frying pan over high heat and add the vegetable oil. Fry the chicken in batches until lightly browned, then return all the chicken back to the pan and cover with the fire chicken sauce. Cover the pan and cook over low heat for 5 minutes, then remove the lid and crumble over the blue cheese. Place under the grill and grill for about 5 minutes until the cheese is melted.