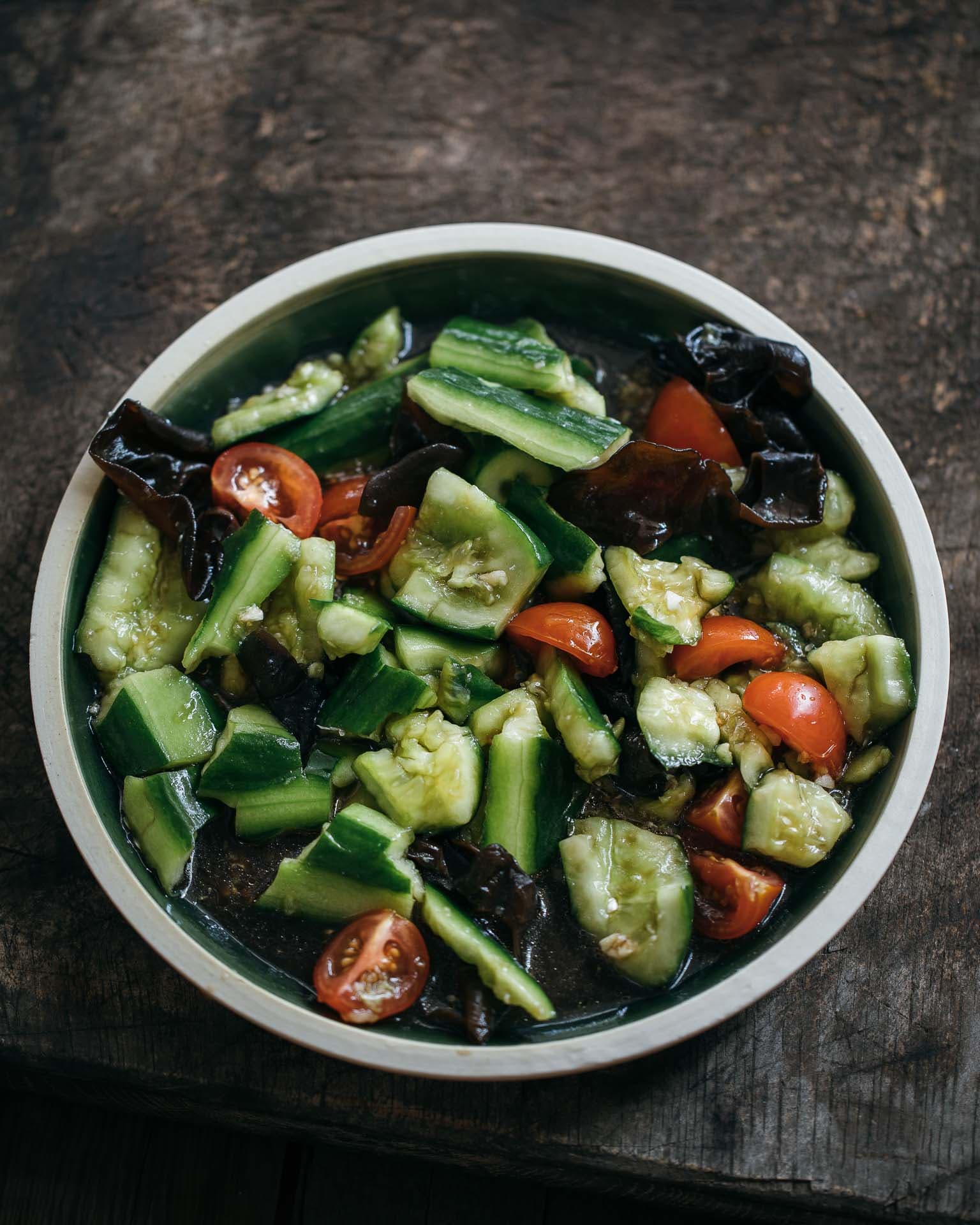 This simple salad is found all over China in varying forms. The secret is to keep it simple, and not to flavour it too strongly. Think of it as a palate cleanser, or as a super quick dish to add balance to a Chinese meal.
Ingredients
1 tbsp dried black fungus
3 Lebanese cucumbers
3 cherry tomatoes, halved
¼ tsp salt
½ tsp sugar
1 tsp soy sauce
2 tsp black vinegar
1 clove garlic, finely chopped
1 tsp sesame oil
Method
Cover the black fungus in ample hot water and stand for 10 minutes. Trim out the hard root of the fungus and set the "ears" aside.
Peel the cucumbers in intervals. Place one cucumber on a cutting board and cover with a tea towel. Bash the cucumber with your hand or a rolling pin, then break the cucumber into 5 cm pieces by hand and transfer to a bowl. Repeat for the remaining cucumbers. Add the cherry tomatoes to the bowl and mix through the salt and sugar. Transfer to the fridge for 10 minutes.
Add the black fungus, soy sauce, vinegar, garlic and sesame oil and 1-2 tbsp of cold water to the cucumbers and stir to dissolve the sugar. Transfer to a serving plate and serve.
Tips
Don't try to flavour this too strongly. Adding a dash of water at the end balances the dish
The dish is about cucumbers and black vinegar. If you don't want to add black fungus, garlic, sesame oil etc. just leave them out.
This is a perfect dish for summer.