Chicken schnitzel caprese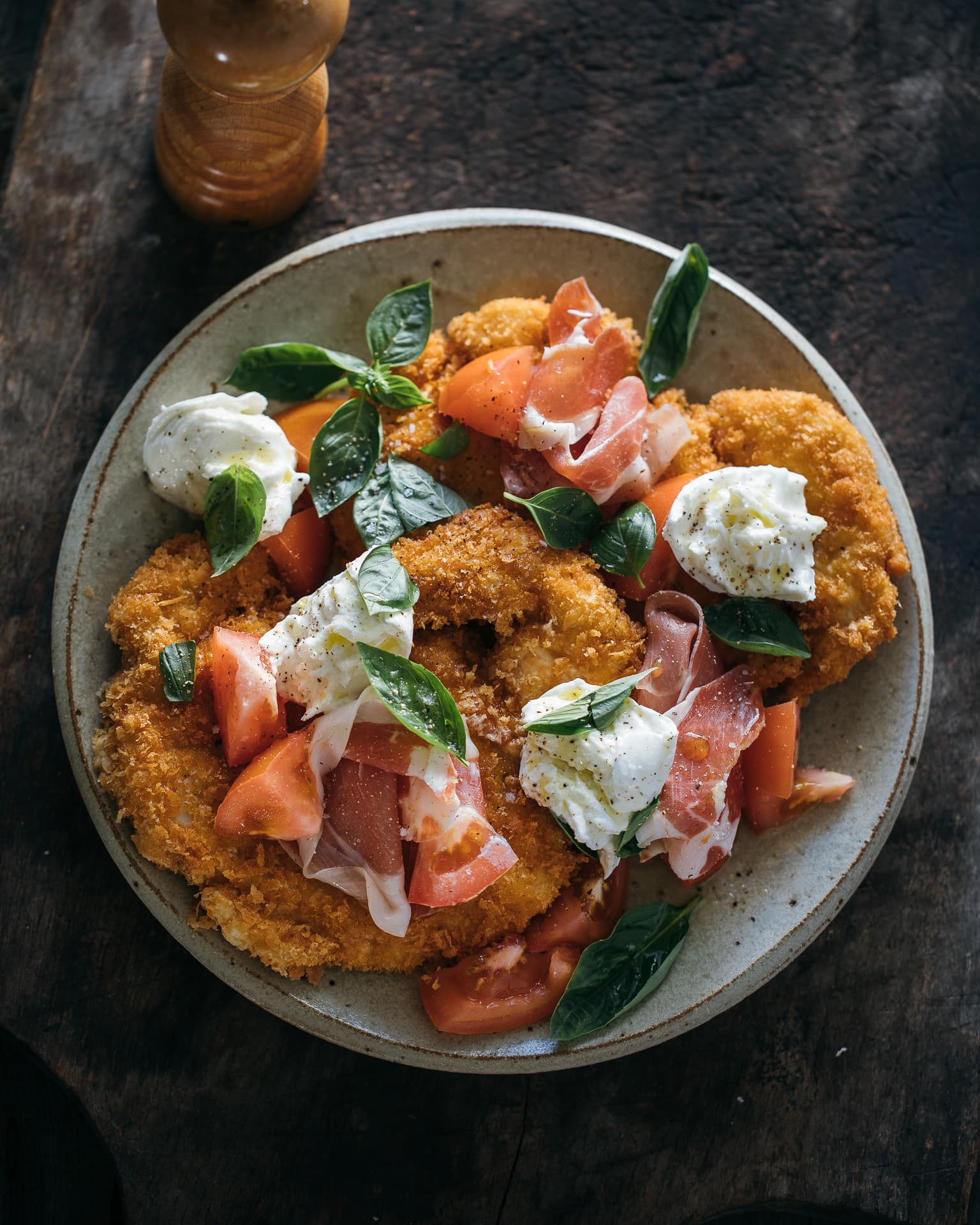 Think of this as a fresh version of a schnitzel parmigiana. Rather than tomato sauce, ham and melted cheese, this takes advantage of in-season tomatoes, proscuitto and fresh mozarella. And yes, it's still on top of a schnitty.
Ingredients
4 Lilydale free range chicken breasts
1 cup plain flour
salt and pepper, to season
4 eggs, beaten
3 cups panko breadcrumbs
4 ripe tomatoes
2 tbsp olive oil
salt and black pepper, to season
approx. 1-2 L canola oil, for deep frying
200 g (1 balls) fresh mozzarella cheese (in whey)
1 cup loosely packed basil leaves
4-6 very thin slices of prosciutto
lemon wedges, to serve
Method
Place each chicken breast between two pieces of baking paper and with a mallet or rolling pin pound it to 1cm thin. Place the flour into a tray and season well with salt and pepper. Place the eggs and breadcrumbs into separate trays.
Cut the tomatoes into large chunks and place into a non-reactive bowl. Season well with salt and pepper and drizzle with the olive oil.
Using a skewer as a kind of hook (this will allow you to move the chicken between the flour and egg without getting your hands dirty and without tongs disrupting the coating), dip the chicken into the flour first, and then the egg, and finally into the panko breadcrumbs – ensuring that it is coated completely. Lightly press the breadcrumbs onto the chicken.
Heat the oil in a large, deep frying pan to 170C. Fry the chicken one piece at a time for 4 minutes, turning once during the frying process. Drain on a wire rack, standing the chicken up on an angle for better drainage. Allow to cool and drain for 5 minutes.
Transfer the chicken to a serving plate. Spoon over the tomatoes and tear over the mozzarella. Add the slices of proscuitto and scatter with the basil leaves. Serve with wedges of lemon.