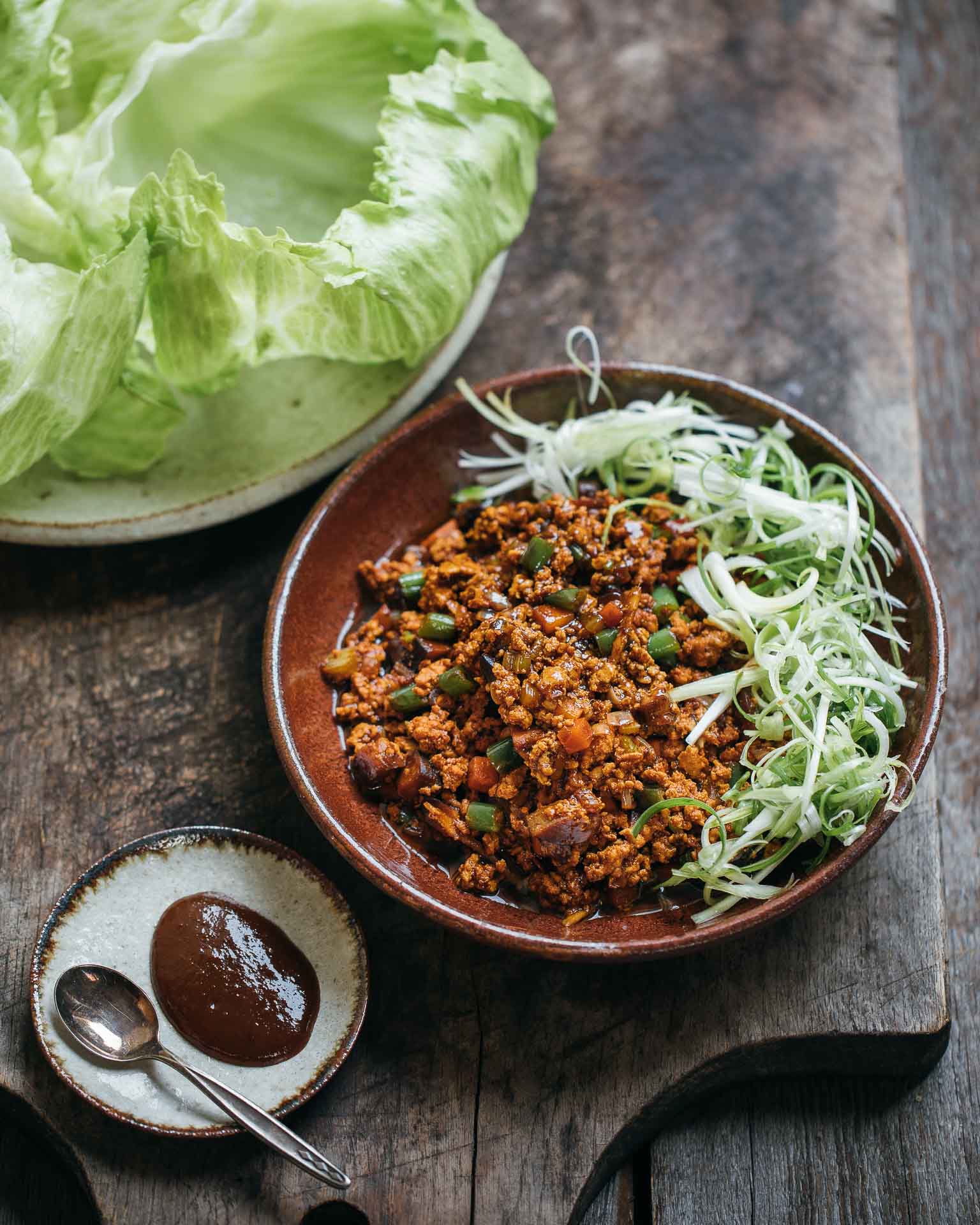 "Sang choy bao" literally just means "lettuce packets". I use tianmianjiang (a northern Chinese sweet paste made from fermented flour) instead of hoisin (a modern Cantonese version of the sauce made from soybean), but they are fairly similar. The addition of shredded onion is something I particularly like, as it takes the flavour closer to Peking duck.
Ingredients
5 dried shiitake mushrooms
2 thick spring onions
¼ cup canola oil
1 small onion, finely diced
2 cloves garlic, finely chopped
1 tsp grated ginger
500 g chicken mince
150 g green beans, cut into ½ cm dice
1 small carrot, cut into ½ cm dice
3 tbsp tianmianjang (or hoisin sauce), plus extra to serve
2 tbsp dark soy sauce
1 tsp sugar
1 tsp sesame oil
1 tsp cornflour mixed in ¼ cup cold water
1 head iceberg lettuce, separated into cups
Method
Cover the shiitake mushrooms with about 1.5 cups of hot water and stand for 20 minutes to soften. Trim and discard the stalks and cut the caps into a ½ cm dice. Reserve the steeping liquid.
Cut the spring onions into 5 cm lengths and then very finely julienne them. Place the spring onion into iced water for at least 10 minutes to curl.
Heat a wok over high heat and add the oil, onion, garlic and ginger and toss for about 1 minute until the onion is softened. Add the chicken mince and fry for about 3 minutes until the mince is lightly browned. Add the beans and carrot and toss for a further minute, then add the tianmianjiang, soy sauce, sugar, sesame oil and a little of the shiitake steeping liquid as needed. Bring to a simmer and simmer for about 3 minutes until the chicken is cooked through and the vegetables are softened. Mix through a little of the cornflour mixture and toss until the mixture is thickened and quite dry.
Serve the chicken mixture with the spring onion, a little extra tiamianjiang (or hoisin) and lettuce cups to wrap the mixture in.