Chicken and broccolini with XO sauce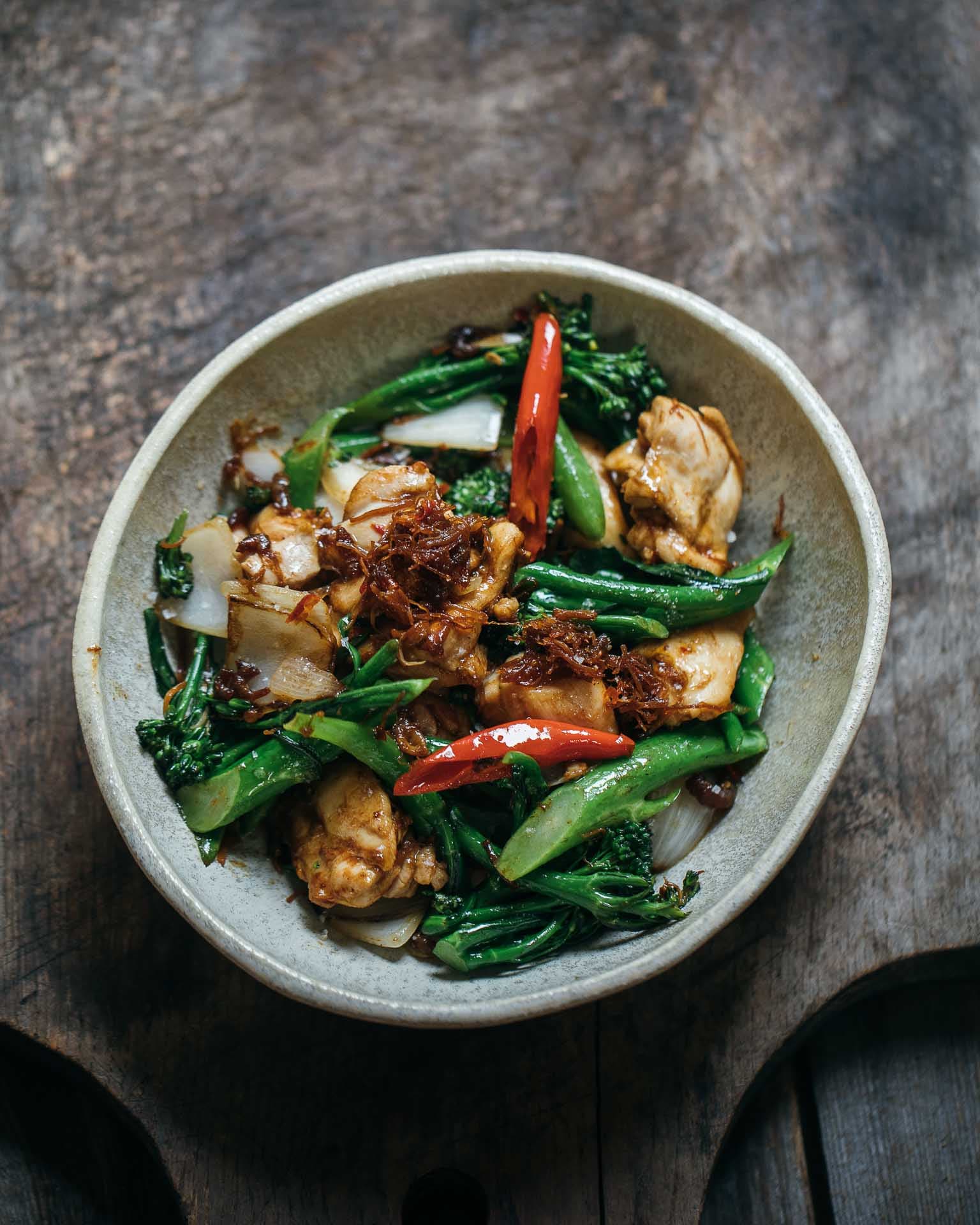 A simple stir-fry of chicken thigh and broccolini doesn't require any blanching etc. to prepare the vegetables so it's a fast dinner. I make my own XO sauce, but some commercial varieties are really good too.
Ingredients
400 g chicken thigh fillets, cut into 5cm pieces
2 tbsp vegetable oil, plus extra
1 small onion, cut into small wedges
2 cloves garlic, roughly chopped
1 large red chilli, sliced into 3-5 slices diagonally
1 bunch broccolini, sliced diagonally
1 tbsp Shaoxing wine
1 tbsp XO sauce
salt, to season
1 tsp cornflour mixed with ¼ cup cold water
Chicken marinade
½ tsp cornflour
½ tsp sesame oil
½ tsp dark soy sauce
1 tsp Shaoxing wine
Method
Combine the chicken with the chicken marinade ingredients and stir to coat.
Heat a wok over high heat and add the oil. Add the chicken to the wok in a single layer and fry without stirring for about 2-3 minutes until one side of the chicken is well-browned. Toss the wok and continue to cook the chicken for another 2-3 minutes until barely cooked through. Remove from the wok and set aside.
Heat a little more oil in the wok and add the onion, garlic and chilli. Toss until the garlic is fragrant, then add the broccolini and toss until the broccolini is softened (about 3 minutes). Return the chicken to the wok and season well with salt. Add the Shaoxing wine and XO sauce and toss to combine. Drizzle in a little cornflour mixture while tossing the wok until the XO sauce sticks to the chicken and broccoli. Remove from the wok and serve.