Cheat's Ribs with homemade barbecue sauce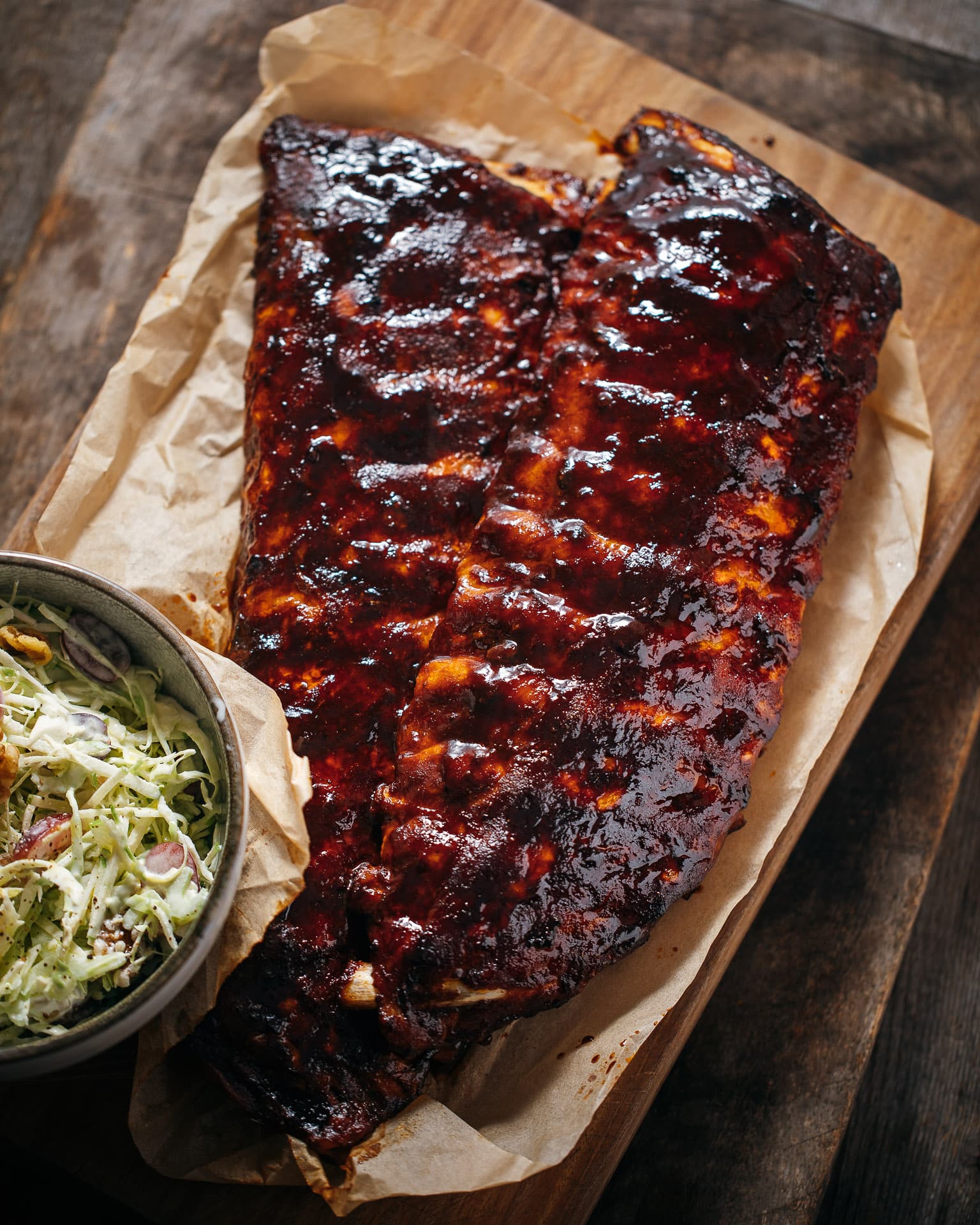 Easier than a roast chicken. When it comes to degree of difficulty, American-style barbecue ribs are possibly the dish that has the biggest difference between perception and reality.
Of course, the barbecue purists will insist on 30-ingredient rubs, low'n slow smoking for hours on end, and secret recipe barbecue sauces, but a homestyle, oven version with no smoking and a homemade barbecue sauce is incredibly simple, and can literally take ten minutes of preparation and baking in the oven for 90 minutes.
You can use a bought barbecue sauce, but this one is much tastier in my opinion (most bought sauces tend to be a little too sweet for me), uses ordinary pantry ingredients and literally is just stirred together and simmered for a few minutes.
Ingredients
2 racks American pork ribs
2 tbsp dark brown sugar
2 tsp smoked paprika
1 tbsp Dijon mustard
salt and black pepper, to season
Barbecue sauce
½ cup tomato sauce (ketchup)
¼ cup apple cider vinegar
2 tbsp dark brown sugar
1 tbsp dark soy sauce
1 tsp Dijon mustard
2 tsp smoked paprika
1 tbsp olive oil
plus the juices from the ribs
Method
Heat oven to 160C fan. Place two pieces of foil side by side and slightly overlapping, place two pieces of baking paper on top. Place the ribs on the paper and rub with the sugar, paprika, mustard, salt and pepper. Wrap (you may need an extra piece of baking paper and foil for the top depending on the width of your paper and foil. Bake for 90 minutes, then remove the ribs and increase the oven to 220C fan, preferably with an overhead grill.
Unwrap the ribs, pour the juices from the ribs into a small saucepan and combine with the barbecue sauce ingredients. Bring to a simmer and simmer until glossy and thick enough to coat a spoon. Spoon the sauce over the ribs (the top only is fine) and return to the oven and grill for a few minutes until the sauce is caramelised on top of the ribs. Serve with the remaining barbecue sauce.