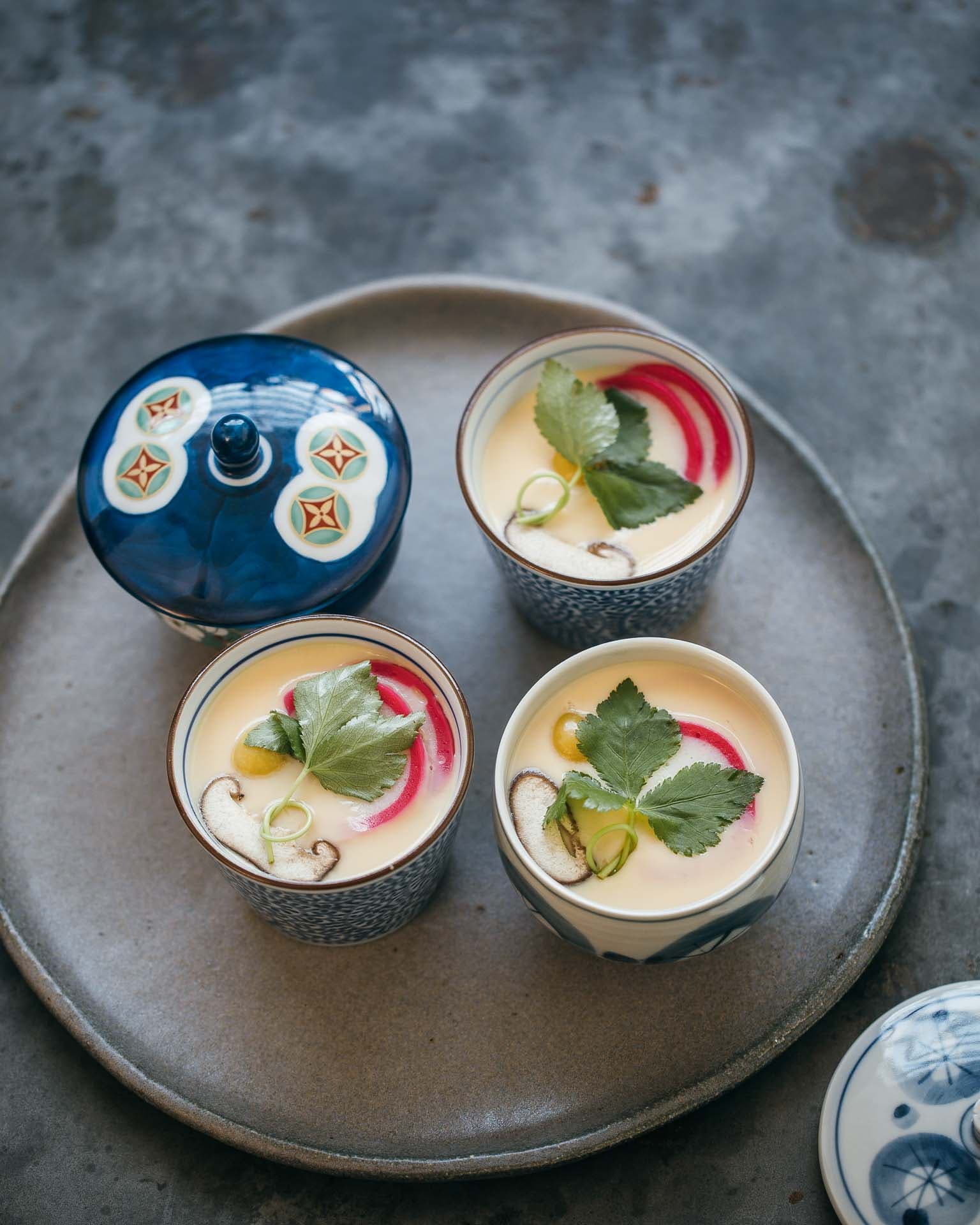 Literally meaning "steamed in a tea bowl" this delicate and savoury Japanese custard is a lot easier to make than it looks. Just remember the ratio of 1 part egg to three parts stock and you'll get a perfect custard every time
Ingredients
1 chicken breast
1 tsp sake
1 tsp soy sauce
2 fresh shiitake mushrooms, thinly sliced
6 slices fishcake
6 cooked ginko nuts
mitsuba, to serve
Dashi
1 piece kombu (approx. 10 cm square)
a handful of bonito flakes
Egg custard
3 eggs
1 tsp sake
½ tsp salt
1 tsp soy sauce
approx. 2 cups dashi
Method
To make the dashi, place the kombu into 3 cups of cold water and bring to a simmer, removing the kombu when the water starts to steam. Add the bonito flakes to the simmering water, then turn off the heat and allow to stand for 15 minutes then strain.
Crack the eggs into a measuring cup and mix gently without forming bubbles. Note the measurement of the eggs. In a separate measuring cup add the sake, salt and soy sauce and add dashi to make up three times the volume of the egg. Combine the egg and dashi together, stir gently and strain to remove any lumps.
Place a few slices of chicken and shiitake in the base of a teacup. Pour the egg mixture over the chicken to about 3 cm from the top of the teacup. Burst any bubbles with a skewer. Steam over low heat for 12 minutes. Test the custard with a skewer. If the liquid that rises from a hole made with the skewer is clear, proceed to the next step.
Gently arrange the fishcake, ginko nuts and a few slices of shiitake on top of the custard and pour over a little more raw custard mix. Steam for a further 3-4 minutes, then serve with the mitsuba.