Caramel-braised Beef Short Ribs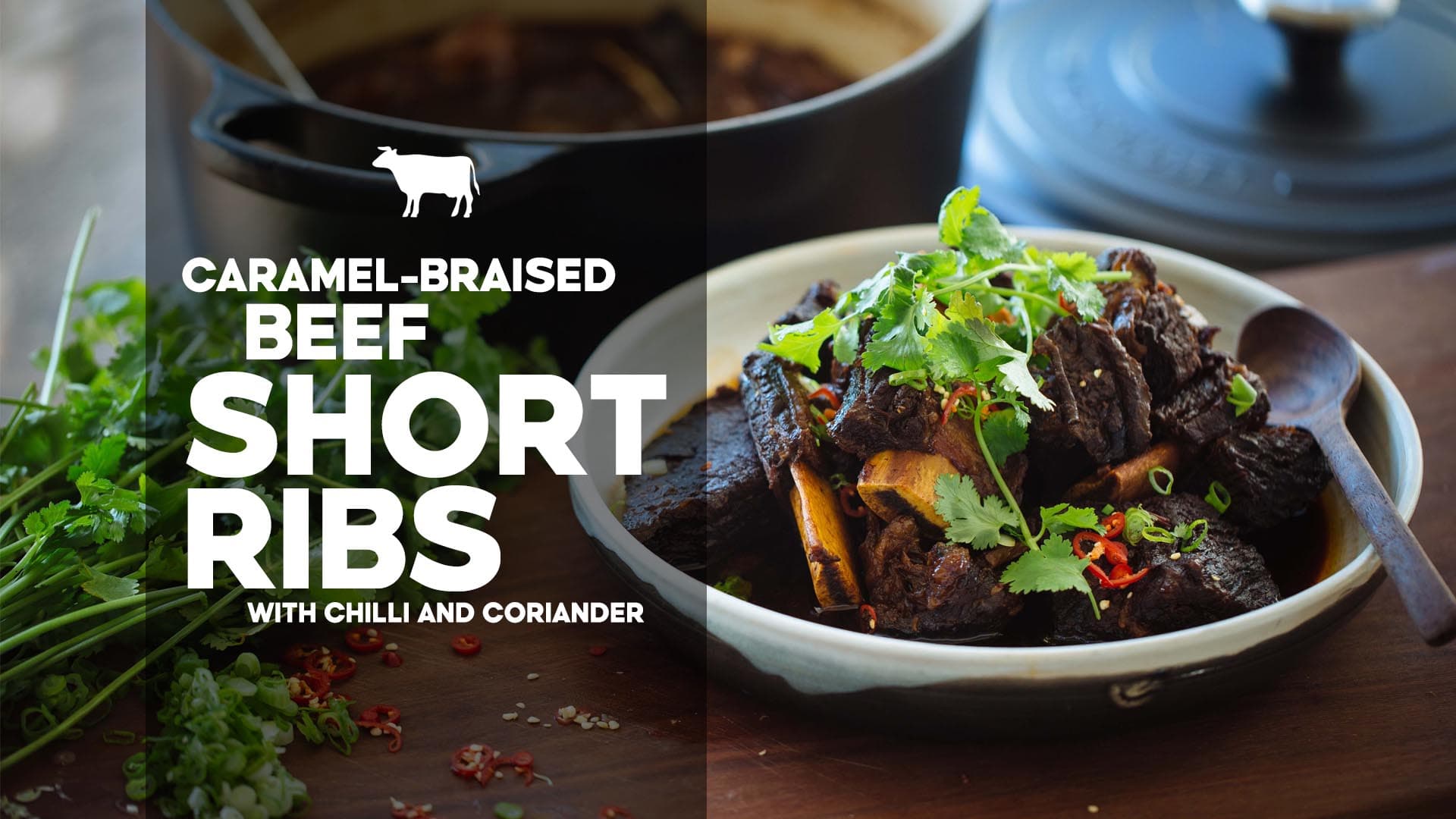 Beef short ribs are a truly fantastic cut of meat.
You can eat them like a steak, or stew them until they're falling apart, and either way they won't let you down. On the bone, they add mountains of flavour to a stew. 
This simple recipe is one of those where you just throw everything into the pot and let it go. Give it a try.
Ingredients
1 cup sugar
1 tbsp sesame oil
2kg beef short ribs
¼ cup Shaoxing wine
½ cup light soy sauce
¼ cup dark soy sauce
2 star anise
2 cinnamon sticks
2 tbsp toban jian (Sichuan chilli-bean sauce)
1 tsp fennel seeds
1 small bulb garlic, unpeeled, split in half crossways
1 onion, unpeeled, halved
5 slices ginger
4 thin spring onions, thinly sliced, to serve
1 bird's eye chilli, thinly sliced, to serve
½ cup coriander leaves, to serve
steamed rice, to serve
Method
Place a heavy casserole over medium-high heat and add ½ cup of sugar and ¼ cup of water. Bring to a golden caramel and then add the sesame oil and short ribs, rolling to coat in the caramel. Add the Shaoxing wine, the soy sauces, spices, toban jian, garlic, ginger, onion, remaining sugar, and top up with water. Cover and simmer for 2-3 hours until the short ribs are tender, stirring occasionally. Adjust for seasoning as required.
Transfer the ribs to a serving plate and spoon over a little of the braising liquid. Scatter with the coriander, spring onions, and chilli to serve.
Tips
Instead of short rib you could also use chuck steak, shin, osso bucco, ox tail, or any other slow-cooking cut.
You could also cook this in the oven if you preferred. Cook everything on the stove until you get to the long-simmering part, then transfer it to a 170C oven for about 3 hours.