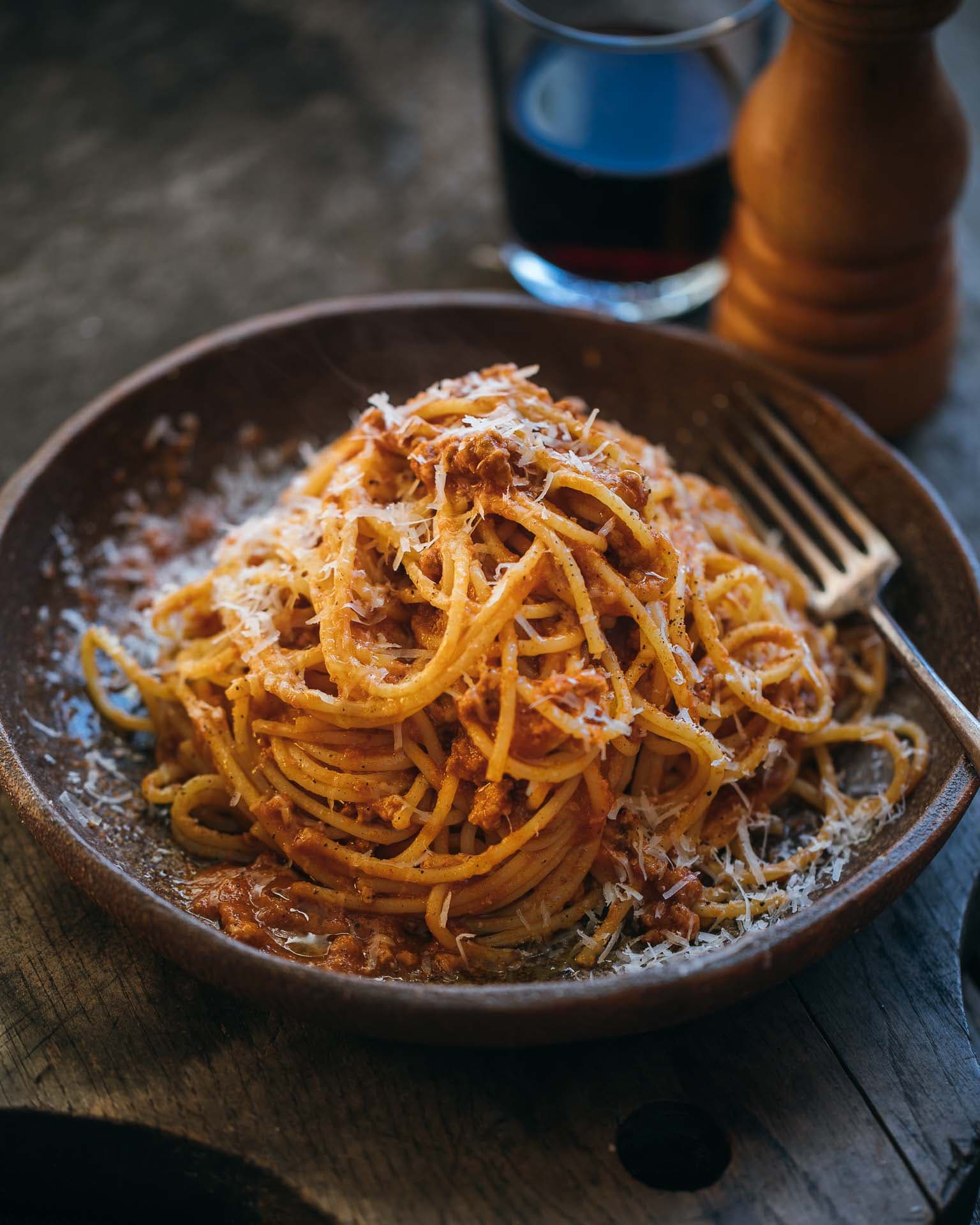 Spaghetti bolognese is the one dish that no Australian needs to be told how to make. Every family and every person has their own way of doing it. And often more than one.
An Australian spaghetti bolognese is nothing like the Italian dish(es) that inspired it more than half a century ago. Often made with beef, it's thick and meaty and often more about the meat than any tomatoes.
But rather than just making it the same way you always have done, what if you could take a dish you know inside out and change it to suit your changing tastes?
For this bolognese recipe I really wanted to focus on the tomato sauce. I love a meaty bolognese, but when you want something a little lighter a simple tomato based pasta, lightly accented with meat, is a great option. I also wanted a smoother texture, rather than having chunks of celery through the bolognese.
I settled on making two main changes to how I would usually make bolognese. Firstly, pureeing the battuto ingredients rather than roughly chopping them gives an effect similar to a rempah in Malaysian cuisine, adding richness to the sauce. And secondly, stirring through a puree of raw cherry tomatoes at the end adds freshness to the rich ragu.
Makes about 1L of sauce (enough for 6-8 people)
Ingredients
1 carrot, stalk removed and roughly diced
1 large brown onion, peeled and roughly diced
1 stalk celery
6 cloves garlic
a handful of parsley (optional)
½ cup olive oil
500 g mixed veal and pork mince, or 250g each beef mince and pork mince
700ml tomato passata
1 tsp salt
1 cup whole cherry tomatoes
To serve
pasta of your choosing
extra-virgin olive oil
freshly grated parmesan cheese
black pepper
Method
Combine the onion, celery, carrot, garlic and parsley (if using) in a Vitamix high-performance blender and blend to a smooth puree.
Heat a heavy saucepan over medium heat and add the oil. Fry the puree (called a battuto or soffritto) for about 15 minutes, stirring regularly so that it doesn't burn. Add the mince and cook for a further 5 minutes until browned. Add the passata, salt and 300ml of water. Cover and simmer for 1.5-2 hours, stirring occasionally.
To finish the sauce, puree the cherry tomatoes and stir the puree through the warm sauce just before serving.
To prepare the pasta, cook about 100g of dried pasta per person in plenty of salted water until al dente (around 1 minute less than the packet directions). Heat a large frying pan over medium heat and add about 1-2 tbsp of olive oil or butter per person (or a combination of the two). Add the cooked pasta and ladle over the sauce, stir to mix well then transfer to serving plates and top with freshly grated parmesan cheese and freshly ground black pepper.
Tips
Even though bolognese is made with mince, you really want to make sure the meat cooks for long enough to break down connective tissue and contribute gelatine to the sauce. It's a real bonus for mouthfeel.
Finish pasta in a frying pan rather than just pouring a sauce over noodles. Finishing over heat in a pan allows the noodles to absorb some of the sauce, which provides a lot more flavour.
In Malaysian cuisine the pureed aromatics is known as a rempah, and it's essential to cook it for a long time to develop the flavour. The same goes for mirepoix, soffrito and battuto as well. Keep stirring in plenty of oil until the aroma really develops.
Battuto of pureed vegetables. Cook the battuto for at least 10 minutes, stirring frequently to develop the aromatics.
Pureed cherry tomatoes add freshness to the long-cooked ragu.