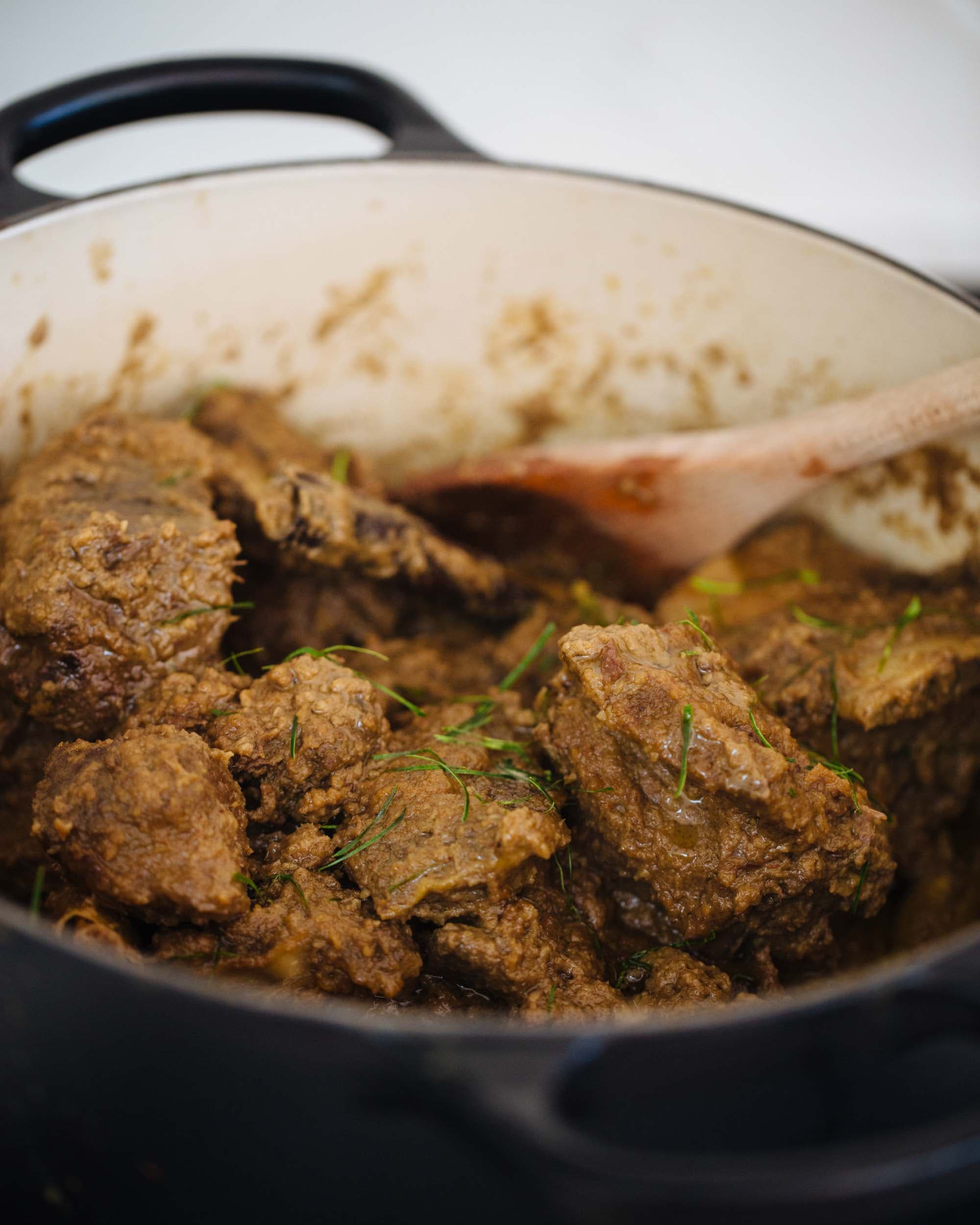 To make a great rendang you need to first understand what a rendang is. It's a fragrant stew more than a curry, and the aromas of the galangal, ginger and turmeric should be more prominent than the hard spices. Turmeric leaves are more traditional than makrut (kaffir) lime but they are very hard to find in Australia.
Ingredients
2 medium onions or 8 eschallots, peeled and roughly chopped
4 cloves garlic, peeled
2-6 bird's eye chillies, stalks removed (as you prefer)
5cm each fresh turmeric, galangal and ginger, peeled and roughly chopped
¼ cup vegetable oil or coconut oil
2kg beef short ribs
400ml coconut cream
3 stalks lemongrass, fat stalks only, bruised
6 makrut lime (kaffir lime) leaves
1 piece cassia bark
2 star anise
1 tbsp caster sugar
2 tsp salt
1 cup dessicated coconut
Method
Combine the onion, garlic, chilli, turmeric, galangal and ginger in a blender and blend to a puree, adding a little water if necessary to help it blend. Heat the oil in a large, heavy casserole dish over medium heat and fry the paste for 15-30 minutes (the more water you add to the paste, the longer you will need to cook it to evaporate the water before it starts to fry), stirring occasionally at the beginning and constantly as it thickens so that it doesn't splatter or catch on the base of the pan. This paste, known as a rempah, is ready when it is browned, fragrant and thick.
Add the beef ribs and toss to coat in the rempah. Then add the coconut cream and enough water to barely cover the ribs. Add the lemongrass, 3 of the makrut lime leaves, cassia, star anise, sugar and salt. Bring to a simmer and cover and simmer for about 2-2.5 hours, stirring occasionally until the beef starts to become tender. Remove the lid and simmer for about 1 hour more, stirring occasionally again until the stewing liquid is reduced to a thick, very oily sauce.
Heat a dry frying pan over low-medium heat and add the coconut. Fry the coconut, stirring constantly until it is a deep golden brown and add the coconut to the rendang, stirring to combine. This caramelised coconut is known as kerisik. Cook for a further 30 minutes or so at simmering heat until deep brown, oily and thick. The rendang can be eaten straight away but will benefit from being covered and left overnight to develop. Finely shred the remaining makrut lime leaves and scatter over the rendang to serve.