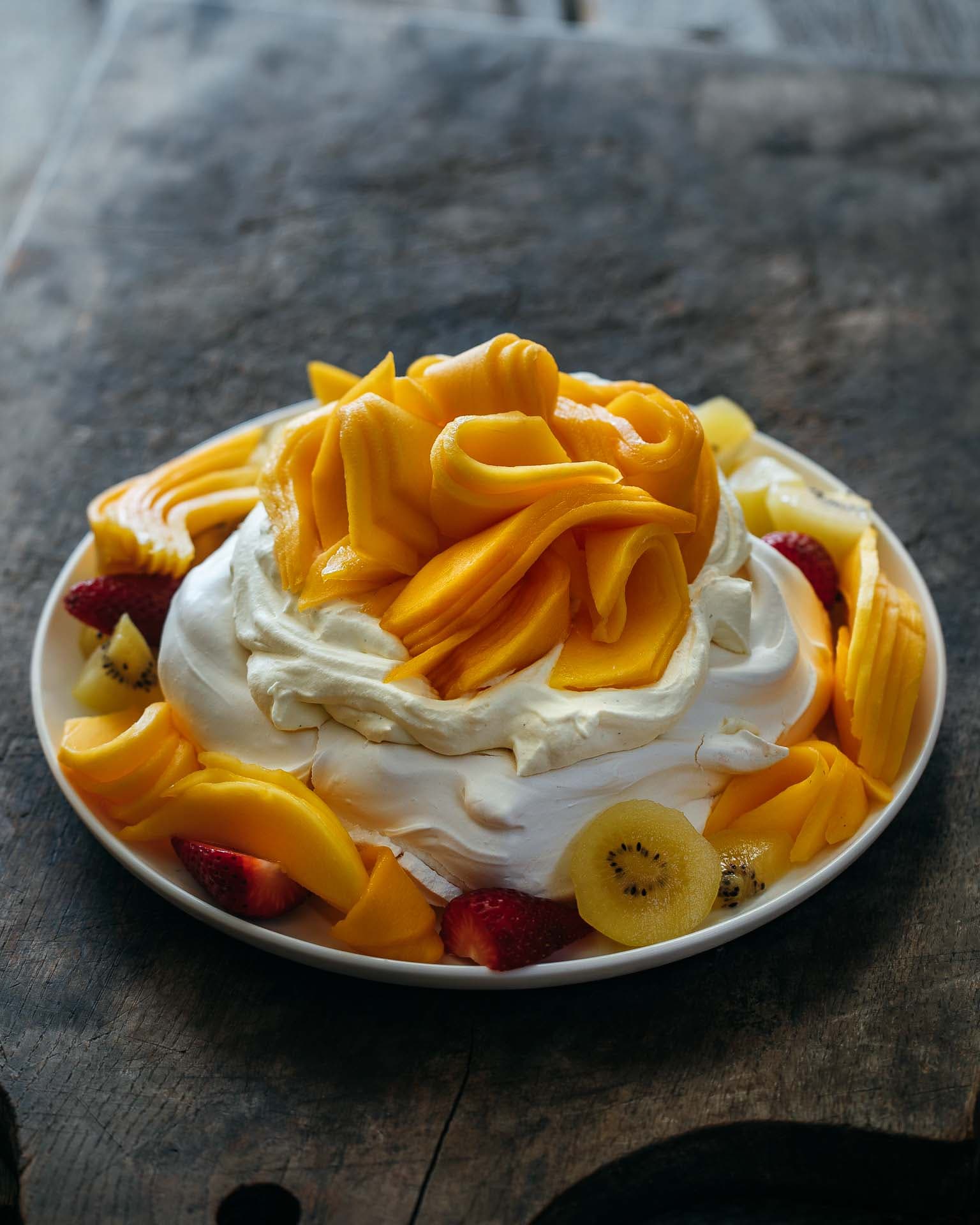 I don't want to oversell this too much but this recipe changes the pavlova game, and it does so only by making one very simple change - it uses icing sugar mixture instead of caster sugar.
Sugar stablises meringues, and the biggest problem with most pavlovas is that people don't beat them long enough to dissolve the sugar (so therefore their meringue is not stable). This begs the question: why not just use a sugar like icing sugar that dissolves more easily?
I assumed that a solution so simple would have to have something wrong with it. But after a lot of research there seemed to be no reason at all why people haven't been using icing sugar instead of caster sugar to make pavlovas other than just "it's always been done that way". And this is a common problem with classic recipes in that we often don't want to break with tradition, even if it might make our lives that much easier.
For this pavlova you just dump the ingredients into the bowl of a stand mixer and mix it at high speed for 8 minutes. It's that easy.
Try it. I don't reckon you'll be going back to using caster sugar anytime soon. I certainly won't be.
Ingredients
4 egg whites
300g icing sugar mixture
1 tsp cornflour
1/2 tsp cream of tartar (or 1 tsp white vinegar)
a pinch of salt
To Serve
300ml thickened cream
1 tsp vanilla extract
fruits, to decorate
Method
Heat your oven to 110˚C conventional. Add the egg whites, icing sugar, cornflour, cream of tartar and salt to the bowl of a stand mixer and beat at high speed to a glossy stiff meringue. This will take about 8 minutes.
Lay a piece of baking paper onto a baking sheet or pizza tray and dump the meringue onto the baking paper, spread slightly on top to form a 20cm circle with a slightly flat top. Bake the pavlova for 90 minutes and then turn off the oven, wedging the door open very slightly with a chopstick and allowing the pavlova to cool in the oven for a further 90 minutes. Remove from the oven to cool further.
While the pavlova is baking, whisk the cream together with vanilla in a stand mixer to soft peaks. Transfer to a bowl and chill until ready to use.
To transfer the pavlova to a serving plate place a light plate on top and flip the pavlova over onto the plate. Then peel off the baking paper and place your serving plate on the base of the pavlova, flipping it again. A dollop of cream on the base of the pavlova before you place the serving plate on it will keep the pavlova from sliding on the plate.
Top the pavlova with the cream and decorate with your preferred fruits.
Tips
The acid from the cream of tartar (tartaric acid) also helps stabilise the meringue.
I don't sweeten the cream for pavlova as the meringue itself is very sweet.
Some recipes call to cool the pavlova overnight in the oven, but low temperature Maillard reactions will actually brown the meringue, turning it a coffee colour. Cooling for an hour or two is fine to minimise cracking, and removing it from the oven then will keep your pavlova white.