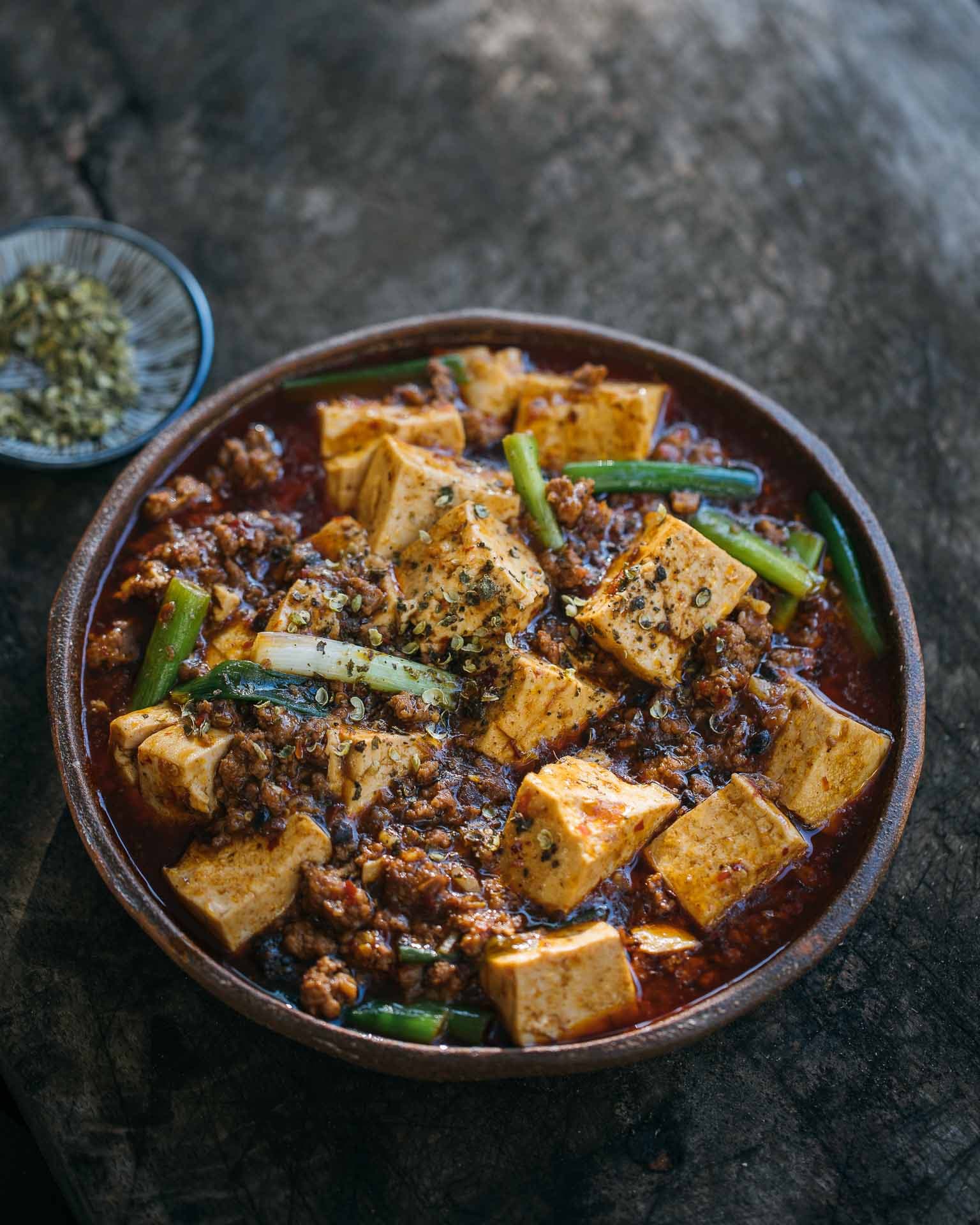 Literally meaning "pock-marked old lady tofu" this dish has to have one of the least complimentary names in all of Chinese food. It uses Chengdu's famous Pixian chilli bean paste -豆瓣酱, sold in English as tobanjian, doubanjiang or other variations, this has become a classic of Sichuan cookery. It's very easy to make, too.
Ingredients
600g firm tofu
200g beef mince
4 tbsp canola or peanut oil
¼ cup doubanjiang (Sichuan chilli bean sauce)
2 tbsp salted black beans
1 tsp chilli powder (optional)
4 cloves garlic minced
1 tbsp grated ginger
6 thick spring onions, cut into 5cm lengths
salt and sugar, to season
1 tsp cornflour mixed with 2 tbsp cold water
1 tsp ground Sichuan pepper, to serve
Method
Bring a pot of water to just below a simmer and season lightly with salt. Cut the tofu into 2.5cm cubes and add to the water. Heat gently for about 10-15 minutes.
Heat a wok over high heat and add a tablespoon or two of the oil. Fry the beef mince until well browned then remove from the wok and set aside. Add the remaining oil to the wok and fry the tobanjiang until the oil turns red. Add the black beans, chilli powder (if using), garlic and ginger and fry for about a minute until fragrant.
Drain the tofu and add it to the wok, along with 1-2 cups of water. Stir gently and bring to a simmer. Add the fried beef and spring onion and simmer for about 5 minutes, until the onion is softened. Adjust for seasoning with salt and sugar as required, and then thicken the mixture with the cornflour slurry, adding a little at a time so that the sauce is thickened and silky, but not gloopy. Transfer to a serving boal and serve scattered with ground Sichuan pepper.
Tips
You can use pork mince if you prefer, but beef is more traditional.
Try to use a firm tofu that holds its shape but is still tender. You don't want the tofu to be too hard, but you also don't want it breaking apart to much in the dish.
The doubanjiang chilli bean paste can vary a lot between brands - both in texture and in taste. Make sure you adjust the seasoning with salt and/or sugar if needed before serving.