Apricot kernel pudding (Almond pudding) with stewed longans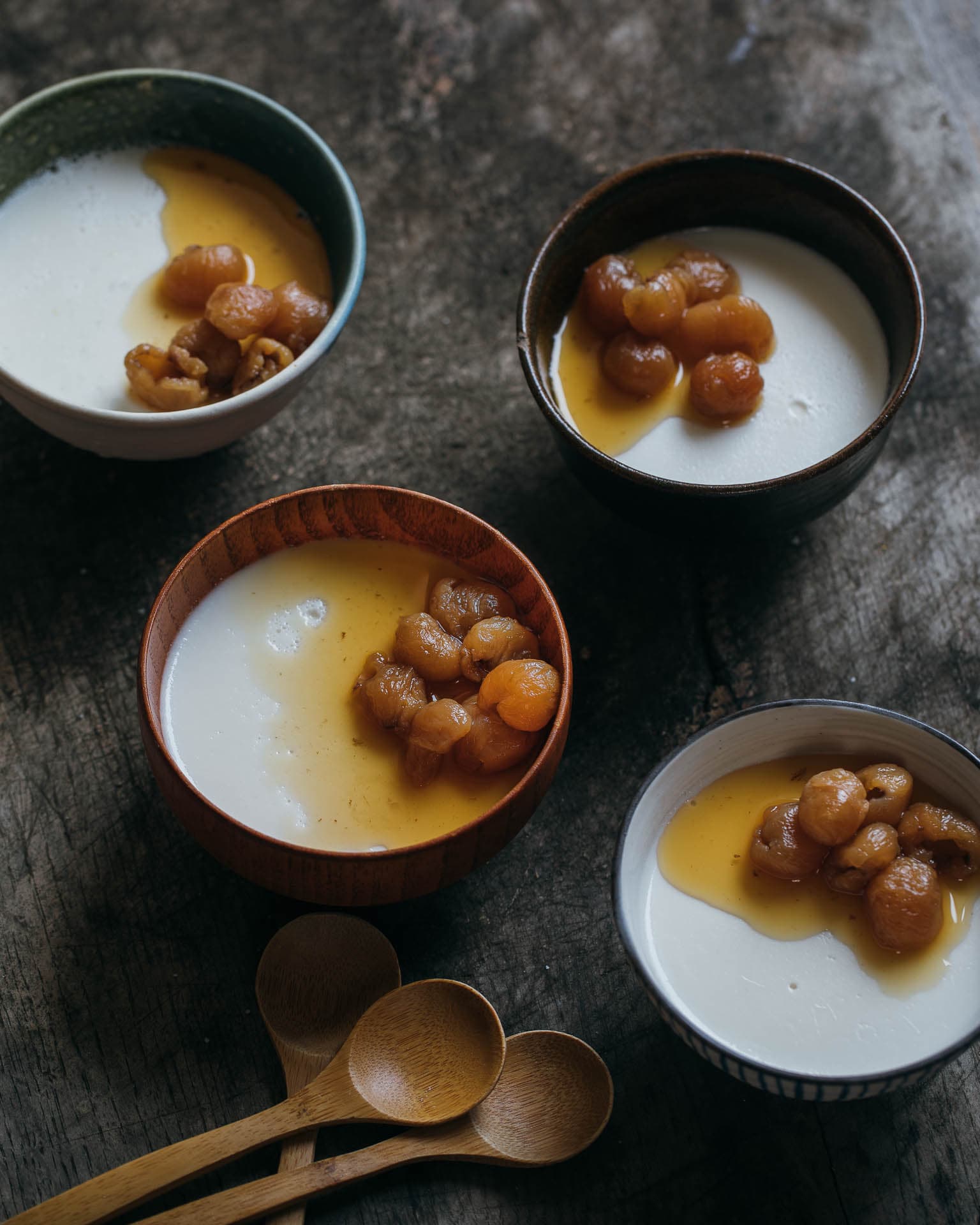 You may have seen similar dishes to this called 'almond tofu', 'annin doufu' or 'almond pudding'. These are usually made with milk or cream flavoured with almond essence, or from almond milk. Those modern versions are delicious, but this Chinese dish is traditionally made not with almonds but with apricot kernels of two different varieties.
Both northern and southern apricot kernels have a strong almond-like aroma, but southern apricot kernels are sweeter, while northern apricot kernels are more bitter and aromatic. Use a blend of kernels to get the best flavour.
Although they are a traditional food and medicine in China, northern apricot kernels may contain potentially dangerous natural compounds, so they must be heated before eating. Don't be tempted to snack on the raw kernels.
Ingredients
160 g southern apricot kernels
50 g northern apricot kernels
1 L water
100 g sugar
3 tsp gelatine powder
Stewed Longans
80 g dried longans
500 ml water
1 tbsp honey
1 tbsp sugar
2 pcs dried tangerine peel
Method
Combine the kernels and water together in a Vitamix high-performance blender and blend for 1 minute. Allow to stand for 5 minutes then blend again for 30 seconds. If using a normal blender, soak the kernels overnight (or for at least 1 hour) before blending.
Pour ½ a cup of the mixture into a small bowl and mix through the gelatine. Transfer the remainder to a saucepan and add the sugar. Bring to a simmer and simmer for 5 minutes, stirring often and taking care that it doesn't boil over. Add the gelatine mixture into the hot liquid and whisk for a further 5 minutes until the gelatine is dissolved. Remove from the heat and strain through a fine sieve or muslin, pressing to remove as much liquid as possible. Divide the liquid between i4 serving bowls and refrigerate for around 4 hours or until set.
For the longans, combine all the ingredients in a small saucepan and bring to a simmer. Cover and simmer for 15 minutes, then allow to cool to room temperature. Refrigerate until ready to use.
L: Northern apricot kernels, R: Southern apricot kernels