Apricot Barbecued Chicken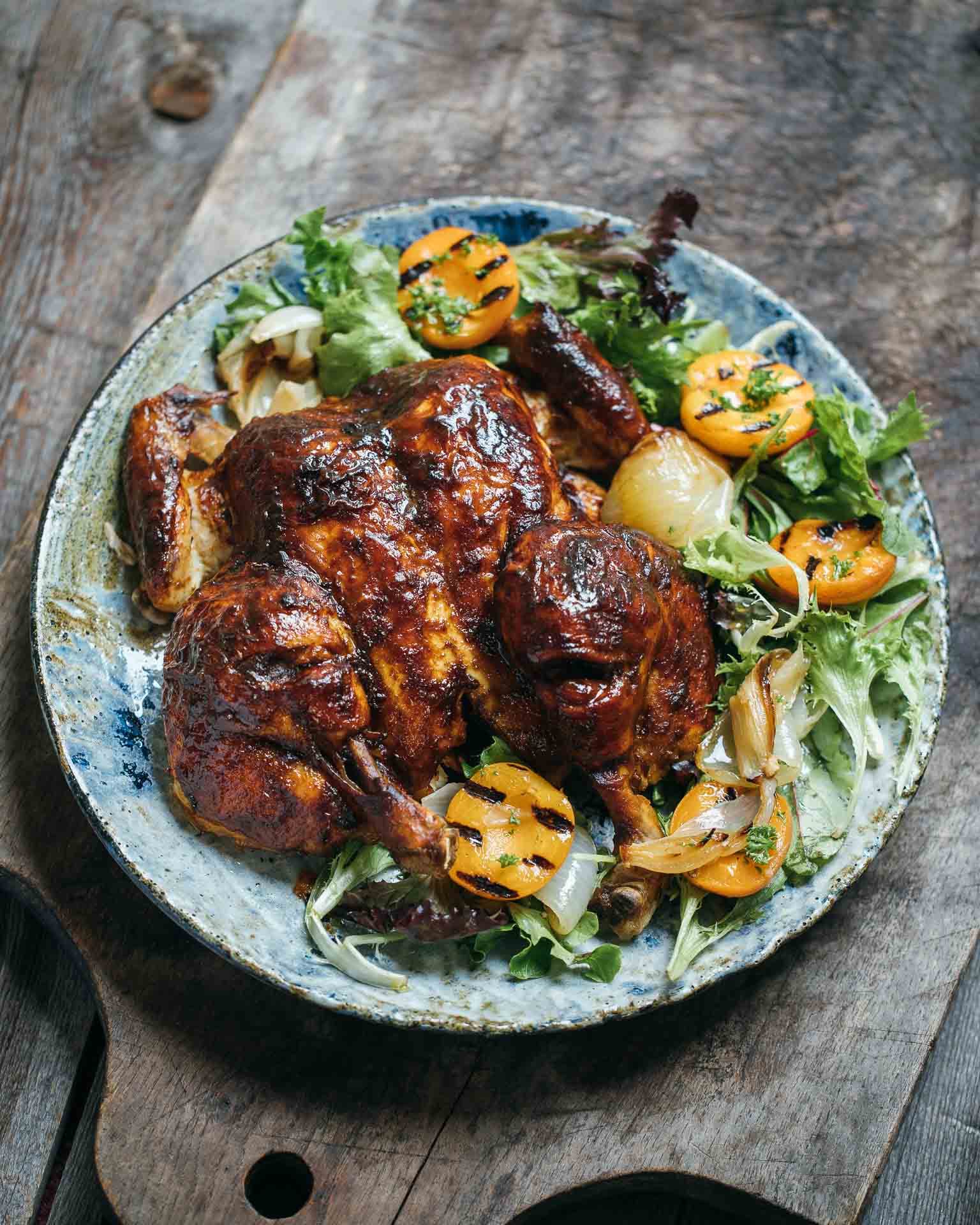 The chicken is slow-roasted for 2.5 hours making it fall-apart tender, and slathered in a barbecue sauce made from apricots, then the pan juices are turned into a dresing for the salad. A very economical dish that has the added benefit of leaving you with plenty of homemade barbecue sauce for the remainder of the warm weather.
Ingredients
1 whole Lilydale free range chicken (around 2 kg)
salt, to season
2 onions, peeled and quartered
25 g melted butter
4 apricots, halved
1 tbsp apple cider vinegar
1 tsp finely shredded parsley
3 cups mixed baby salad leaves
Apricot barbecue sauce (makes extra)
1 large onion, peeled and roughly chopped
1 carrot, roughly chopped
6 apricots, halved with seeds removed
2 bay leaves
¼ tsp ground cloves
¼ cup brown sugar
½ cup tomato passata
¼ cup white vinegar
2 tbsp Worcestershire sauce
½ cup soy sauce
2 tbsp dark soy sauce
Method
For the barbecue sauce, combine all the ingredients in a small saucepan and bring to a simmer. Simmer covered for 20 minutes until the fruits and vegetables are softened, then allow to cool to room temperature. Blend in a high-speed blender until smooth. (Pass through a sieve if your blender is not fast enough to get the sauce smooth.) The barbecue sauce will keep in a sealed container in the fridge for 2 months.
Heat your oven to 150C (130C fan). Cut the backbone out of the chicken with kitchen scissors and flatten the chicken by pressing on the keel bone. Place the onions in the base of a roasting tray, add the chicken on top and season the chicken very well with salt. Roast for 2 hours uncovered.
Combine ½ a cup of the barbecue sauce with the melted butter and brush all over the chicken. Roast for a further 30 minutes, then remove the chicken to a serving plate to rest.
While the chicken is resting, chargrill the apricot halves until blackened, then transfer to a bowl with the onions from the roasting tray, about 2 tbsp of fat and juices from the roasting tray, and the apple cider vinegar. Mix through the parsley and use this mixture to dress the salad leaves. Serve with the chicken.