Sriracha Hot Wings with Avocado Kewpie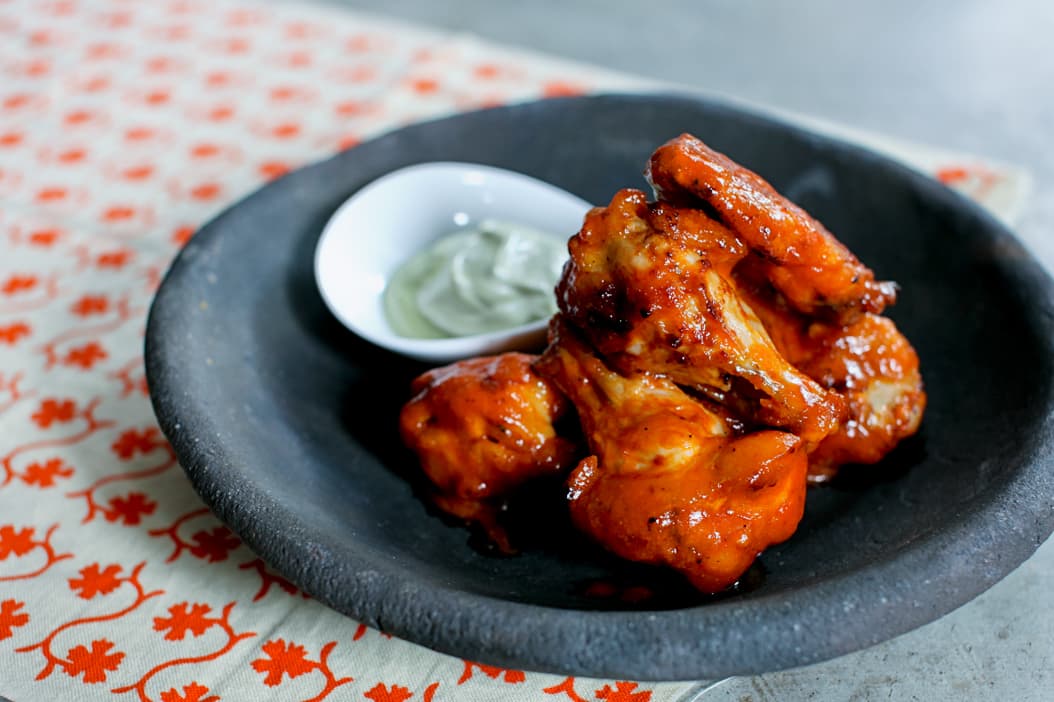 This is a really simple recipe that I make all the time when I have friends around. The heat of Sriracha and the richness of butter is a fantastic contrast to the cooling avocado and mayonnaise. These wings are a perfect match for a couple of ice-cold beers and a game of football on the TV.
Ingredients
Wings
1.5kg chicken wings (about 12-15 wings)
1 tbsp garlic powder
1 tbsp onion powder
1 tsp caster sugar
1 tsp salt
Sriracha Wing Sauce
75g unsalted butter
4 tbsp Sriracha chilli sauce
3 tbsp tomato ketchup
2 tbsp rice wine vinegar
½ tsp Worchestershire sauce
¼ tsp mustard powder
¼ tsp onion powder
1 tsp caster sugar
Avocado Kewpie
1 ripe avocado
3 tbsp Kewpie mayonnaise
1 tbsp sour cream
1 tbsp lemon juice
salt to taste
Method
Cut the wings through the joints into the drumette, winglette and wing-tips. Keep the wing-tips for stock (don't throw them out) and toss the drumettes and winglettes in the garlic powder, onion powder, sugar and salt. Cover and leave for at least 30 minutes, or put in the fridge overnight. (If keeping them in the fridge , return the wings to room temperature before roasting.)
Preheat the oven to 220C (fan forced) and grease an oven tray or rack with peanut oil. Roast the wings for 30 minutes, turning once until browned and crispy. Meanwhile, make the Sriracha Wing Sauce by whisking together all the ingredients in a saucepan until it is well combined and just simmering. Remove from the heat and toss the wings in the sauce until well coated.
For the Avocado Dip, combine all the ingredients in a food processor and process until smooth and then adjust the seasoning. Sprinkle the dip and wings with a little black pepper and serve.