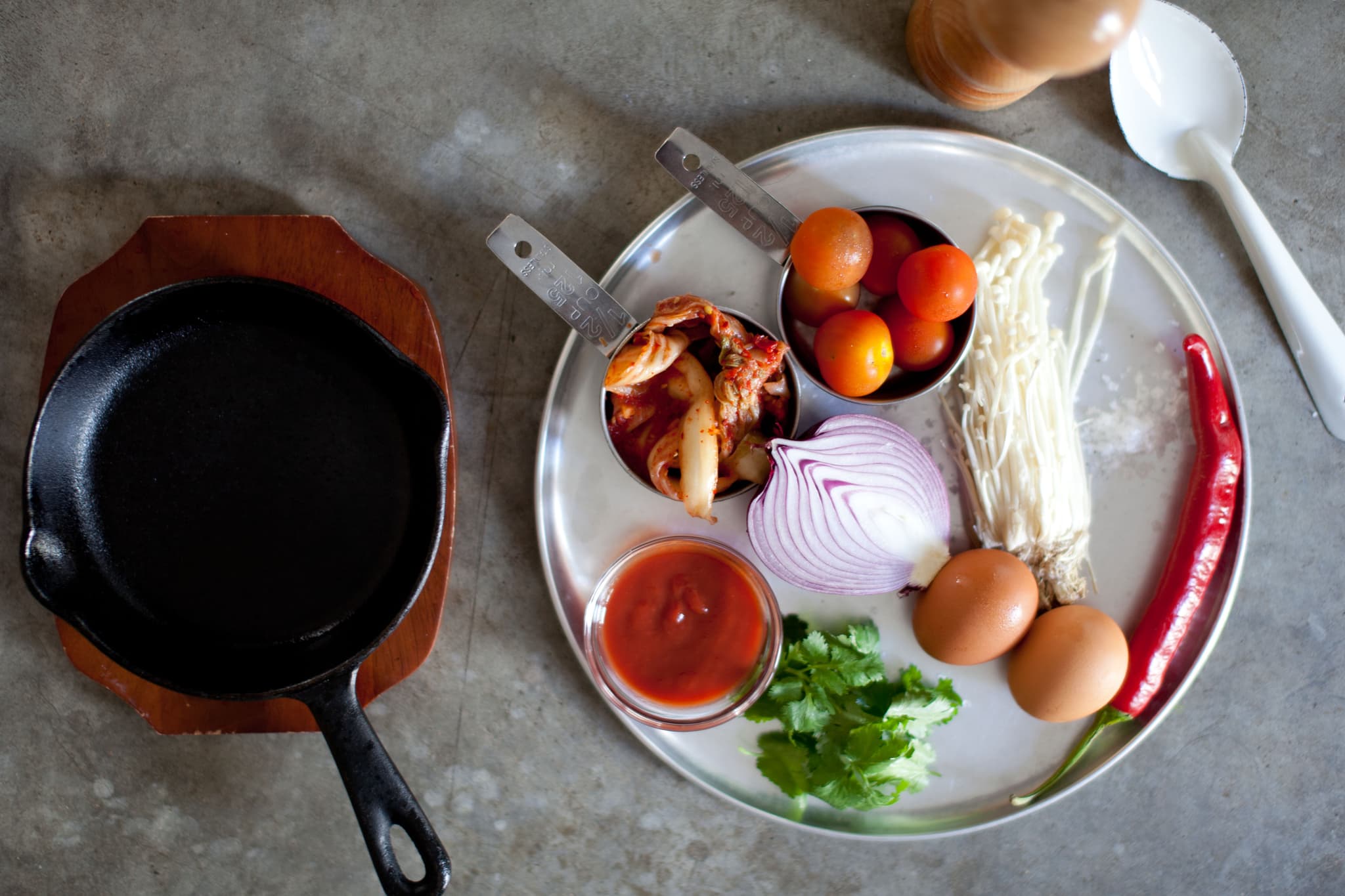 If you ever felt inclined to make a list of "food trends" for the past couple of years, "adding kimchi to everything" and "Mexican-Asian fusion" would both certainly be near the top.
It seems that everywhere you turn these days there's a kimchi quesadilla, spicy pork burrito or bulgogi taco. David Chang and Roy Choi should be getting royalties for this stuff.  Paying too much attention to food trends is a often a dangerous thing to do, but  love them or hate them, there's no doubt that a tasty dish is a tasty dish. Let's not take ourselves (or our food) too seriously.
I love breakfast, but as a meal it's often overlooked as a source of variety. Day in and day out we turn to toast, cereal, bacon, the occasional pancake, and then add some eggs - fried, poached or scrambled. Even the simple and delicious breakfast dish of Eggs Benedict has lately been co-opted by brunch, that most mystifying and indefinable of meals. But such is the lack of respect we in the West tend to afford our breakfast. It's ironic really, considering just how versatile eggs can be.
It's easy to see where we get disillusioned by breakfast. We are constrained by time, ingredients, appetite and nutritional value. We need something that's fast, nutritionally balanced, not too difficult on the stomach and which will carry us through to lunch (forget brunch). But in the face of this adversity, we form solutions. I think the constraints of breakfast can be a source of great creativity, as we are almost forced to think outside the box.
Taking the old Mexican favourite, Huevos Rancheros (Cowboy's Eggs) and combining it with some very good kimchi and enoki mushrooms resulted in this dish, which will definitely be taking its place in my kitchen's breakfast repertoire.
Ingredients
½ cup cherry tomatoes, quartered (80g)
½ cup enoki mushrooms (50g)
½ cup kimchi (with juice), roughly sliced (100g)
¼ cup tomato passata
1 tbsp olive oil
½ small red onion, sliced
1 tsp rice wine vinegar
2 free-range eggs
1 tbsp fresh coriander leaves
1 large red chilli
Grated cheese (optional)
Salt (to season)
Black pepper and buttered crusty bread, to serve
Method
Preheat your oven's overhead grill. Heat a small cast iron or other ovenproof pan until very hot. Add the olive oil and sautee the onions, tomatoes, chilli, mushrooms and kimchi until all are softened and nearly cooked through. Add the tomato passata and vinegar and cook for a further 1-2 minutes. Taste and season.
Make two small wells in the mixture in the pan and crack an egg into each. (If you wish, you can now scatter the top with a little grated cheese). Transfer the pan to your grill and grill the top for about 3-4 minutes until the whites of the eggs are set but the yolks are still runny. The heat of the pan will continue to cook the eggs from the bottom.
Grind over a little black pepper, scatter with some coriander leaves and serve with some buttered crusty bread.