How to Make Authentic Char Siew (Cantonese Barbecue Pork)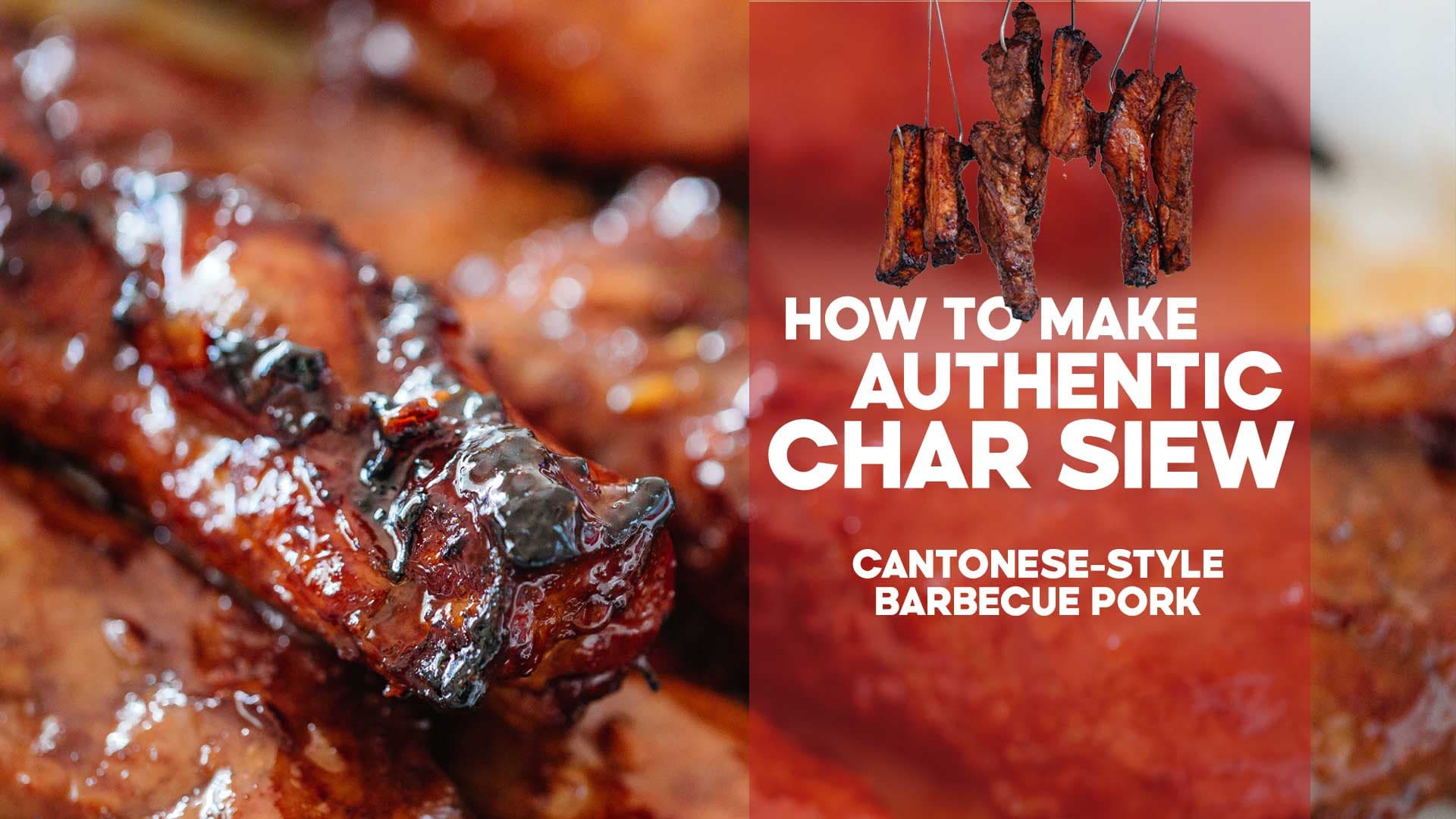 If you're anything like me, it's almost impossible to walk past a Cantonese barbecue shop without picking up a pack of char siu (barbecue pork), siu yuk (roast pork belly) or any other of the sticky, crispy, shiny and delicious meats on offer. The thing is, they're amazingly easy to make at home as well. This authentic char siu recipe will give you excellent results that are even better than buying them from the shop.
Ingredients
1.5kg pork neck or belly (skin and bone removed), cut in 5cm strips
Marinade
30g (2 tbsp) sugar
40g (2 tbsp) Hoisin sauce
20g (1 tbsp) red fermented bean curd plus 40ml (2 tbsp) of its liquid
3g (1 tsp) five spice powder
15g garlic (4 cloves) crushed with ¼ tsp salt
20ml (1 tbsp) ginger juice
20g (1 tbsp) soy sauce
40g (2 tbsp) Shaoxing wine
Glaze
30g 2 tbsp sugar
40ml 2 tbsp water
80g 4 tbsp maltose
Method
Combine all the ingredients for the marinade in a large bowl and add the pork. Coat the pork well the marinade (I do this by hand, wearing gloves). Cover with plastic wrap and refrigerate overnight (or for at least 8 hours).
When ready to cook, combine the ingredients for the glaze and bring to a boil, stirring to dissolve the sugar.
Heat your oven to as hot as it will go. I cook this at 230C (fan-forced). Cover a tray with foil (there will be a lot of caramel drips that will burn to black, so this just helps with the clean up) and place a tray on top. Brush the tray with oil and place the pork on top. Roast for 15 minutes.
While the pork is roasting, bring the glaze to a boil again. When the pork has roasted for 15 minutes, brush with the hot glaze and roast for 5 minutes. Brush with the hot glaze again and roast for 5 more minutes. Remove from the oven and brush with the glaze again and allow to rest. After the pork has rested for about 10 minutes, brush with the glaze one last time.
(L to R) Maltose, red fermented tofu, and Hoisin sauce. Red fermented tofu. This gives the char siu a delicious savoury flavour and also helps with the colour.
Tips
The three ingredients you might find a little odd are the maltose, red fermented tofu and Hoisin sauce. All of these are common ingredients in Chinese cooking and will be available from any Asian grocery store.
The roasting process is really important for getting good colour on the meat. The vibrant red colour on the char siu is a little to do with the red fermented tofu but really it's more a factor of good browning of the meat, and getting good caramelisation of the glaze. You don't need to add food colouring (although some shops do - it's up to you really).
The glaze should to be hot when brushing it on the pork in the oven so that it caramelises easily.
In a Chinese barbecue oven the meat will hang on a hook so that it browns well. In a domestic oven it's difficult to try and hang meats so it's better just to use a tray. You don't need to flip the meat while it's cooking as that will just damage the glaze. Better to have 3/4 of a piece of meat beautifully glazed with a base that isn't quite perfect than to keep flipping it and end up with a bad glaze all over.