Guinness BBQ Wings with Appleslaw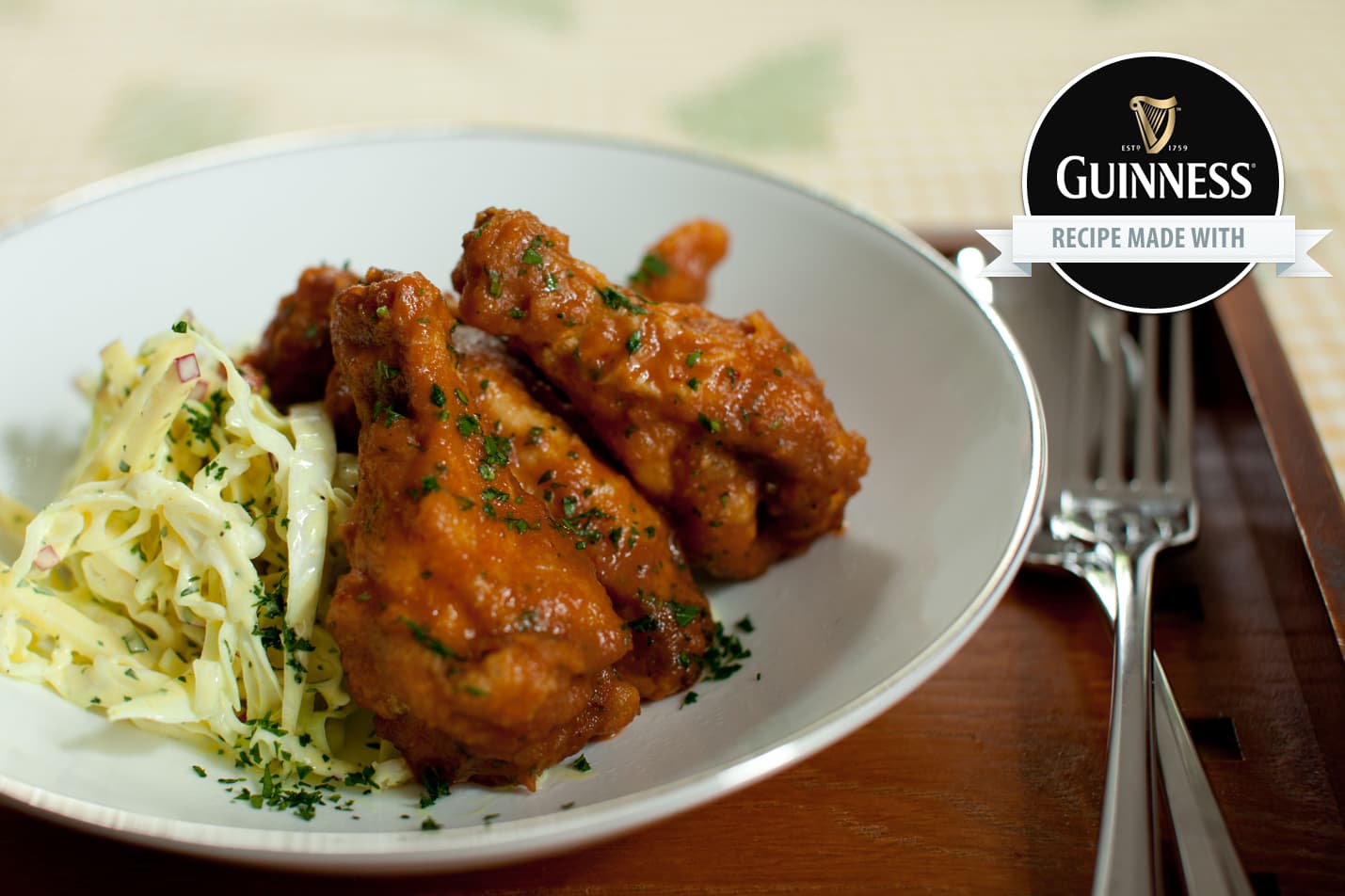 The sweet and smoky flavour of this Guinness BBQ Sauce has hints of molasses, aniseed, orange and just a touch of hot chili. The spiciness of the sauce is offset by the cooling, crisp and creamy appleslaw.
This Christmas, check out Merry Guinness® promos and parties throughout December in Malaysia at www.facebook.com/guinnessmalaysia
Ingredients
8-10 chicken wings, winglette and drumette separated and wing tip discarded
rice flour, to coat
oil for deep frying
Guinness BBQ Sauce
1 cup malt vinegar
3 tbsp olive oil
2 small onions, finely diced
½ cup brown sugar
1 tbsp Dijon mustard
1 cup Guinness®
1 tsp smoked paprika
1 tbsp chili powder (or to taste)
2 tbsp molasses
2 bay leaves
¼ tsp ground star anise
½ tsp ground cumin
2 tomatoes, roughly chopped
1 apple, grated
zest and juice of 1 orange
1 tsp dried marjoram
1 ½ tsp salt
1 cup loosely packed flat-leaf parsley, finely chopped
150g butter
Appleslaw
1 apple, cored and julienned
½ red onion, very finely sliced
1 tbsp finely chopped parsley
3 cups shredded cabbage
Appleslaw Dressing
1 tbsp lemon juice
¼ cup mayonnaise
¼ cup yoghurt
¼ tsp flake salt
¼ tsp ground black pepper
¼ tsp ground turmeric
Method
For the Guinness® BBQ Sauce, place all ingredients in a saucepan except the butter and the parsley. Bring to the boil. Simmer for 30-45 minutes, remove the bay leaves and then blend to a smooth sauce. Stir through the butter and parsley until the butter is melted. Adjust seasoning to taste.
For the Appleslaw, mix together all the ingredients for the dressing and set aside in the fridge for at least 30 minutes. Toss together all the ingredients for the Appleslaw together with the dressing and leave in the fridge for 10 minutes before serving.
Toss the chicken wings in rice flour to coat and shake off any excess. Deep fry in 170C oil for 8-10 minutes until golden brown and cooked through. Drain well, season with salt and then transfer to a large bowl and toss with enough Guinness® BBQ Sauce to coat generously.